Ph.D. Stories: A Drive To Do Research
Olimpiya Saha knew she needed to get more research under her belt before she could pursue her career in the tech industry. She found herself at IS&T, and on her way to her dream job.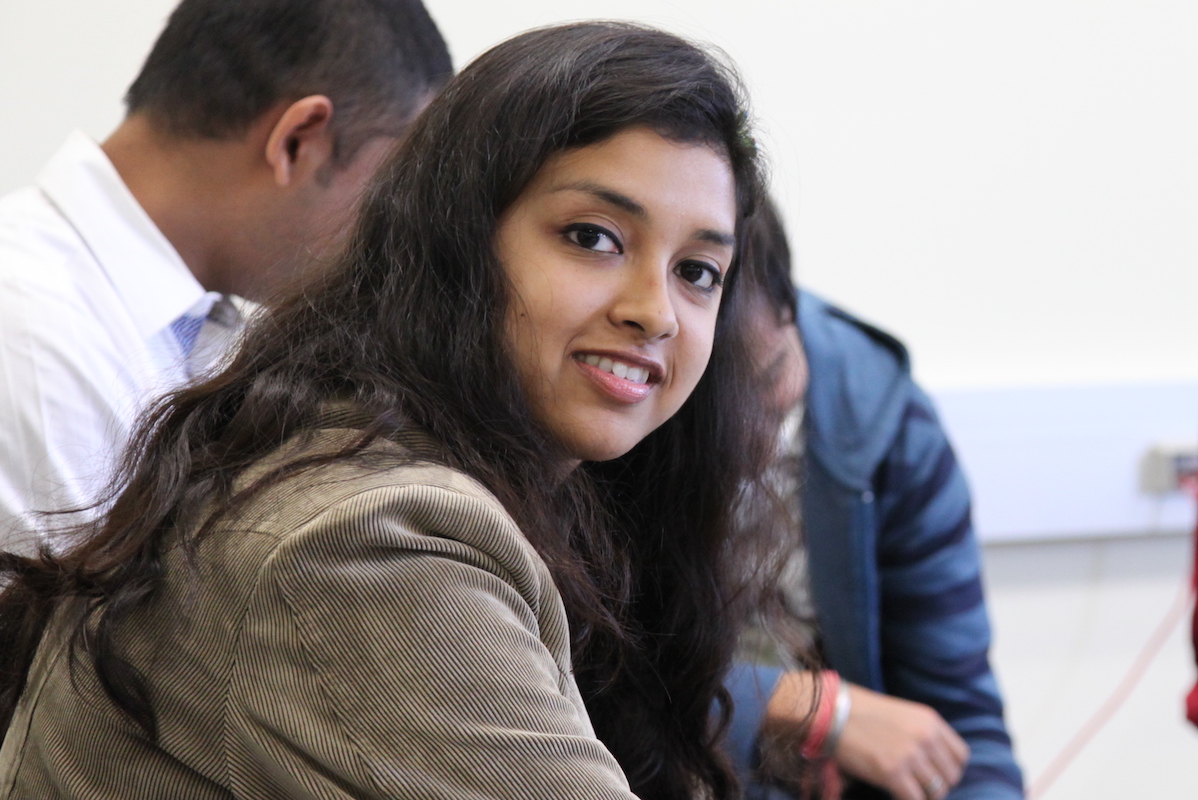 Olimpiya
Saha had one goal when she enrolled in the Ph.D. in Information Technology (IT) program at the University of Nebraska at Omaha (UNO) College of Information Science and Technology (IS&T): to do research.
Her undergraduate degree in computer science sparked her interest in artificial intelligence, and Saha looked for ways to dive deeper into the field. While her undergraduate program didn't have opportunities for her to do robust research, she worked as a research assistant and began to envision what her future career could look like.
Based off of conversations she had with peers and faculty members, she knew her future career would be shaped by being able to conduct advanced research in IT. Saha graduated with her undergraduate degree in Computer Science and immediately enrolled in IS&T's integrated Ph.D. in IT program, w
here she'd be able to conduct her research and earn her master's degree in computer science as well as her Ph.D.
"I don't see myself doing my current career without my Ph.D. from UNO," Saha said. "It's a very good blend of foundations and very advanced research based on your interests."
Robots and Research
Saha focused on robotics and artificial intelligence, as well as how machine learning technics can be applied to improve robot navigation in an initially unknown environment. She said from day one, she had support and opportunities to dive deeper into her research and learn from her classes.

"I had lots of support from my mentors and faculty. The independent studies and advanced research courses really helped me elevate my understanding of research and skills. My undergraduate program didn't prepare me for this, but I was able to build upon my understanding and eventually a career," Saha said.

She said that she sees a lot of students start off in any Ph.D. program overwhelmed, and that she understands there's so much going on it's hard to focus. But she stressed that those who put off their research progress find themselves behind, and that students need to be proactive with their goals.

"It's equally important to assign separate time to your research. It's important to build from day one. Time management is a very important skill to develop," Saha said.
"You certainly have an edge."
Saha now is working in the Bay Area as a senior research scientist at LG Electronics, and says that there is a big market in her field that needs Ph.D.'s. She stresses that there is a lot of options outside of academia for the higher degree.

"I got the opportunity to teach while I was doing my Ph.D. and it was a good experience, I got to interact with the young minds and impart my knowledge. But it wasn't my forte. I like research and focused my time on that," She said.

Now that she's in the industry, Saha emphasized that a Ph.D. helps open up options for a more robust career in IT research, and ability to advance.
"It's better to have a Ph.D. to pursue a research career. You certainly have an edge," Saha said.