Ph.D. Stories: One Student's Journey to Achieve His Goals
Abhishek Tripathi grew up in one of the world's oldest cities before enrolling at IS&T. His journey to launch his career began with a passion with higher education and a chance meeting halfway across the world.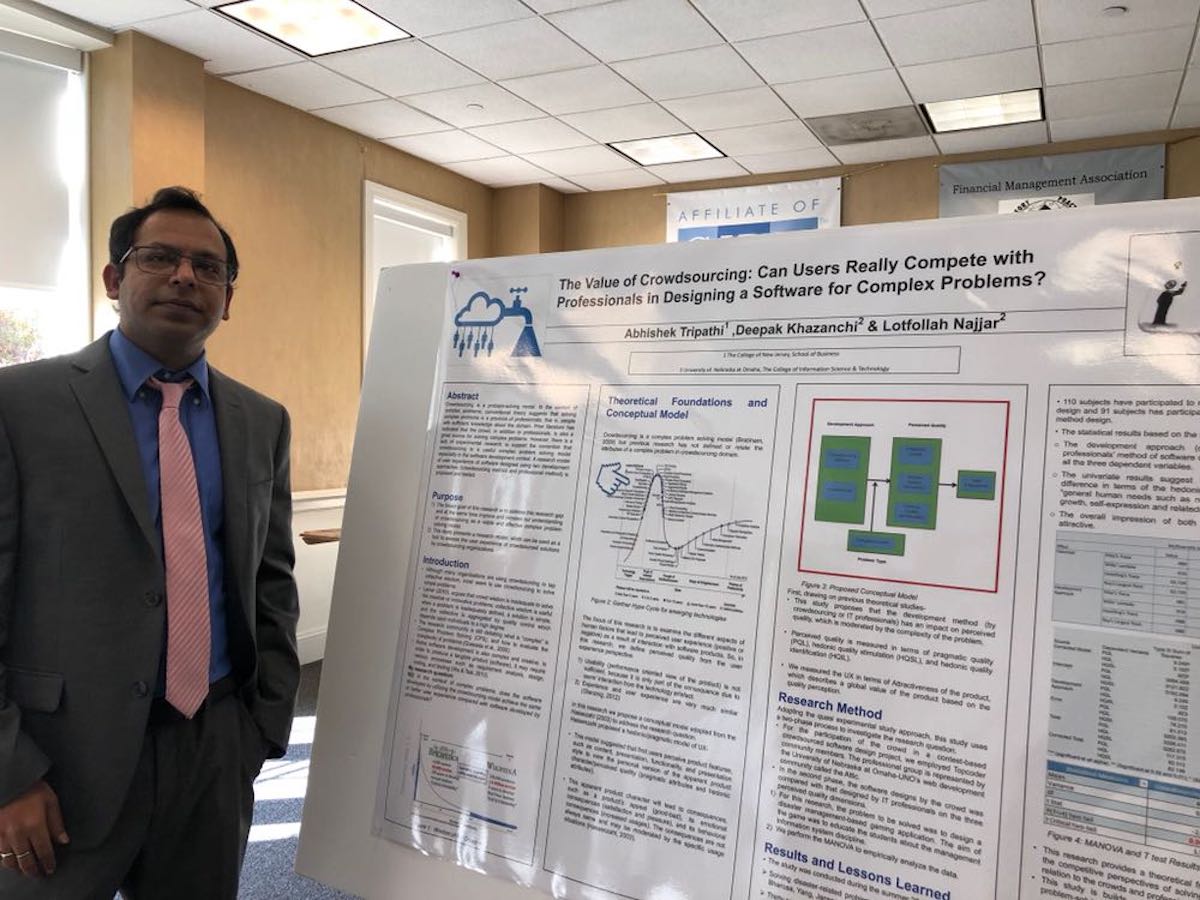 Image courtesy of Abhishek Tripathi
When you ask Abhishek Tripathi how he ended up at the University of Nebraska at Omaha (UNO) College of Information Science and Technology (IS&T), a smile breaks out on his face.

It's the kind of smile you can tell holds fond memories as he starts at the beginning of his story, which starts in an ancient city in northern India.

"I belong to the city of Varanasi, India, it's one of the oldest cities in the world," Tripathi said. "Mark Twain once visited Varanasi and said that Varanasi is older than history itself."

The history of Varanasi is a point of pride for Tripathi, who earned his undergraduate degree at KIET Ghaziabad. Like many young professionals, he worked for a few years before realizing that he wanted to switch career paths. Inspired by his undergrad experiences, Tripathi felt the pull to become a faculty member in higher education - which would require graduate school.
Varanasi, India by Shiv Prasad
A chance connection paved the way to Omaha
As part of a focus on global partnerships, IS&T had established a relationship with faculty from KIET Ghaziabad. Tripathi recalled IS&T faculty visiting his undergrad program frequently, and was inspired to apply for a master's degree at UNO in Management Information Systems in 2006. He got in, and was soon taking the 24 hour journey to Omaha.
"The MIS program gave me an idea of how not only technology works, but the entire system," Tripathi said. "It has given me a lot of confidence to work in the industry or express myself. The MIS program is a bridge between the technology and the management."
During his master's program at IS&T, Tripathi earned a full-time position at Gallup as a systems analyst. He worked in Omaha for a few years, however the goal of working in higher education was still on his mind. Tripathi was selected by India's Institute of Management as an academic associate, and while the program would take him back to India, he realized that he would eventually need to earn his Ph.D if he really wanted to have a career in higher education.

The rest, as they say, is ancient history
Tripathi returned to IS&T and enrolled in the Ph.D. in Information Technology program with a renewed interest in becoming a professor.

He credits his faculty advisor, Deepak Khazanchi, Ph.D., for pushing him to look beyond the traditional models because technology is always changing. This mindset helped Tripathi focus his research on crowdsourcing and complex problem solving, which was still in its infancy stages in the early 2010's. Tripathi contributed to the paper "Conceptual foundations of crowdsourcing: A review of IS research," which is thought to be one of the first reports of its kind in the Information Systems field, and has been cited hundreds of times.

Tripathi is still overwhelmed with the support he received at IS&T to conduct his research and follow his dreams. To help kick off his research, Tripathi applied for an UNO GRACA grant, and found himself with much needed funding to complete his research.

Today, Tripathi is an assistant professor at The College of New Jersey School of Business where he has been able to continue his research, and still talks with his IS&T professors.

"When I was a student, I knew I could knock on a faculty's door and they would answer any of my questions," Tripathi says. "Today, I still call Dr. Khazanchi for advice, he's still a big part of my research and makes sure I'm on the right track. He's still making sure I'm part of the family."