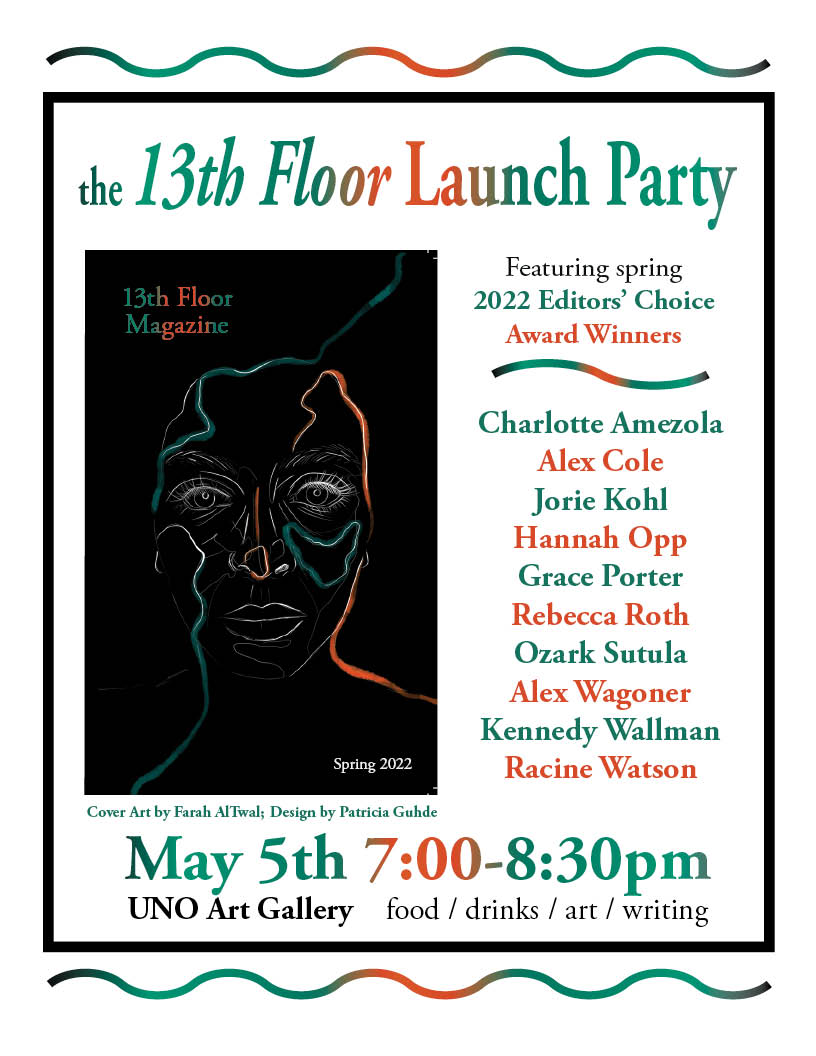 Explore 13th Floor Magazine

13th Floor Magazine is a student-run, campus literary journal that publishes two issues per year, featuring writing and visual art from UNO students, alumni, faculty, and staff. It is produced by the students in WRWS 3010: Literary Magazine. For information about how to join the editorial team or about this course, please email 13th Floor's faculty advisor Dr. Lisa Fay Coutley at lcoutley@unomaha.edu or visit her office at WFAB 209.
For detailed information about the journal's inception, current editorial team, or to purchase back issues, visit www.13thfloormagazine.wordpress.com. Like us on Facebook and Instagram.
Submission Guidelines
Submission Period for Spring 2023
November 15, 2022 - March 1, 2023


---
What to Submit—
Poetry (3-5 poems)
Creative Nonfiction (no more than 5,000 words)
Fiction (no more than 5,000 words)
Micro-fiction or nonfiction (500-750 words)
Screenplay (no more than 3,000 words)
Visual Art (3-5 pieces)
Feel free to submit to more than one genre and/or to send an excerpt of a longer work. We only ask that you send your best work for consideration and follow the guidelines here.
How to Submit—
Our editors read submissions blind, so please remove all identifying material from your submission—within the body of your writing and/or on your artwork.
Files should be titled by genre and your last name: Poetry, Smith.
All submissions should be emailed to 13thfloormagazine@gmail.com.
We accept written work in Word .doc/x or PDF and art in PNG or JPEG (at least 300 dpi)
Poetry—submit no more than 5 poems per submission with all poems in one file (one poem/page).
Prose—submit one story/essay/play per file. Be sure to double space and to use page numbers.
Visual Art—please send high-resolution, quality images free of glares and distractions, and indicate your medium in the body of your email (e.g.: oil on canvas).