The Writer's Workshop Around Town
Numerous community partnerships extend the Writer's Workshop classroom.
Across the UNO Campus
13th Floor Magazine, a literary journal completely edited and published by students of the Writer's Workshop.
Writer's Workshop faculty are featured guests on "Required Reading," a UNO Television series that showcases faculty authors.
With KVNO Radio, the Writer's Workshop produces "Writer's Workshop on the Air," presenting the Writer's Workshop Reading Series and interviews with nationally acclaimed writers.
Writer's Workshop faculty are invited instructors of "Autobiographical Reading and Writing," the gateway course for Thompson Learning Community scholars.
Across the City of Omaha
"PROCESS: Creativity At Work" - In collaboration with KANEKO Creativity Library, the Writer's Workshop presents a series of panel discussions that bring together professionals from a wide range of disciplines to explore the creative process.
At the Pizza Shoppe in Benson, students and community members participate in Prose Slams.
At El Museo Latino, the first Latino Art & History Museum and Cultural Center in the Midwest, the Writer's Workshop presents a series of public readings.
In collaboration with Film Streams, the Writer's Workshop is developing a course of study in Screenwriting.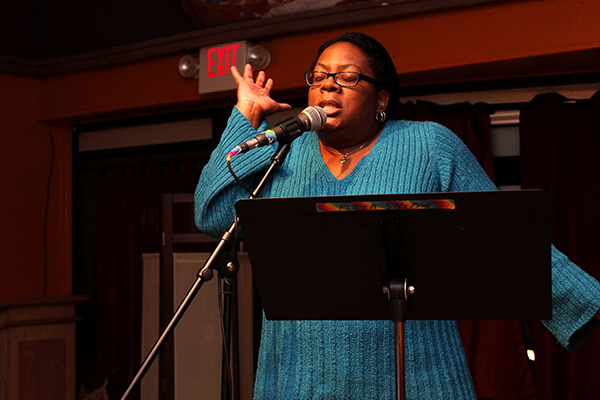 A UNO Writer's Workshop student competing in a prose slam at the Pizza Shoppe.