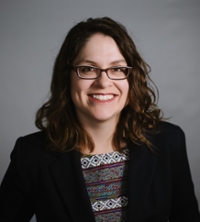 Whitney Gent
Assistant Professor
Communication Studies
---
email:
office:
department phone:
fax:
402.554.3836
Additional Information
Biography
Whitney Gent is an assistant professor in the School of Communication.
She earned her doctorate in rhetoric, politics, & culture from the University of Wisconsin-Madison.
She teaches argumentation and research methods.
Her research focuses on:
Advocacy rhetorics in policymaking
Public deliberation
Public sphere theory
Rhetorical theory and criticism
Rhetorics of homelessness and poverty
Research and Creative Activity Interests
Recent publications:
Gent, W., Sauter, E., Cronn-Mills, D. (forthcoming 2020) "Moving Beyond Validity in Rhetorical Studies." Annals of the International Communication Association. 
Asen, R., Gent, W. (forthcoming, 2019) "Reconsidering Symbolic Use: A Situational Model of the Use of Research Evidence in Polarised Legislative Hearings." Evidence & Policy. 
Gent, W. (2018) "'Expensive' People: Consumer Citizenship and the Construction of Neoliberal Publics." Communication and the Public, 3(3), 190-204.
Gent, W.  (2017) "Tokenism and Cultural (Mis)Recognition in 'The Man with the Golden Voice.'" Howard Journal of Communications, 28(3), 217-233. 
Gent, W. (2017) "When Homelessness Becomes a 'Luxury': Neutrality as an Obstacle to Counterpublic Rights Claims." Quarterly Journal of Speech, 103(3), 230-250. 
Education
Ph.D., University of Wisconsin - Madison
M.A., Indiana University - Bloomington
Scheduled Teaching
Media Communication Research
Argumentation and Debate