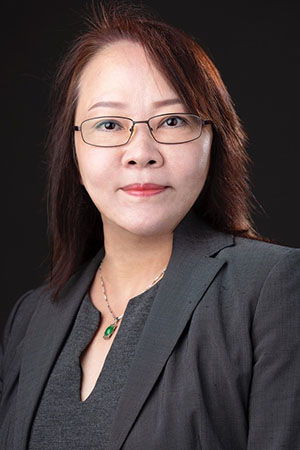 Chin-Chung (Joy) Chao
Professor, School of Communication
Robert T. Reilly Professor
---
email:
office phone:
fax:
402.554.3836
Additional Information
Research and Creative Activity Interests
Chin-Chung Chao is Professor of Communication at University of Nebraska at Omaha. Her primary research interests span conflict management, leadership, intercultural communication, organizational communication, and media communication. Her most recent edited book, Asian Woman Leadership: A Cross-National and Cross-Sector Comparison, is one of many examples of her distinguished scholarship. It won two Outstanding Book Awards at the 2021 NCA Conference. She has served on the editorial boards of the Journal of Intercultural Communication Research and Negotiation and Conflict Management Research.
Education
M.A., Morehead State University, M.A., Advertising and Public Relations, 2002
(Awarded 2002 Outstanding Graduate Student)
Bowling Green State University, Ph.D., Leadership and Organizational Communication, 2008
(Awarded 2009 Emerald/EFMD Outstanding Doctoral Research Award)
Scheduled Teaching
Small Group Communication, Public Speaking, Interviewing, Health Communication, Speech Communication in Business and Professions, Communication Leadership & Power in Orgs, Organizational Communication, Intercultural Communication, Quantitative Research Method, Mass Communication Research, Qualitative Research Methods
Recent Publications
Chao, C., & Xie, M. (2023). Gender and faculty service in the higher educational workplace during the COVID-19 pandemic. In T. McDermott (Ed). On the front lines: Women educators' experiences during the COVID-19 pandemic. New York, NY: Lexington Books.
Xie, M., & Chao, C. (2023). The discourse of national identity in Hong Kong: An examination of media coverage on Carrie Lam's nationalist leadership. In H. Cheng & H. S. Yueh. (Eds.). Resistance in the era of nationalism: (Per)Forming identities in Taiwan, Hong Kong, and Macao. Michigan State University Press. (Won Top Paper Award in Chinese Communication Studies at the 107th NCA Annual Conference)
Chao, C., & Xie, M. (In press). Formatting identity and imagined community through ethnic media use. Journal of Intercultural Communication Research. This research is granted for $5,000, University Committee on Research and Creative Activity (UCRCA) Grant, UNO.
Xie, M., & Chao, C. (2022). The interplay of subjective well-being, social support, and social media use by Asian international students in the U.S. Journal of Intercultural Communication, 22(2), 22-32.
Xie, M., & Chao, C. (2022). Digital feminism: Social media portrayal of housewives and "蕾神之锤" in Chinese society. China Media Research, 18(1), 101-113.
Chao, C., & Ha, L. (Eds.). (2020). Asian women leadership: A cross-national and cross-sector  comparison. New York, NY: Routledge Taylor & Francis Group. This Book won TWO Outstanding Book Awards from the Asian/Pacific American Caucus & Studies Division AND the International and Intercultural Communication Division at NCA for the 2021 Outstanding Book Award, National Communication Association