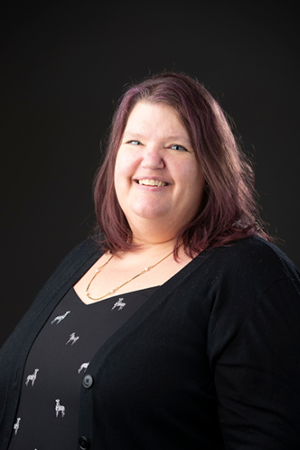 Amy Jo Ellefson
she/her
Communication, Instructor
---
email:
office:
ASH  107T
office hours:
Monday through Thursday, 11:00 am to Noon or by appointment
note:
This profile is pulling in data from Digital Measures. Postings on personal websites or social media do not indicate that the individual is speaking on behalf of UNO.
General Information
Biography
More than decade of higher education teaching experience and nonprofit management experience complement my MA degrees in Communication Studies and East-West Studies. My research specializations are gender, conflict, and strategic communication, but my work is often interdisciplinary, and I have a penchant for studying biological anthropology. I am a current PhD candidate at the University of Southern Mississippi and am clinging to high hopes and an ambitious writing schedule for completing my dissertation by March 2024.
Teaching Interests
Conflict communication, negotiation, mediation, family communication, intercultural communication, and gender communication
Research Interests
I work primarily with transgender populations and their loved ones to explore family and conflict communication. I am interested in the communicated expectations of women, particularly mothers, in our social and political world.
Service Summary
*Family advocate and subject matter expert, TRANS Program, 2023*Advisory Board member, Research cooperative focused on transgender individuals' family experiences, Wayne State University, 2021-Present
Awards and Honors
National Communicaiton Association Visiting Fellow, Scholarship/Research - 2019
Peggy Jean Connor Research Award, Scholarship/Research - 2018
Education
MA, Creighton University, Omaha, NE, East-West Studies, Negotiation and Conflict Resolution, 2016
MA, Bellevue University, Bellevue, NE, Communication Studies, Quantitative Studies, 2007
Professional Development
Community of Practice: Research, Writing Accountability Group, 08/01/2021
Licensures and Certifications
Nebraska Mediator, State of Nebraska, 01/01/2013
Scholarship/Research/Creative Activity
Selected Publications
Ellefson, Amy, Fourney, Sean, Stengrim, Laura, Young, Steven, Wingo, Kim. 2019. Fostering the art of scientific communication in the speaking center, Communication Centers Journal, 5, 1, 56--66.
Artistic and Professional Performances and Exhibits
Exhibition, Photovoices--Baright Library Centennial Celebration, 09/01/2022 - 01/01/2023