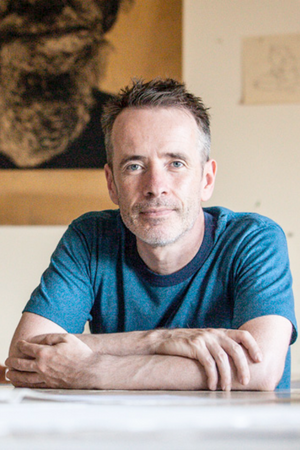 Mark Gilbert
Associate Professor
Art & Art History
---
Additional Information
Dr. Mark Gilbert is an artist, teacher, and researcher who he has worked on several high-profile art-based research projects using portraiture to illuminate the patient and caregiver experience of illness, recovery, and care. These studies include Saving Faces at The Royal London Hospital and Portraits of Care at the University of Nebraska Medical Center (UNMC). The resultant artworks were exhibited widely in venues across Europe and the US, including the National Portrait Gallery in London. Gilbert graduated in 1991 from the Glasgow School of Art.
In 2002, he was offered a post as artist-in-residence at The Royal London Hospital in England, which provided Gilbert the opportunity to work with maxillofacial surgeon Prof. Iain Hutchison and his patients to create a collection of artworks that portrayed the patients as they experienced their illness, surgery, and recovery. In 2014, Gilbert was awarded his PhD at UNMC. His research focused on the interdisciplinary field of Art and Medicine and recognized that non-discursive methods of communication (e.g. pictures, music, dance, poetry, etc.) can be forms of research.

Gilbert's work and research have been widely disseminated, illuminating how the visual arts can open new perspectives that encourage us to reflect on our experiences and consider the relationship that society has with health and illness, and between those who give and those who receive care. His research explores how aesthetic responses and reflective practices can inform curriculum and impact both medical and art education.
Over 21 years of committed engagement in transformative collaborations has cultivated Gilbert's passionate belief in the power of arts to inform our understanding of illness and care.