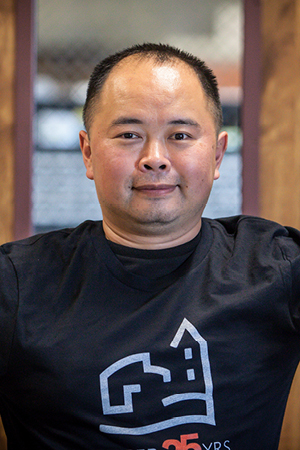 Jave Yoshimoto
Assistant Professor
Art & Art History
---
email:
office phone:
fax:
402.554.3436
personal website:
Additional Information
Office Hours
Monday/Wednesday 11 a.m. - 4 p.m.
Biography
Jave Yoshimoto is an artist and educator of multi-cultural background. He was born in Japan to Chinese parents and immigrated to California at a young age. Yoshimoto has since traveled and lived in various parts of the states which influenced his artistic practice.  He believes in creating art works that are socially conscious and true to his authentic self.  
Yoshimoto has received his Bachelors from University of California Santa Barbara in Studio Art, his Post-baccalaureate Certificate in Painting and Drawing and Masters of Art in Art Therapy at the School of the Art Institute of Chicago, and his Masters of Fine Arts in Painting at Syracuse University.
As an artist, he has been an artist-in-residence in numerous states, most recently at Teton Artlab in Jackson, Wyoming.  Yoshimoto has been featured in multiple publications such as Huffington Post, Chicago Tribune, Prairie Schooner, New American Paintings, Newer York Press among others. He received a letter of recognition from the United Nations, and exhibited across twenty states.  Yoshimoto has also shown in solo exhibitions in New York City, Alva, OK, Seattle, WA, Portland, OR, Lincoln, NE and Chicago, IL.
Scheduled Teaching
Foundations Drawing and Design: 2D, Foundations Color and Visual Literacy
Education
Master of Fine Arts - Painting, 2012, Syracuse University, Syracuse, NY
Master of Arts - Art Therapy, 2007, School of the Art Institute of Chicago, Chicago, IL
Bachelor of Arts - Studio Art, 2004, University of California Santa Barbara, Santa Barbara, CA
Academic Experience
2015 to Present
Assistant Professor of Art, Foundations Coordinator - University of Nebraska at Omaha, Omaha, NE
2013 to 2011
Director of Studio Art, Artist in residence program, Assistant Professor of Art - Northwestern Oklahoma State University, Alva, OK
Teaching Artist, Arts Corps - Cleveland High School/Mercer Middle School, Seattle, WA
 2010-2012
Instructor Graduate, Painting - Syracuse University, Syracuse, NY
Professional Experience
2015
Artist in Residence - Teton Art Lab, Jackson, WY
2014
Artist in Residence - Jentel Foundation, Banner, WY
2012
Artist in Residence - Kimmel Harding Nelson Center, Nebraska City, NE
Artist in Resident - Vermont Studio Center, Johnson, VT
2011
Artist in Residence - Art Students League of New York, Sparkill, NY
2010
Artist in Residence - Art Farm Nebraska, Marquette, NE
2009
Art Therapist - Asian Human Services,  Chicago, IL
Awards
2015
Printmaking Award - ARTSPACE Gallery, Stroudsburg, PA
2014
First Place - Japanesque Exhibit, Overland Gallery, Kinston, NC
Second Place - Alabama National, University of Alabama, Tuscaloosa, AL
2013
Featured Artist - New Emerging Artists, New York, NY
Featured Artist- Community Supported Arts, Seattle, WA
2012
Earl Avitt Award - Prairie Schooner, University of Nebraska Press, Lincoln, NE
Letter of Artistic Achievement - Friends of the United Nations, New York, NY
2011
Chancellor's Award - Syracuse University, Syracuse, NY
Sara & Kuniyoshi Scholarship - Art Students League of New York, NY
Publications
2015
Chicago Tribune- Visual Arts Section Pick of the Week, June 18, 2015
Made in Mind Magazine - Issue 4, Spring 2015
ARTiculAction - 2015 Biennial edition
Lincoln Journal Star - Section (402) 411, March 15, 2015, Lincoln, NE

2014
Alva Review Courier - Volume 122 No. 19, Alva, Ok
Dialogist - Volume I, Issue IV
Fresh Paint Magazine - Issue II
The Newer York Press - New York, NY
Slag Mag - Old Furnace Artist Residency Publication, Harrisonburg, VA

2013
Baptism of Concrete Estuary- Lunch Ticket, Antioch University, Los Angeles, CA
Artist Reel- Wordsmiths, Boulder, CO

2012
Home- Prairie Schooner, University of Nebraska Press, Lincoln, NE
Scroll for Japan- Huffington Post, New York, NY
New American Paintings No. 99, 102- Open Studios Press, Boston, MA
Selected Exhibitions
2015
The Wooden World - Nebraska Gallery, Portland, OR
The Melting World - Dittmar Gallery, Evanston, IL
Shock - 42 Maple Contemporary Art Center, Bethlehem, NH
Sommerferien Postkarte Ausstellung #2 - Institue Für Alles Mögliche, Berlin, Germany
Anonyme Zeichner 2015 - Kunstverein Tiergarten | Galerie Nord, Berlin, Germany
Across the Divide - Beijing Normal University, Beijing, China
Nature/Nurture - Sulfer Studios, Savannah, GA
Earth - DAAC Gallery, Dubuque, IA
High Water Exhibition - Boston Public Library, Boston, MA
Nebraska - Prescott Gallery, Lincoln, NE
Home is Where - Arterie Fine Arts Gallery, Naperville, IL
So Hot Right Now - Step Gallery, Arizona State University, Tempe, AZ
5x7 - Morris Graves Museum of Art, Eureka, CA
The Earth Speaks - ARTSPACE Gallery, Stroudsburg, PA
The Sinking World - Iron Tail Gallery, Lincoln, NE
Justified Art - Overture Center for the Arts, Madison, WI
Thank You For Applying - Gallery 252 Katzen Arts Center, Washington, DC
H2O: Water Exhibition - Arts and Heritage Centre, Altrincham, United Kingdom
Heads Will Roll - The Project Room, Artspace, New Haven, CT
Pancakes & Booze - Farmer's Public Market, Oklahoma City, OK
The Big Draw - Catalyst Gallery, Beacon, NY
Single - Local Project Gallery, Long Island City, NY
The March - Resident Artists Gallery, Franklin Arts Center, Brainerd, MN
Healing Through Art - Paul Robeson Gallery, Rutgers University, Newark, NJ
Respond - Smack Mellon Gallery, Brooklyn, NY
2014
21 and Counting - The Painting Center, New York, NY
Drowning in a Sea of Information - Work Gallery, University of Michigan, Ann Arbor, MI
Painting Now - Florence Quater Gallery, Southwest University of Visual Arts, Tucson, AZ
KHN Permanent Collection Exhibition - Hastings College Art Gallery, Hastings, NE
Japanesque - The Overland Gallery, Kinston, NC
Alabama National, Sella - Granata Art Gallery, University of Alabama, Tuscaloosa, AL
Midwest Multiples - Nemeth Art Center, Park Rapids, MN
Rippin' Rhythm - Flight 64 gallery, Portland, OR
See | Me Take Over - Times Square Electronic Board, New York, NY
The Living Mark - Verum Ultimum Gallery, Portland, OR
First Class: International Mail Art Exhibition - Port City gallery, Portland, OR
Beyond the Tentacle - Good: A Gallery, Portland, OR
25th International Juried Exhibition - Viridian Artists, New York, NY
Shifting Ecologies - The Painting Center, New York, NY
Words We Live By - White Box Studio Gallery, Chicago, IL
Mixed Messages - Paper Street Antenna Gallery, New Orleans, LA
Kaiju - Alamo Drafthouse Gallery, Katy, TX
The Impressionists - Graceful Arts Center, Alva, OK
Erotische Kunst- GS gallery, Southwest University of Visual Arts, Tucson, AZ
Person(ALL) narratives- Runnymeade Hotel, Alva, OK
Contemporary views: Modern & abstract art- Graceful Arts Center, Alva, OK
51st Annual juried exhibition- Masur Museum of Art, Monroe, LA
Ex Libris: 100 Artists, 100 Books- Axis Gallery, Seattle, WA
Post-apocalyptic- Truman State University Art Gallery, Kirksville, MO
Fresh Paint Digital Art Exhibition- TRP Center media wall, Philadelphia, PA
International postcard show 2014- Surface Gallery, Nottingham, United Kingdom