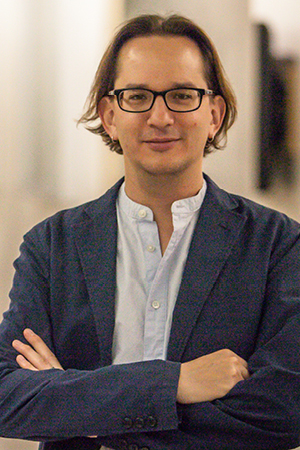 email:
office phone:
fax:
402.554.3436
Additional Information
Office Hours
Tuesday/Thursday 9:30 a.m. - 11 a.m. and 4 - 5 p.m.
Biography
Adrian R. Duran was born and raised in New Jersey. He holds a BA in Art History from the University of Notre Dame and received an MA and PhD in Art History from the University of Delaware. Duran is a specialist in Modern and Contemporary Art, particularly Italian Modernism, and teaches courses on 19th, 20th, and 21st century art, art theory, and criticism. Prior to arriving at UNO, Duran taught at the Memphis College of Art.
Research Statement
My research focuses on mid-twentieth century painting and sculpture in Italy, particularly in relation to the politics of the Cold War as manifest in both art objects and the art critical discourse. I have also worked on issues of influence within international abstraction during the 1940s and 50s. My work also engages art criticism, recently focused on issues of regionalism and language in Southern contemporary art as well as the intersection of contemporary photography and New Media practices.
Research and Creative Activity Interests
Mid-20th century painting and sculpture in Italy, international abstraction during the 1940s and '50s, art criticism
Education
BA, University of Notre Dame
MA and PhD, University of Delaware
Scheduled Teaching
Survey of Western Art II, Modern Art I, Modern Art II, Contemporary Art, Art in Theory and Practice Since 1900, Special Topics in Art History: Art Criticism