Providing a collaborative communication forum for members of the Deterrence and Assurance Academic Alliance and larger public.
The University of Nebraska at Omaha is hosting the Deterrence and Assurance Academic Alliance Conference and Workshop, supported by United States Strategic Command (USSTRATCOM), on 3 – 4 March, 2016.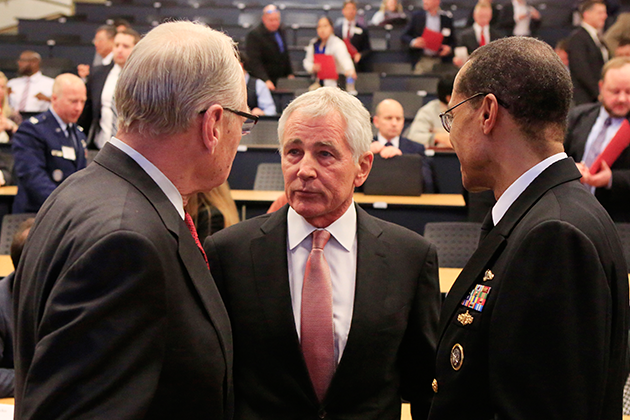 This two-day conference will feature an alliance member-only Tabletop Exercise focused on deterrence issues; a security-focused job fair; two panels of presentations; and workshops sessions. The conference will include coffee, lunch and an evening reception with keynote addresses from UNO and USSTRATCOM representatives. The conference is free and open to the public.
The call for paper abstracts/proposals is now open, please submit here.
To find out more about the Deterrence and Assurance Academic Alliance, please visit the website.
Call for Papers Abstract/Proposals:
We are pleased to announce the inaugural Deterrence and Assurance Conference and Workshop, hosted by the University of Nebraska at Omaha and supported by U.S. Strategic Command on March 3-4, 2016.
We are soliciting paper proposals now through January 1, 2016. Please submit your proposals below.
The theme for the event is "Strategic Deterrence for the Future." Participants will examine the concepts and roles of strategic deterrence and assurance in a diverse, complex, and uncertain security environment. Submitted panel papers should focus on the overall theme and address questions such as the following:
Do historical concepts of deterrence and assurance apply in today's environment? For example, does cold war deterrence logic apply to countries working to establish or re-establish their status in the world?
Is "strategic stability" still a viable organizing principal for U.S.-Russia-China relations, or are other approaches preferred? What are the deterrence and assurance implications of these alternate approaches?
Does involving allies in deterrence and assurance planning and/or discussions reinforce or undermine the desired outcomes?
However, the organizing committee welcomes proposals on a wider range of relevant deterrence and assurance topics.
This inaugural event will be held on the campus of the University of Nebraska at Omaha, beginning on Thursday, March 3th and concluding on Friday, March 4th. Additionally, UNO will also conduct a security-themed job fair that is open to conference participants.
The deadline for paper/panel submissions is January 1, 2016. Please contact Program Chairs Michelle Black and Lana Obradovic with questions about potential submissions and participation. Information regarding registration will be provided at a later date.
---
Deadlines
| | |
| --- | --- |
| October 15, 2015 | Call for paper abstracts/proposals |
| January 1, 2016 | Paper abstracts/proposals due |
| January 15, 2016 | Acceptance notifications and confirmation of panel members |
| February 12, 2016 | Deadline for registration |
| February 20, 2016 | Workshop papers submitted to panel chairs |
| March 3-4, 2016 | Deterrence & Assurance Workshop |
---
The Deterrence and Assurance Academic Alliance
The goal for the Deterrence and Assurance Academic Alliance is to strengthen and regularize collaborative relationships and interactions between defense and academic institutions to stimulate new thinking and develop future generations of deterrence practitioners.
Efforts include creating venues for academic communication and collaboration in the form of a website, an annual workshop, speaking engagements, a deterrence focused journal, and current and future research.
Bellevue University
Iowa State University
Creighton University
Kansas State University
Colorado State University
University of Denver
Nebraska Wesleyan University
University of Northern Iowa
University of Nebraska at Lincoln
University of Kansas
University of Nebraska at Omaha
University of Nebraska at Kearney
Georgetown University
U.S. Air Force Academy
Stanford University
Missouri State University
Johns Hopkins University/APL
National Defense University
Louisiana Tech University
School of Advanced Nuclear Deterrence Studies, Global Strike Command
---
Lodging
Please make reservations early. The Courtyard by Marriott Aksarben Village has a block of rooms for conference attendees. The University provides shuttle service from the hotel to the campus throughout the day.
The hotel is located at 1625 S 67th Street, Omaha, NE 68106
Their phone is: 1-402-951-4300
---
Parking
If you are driving to campus to the Community Engagement Center, please consult our parking map.
Parking lot E is directly in front of the CEC. Please tell the gate attendant that you are attending the Deterrence and Assurance Conference and you will be allowed to park in the lot.