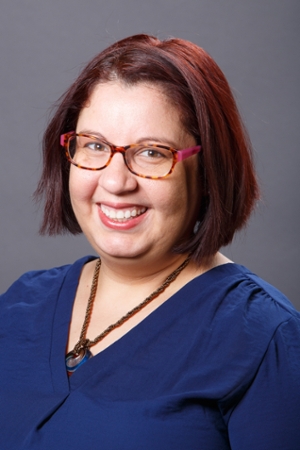 email:
office:
RH  308N
office phone:
department phone:
fax:
402.554.2125
digital commons:
note:
This profile is pulling in data from Digital Measures. Postings on personal websites or social media do not indicate that the individual is speaking on behalf of UNO.
General Information
Biography
Dr. Sandra Rodríguez-Arroyo is an Associate Professor of ESL/Bilingual Teacher Education and a faculty member with the Office of Latino/Latin American Studies (OLLAS). After earning her Bachelor's degree in Secondary English Education from the Universidad de Puerto Rico en Cayey, Dr. Rodriguez-Arroyo began her career as an educator teaching English as a Second Language (ESL) at the junior high school level in public and private schools in her island. She received her Master's in Education (M.Ed.) in Bilingual/Multicultural Education and a Doctorate in Education (D.Ed.) in Curriculum and Instruction from Penn State University. Currently, Dr. Rodriguez-Arroyo directs UNO's undergraduate and graduate ESL and Bilingual teacher education programs. Also, Dr. Rodriguez-Arroyo is the faculty liaison for Metro Area Teachers of English Language Learners (MATELLS). This professional network provides learning and collaboration opportunities for ESL educators in the Omaha Metro Area and surrounding school districts.
Teaching Interests
Undergraduate and graduate courses in areas of expertise related to ESL and Bilingual Teacher Education. Supervise field-based experiences for future and current language teachers.
Research Interests
Educational opportunities for multilingual learners (MLs) in the state of Nebraska; Preparing future and current teachers to work with the growing rate of MLs in the state; Translanguaging perspectives in bilingual education teacher preparation; Asset-based service-learning experiences with diverse learners and families; Latina faculty testimonios; Black, Indigenous, and People of Color (BIPOC) teachers' recruitment and retention
Service Summary
Future Teachers of Color Summit; Nebraska Liberatory Praxis Collective; Nebraska Multilingual Higher Education Group; Community Engaged Scholar Transcript Designation Advisory Committee; Diversity Equity and Inclusion Committee. College of Education, Health, and Human Sciences (CEHHS), Summer 2020-Present. Co-Chair (2022-2023)
Awards and Honors
Nebraska Campus Compact 2015 Excellence in Community-Based Teaching & Scholarship Award, Teaching - 2015
UNO Faculty Service Learning Award, Teaching - 2016
University of Nebraska at Omaha, UNO Service Learning Academy (SLA) Faculty Fellow, Service, University - 2016
Professor Robert Ackerman Faculty Fellow of Community Engagement, Service, Community - 2020
Leadership Faculty Fellowship, Leadership - 2021
2022 CEHHS Alumni Outstanding Teaching Award, Teaching - 2022
Scholarship/Research/Creative Activity
Selected Publications
Pearson, Ferial, Rodriguez-Arroyo, Sandra, Gutierrez, Gabriel. 2021. Cariño Pedagogy: A Framework of Corazón, Journal of Curriculum, Teaching, Learning and Leadership in Education.
Rodriguez-Arroyo, Sandra, Pearson, Ferial. 2020. Learning from the History of Language Oppression: Educators as Agents of Language Justice, Journal of Curriculum, Teaching, Learning and Leadership in Education, 5, 1, 28-37.
Rodriguez-Arroyo, Sandra, Vaughns, Ashley. 2015. Is service-learning the answer? Preparing teacher candidates to work with ELLs through service-learning experiences, New Waves-Educational Research and Development Journal, 18, 1, 18-35.
Rodriguez-Arroyo, Sandra. 2013. The never ending story of language policy in Puerto Rico, Revista Comunicación, Política y Cultura, 4, 1, 79-98.
Service
Media Contributions
Internet Publication, UNO's Community Engagement Spotlights, Interviewed and featured on UNO's Community Engagement Spotlights. These spotlights include students and faculty who exemplify commitment to community engagement, representing the breadth of UNO's involvement in various causes. Summer 2016. Available online at: http://digitalcommons.unomaha.edu/cgi/viewcontent.cgi?article=1002&context=engagementspotlights , 06/01/2016