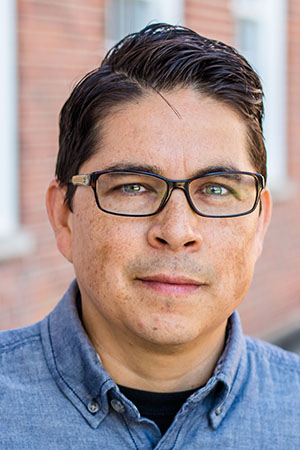 Dr. Ramon Javier Guerra
English, Associate Professor
---
email:
office:
ASH  192D
office phone:
department phone:
fax:
402.554.2009
note:
This profile is pulling in data from Digital Measures. Postings on personal websites or social media do not indicate that the individual is speaking on behalf of UNO.
General Information
---
Biography
I have been teaching at UNO since January 2008 and have developed several courses focused on Latino Literature and cultural studies in my involvement with both the English Department and the interdisciplinary Office of Latino and Latin American Studies (OLLAS).
Teaching Interests
Latina/o LiteraturePostmodern LiteratureCultural Studies and the Twentieth CenturyPost World War II American Literature
Research Interests
20th and 21st Century American Literature African American LiteratureLatinx Literature Ethnic LiteratureTestimonio's role within literature and historyPostcolonial StudiesPostmodern Studies
Service Summary
In the Department of English I currently serve as the Chair of the Graduate Program Committee as well as the Chair of the Grade Appeals Committee. I am on the Faculty Committee of the Office of Latino/Latin American Studies (OLLAS). I am also serving a second three year term as a member of the University-wide Graduate Council and have served a one-year replacement term on the University Faculty Senate.
Awards and Honors
Alumni Outstanding Teaching Award, Teaching - 2019
Education
Ph D, University of Nebraska, Lincoln, English, Ethnic Studies, 2008
MA, University of Nebraska, Lincoln, English, Ethnic Studies, 2003
BA, University of Nebraska, Lincoln, English, History, 2001
Scholarship/Research/Creative Activity
---
Selected Publications
Guerra, Ramon. 2019. "The Politics of US Latino Literature and American Realism", Oxford University Press, 233-248.
Guerra, Ramon. 2018. "Testimonial Youth in Flux: Migration, Narrative, and Children in Which Way Home", University of Florida Press, 175-192.
Guerra, Ramon. 2013. "Mexican Americans Encounter the American Dream: George Washington Gomez", Grey House Publishing Inc., 229-249.
Guerra, Ramon. 2016. "Voices of the Undocumented. Edited by Val Rosenfeld and Flor Fortunati.", International Dialogue, VI, 135-41.
Service
---
Department, College, and University
Department of English Graduate Program Comittee, Committee Chair, 01/01/2016 - present
Graduate Council, Committee Member, 08/01/2017 - 08/31/2017
Graduate Council, Committee Member, 08/01/2017 - 08/31/2017
Professional
The Willa Cather Foundation Board of Governors, Committee Member, The Willa Cather Foundation's Board of Governors is a diverse group of individuals dedicated to promoting the life, times, and work of Willa Cather. Regular communication and committee meetings are ongoing, and the Board meets three times a year— one time each in Omaha, Lincoln, and Red Cloud, Nebraska., 11/01/2016 - present
Center for Great Plains Studies Board of Governors, Committee Member, The Board of Governors provides advice to the Dean of the College of Arts and Sciences and the Director of the Center for the operation, program priorities, and budgetary matters of the Center for Great Plains Studies., 08/01/2015 - present
Administrative Assignments
Graduate Program Chair, 01/04/2016