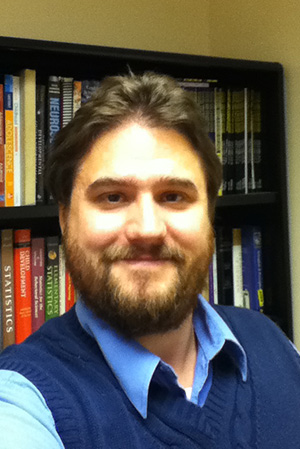 Dr. Jonathan Santo
OLLAS Associate Director
Associate Professor
Psychology
---
email:
office:
ASH  ASH-418C
department phone:
lab room:
ASH-421
office hours:
M, W & F: 9:50-10:30am
fax:
402.554.2556
personal website:
digital commons:
note:
This profile is pulling in data from Digital Measures. Postings on personal websites or social media do not indicate that the individual is speaking on behalf of UNO.
General Information
Biography
I am a Professor of Psychology at the University of Nebraska at Omaha, Nebraska, USA having completed my Ph.D. in 2009 at Concordia University in Montreal, Quebec working with William Bukowski. I also serve as the director of the graduate developmental psychology program and as associate director of the Office of Latino/Latin-American Studies. I am also co-editor-in-chief of the Journal of the Office of Latino/Latin-American Studies.
Teaching Interests
Adolescent Development, Statistics, Cross-Cultural Psychology
Research Interests
My research among early adolescents examines how the interplay between individual and peer characteristics is associated with peer acceptance in general and friendships specifically. I'm also interested in the factors that differentiate peer groups and how these differences influence the interactions within the peer group. In general, I'm interested in the role that culture (or context) plays is shaping group dynamics.
Scholarship/Research/Creative Activity
Externally Funded Research
NSF IIS/CHS Small: Title TBD, Federal - present