Astrophysics Aspirations: UNO Senior Explores Undergraduate Research Opportunities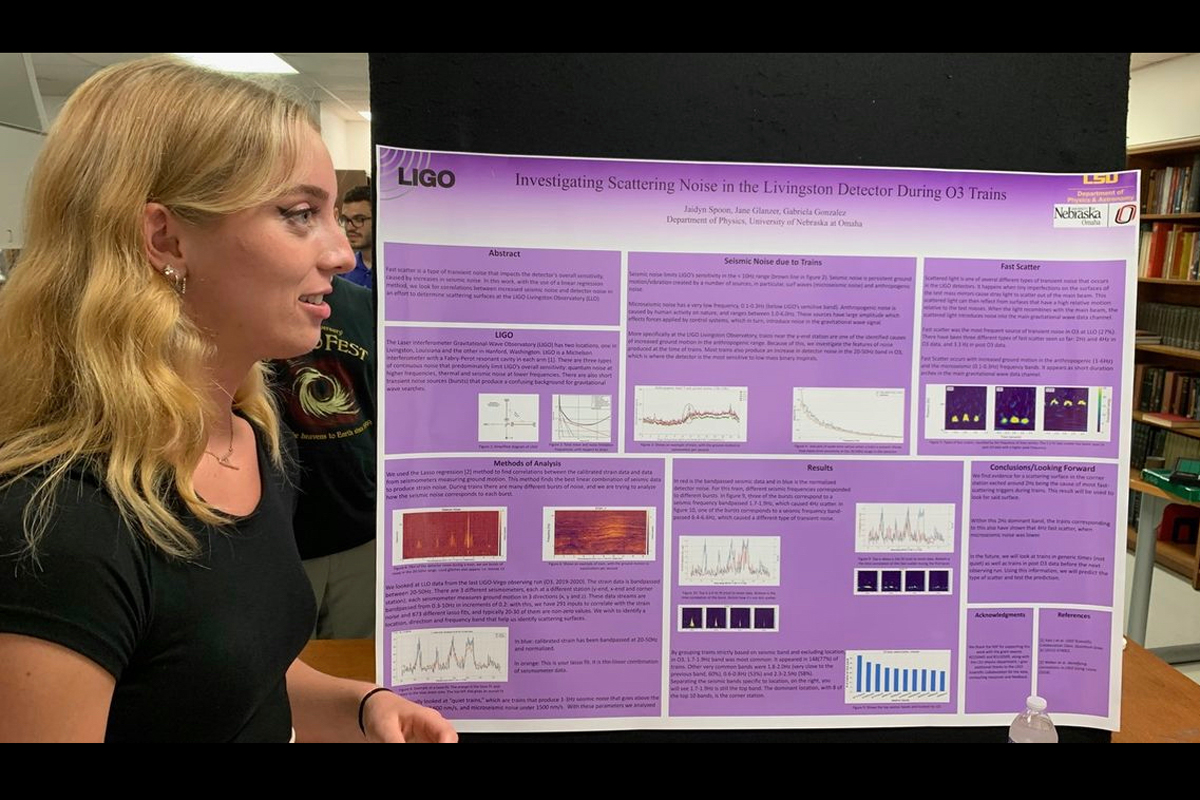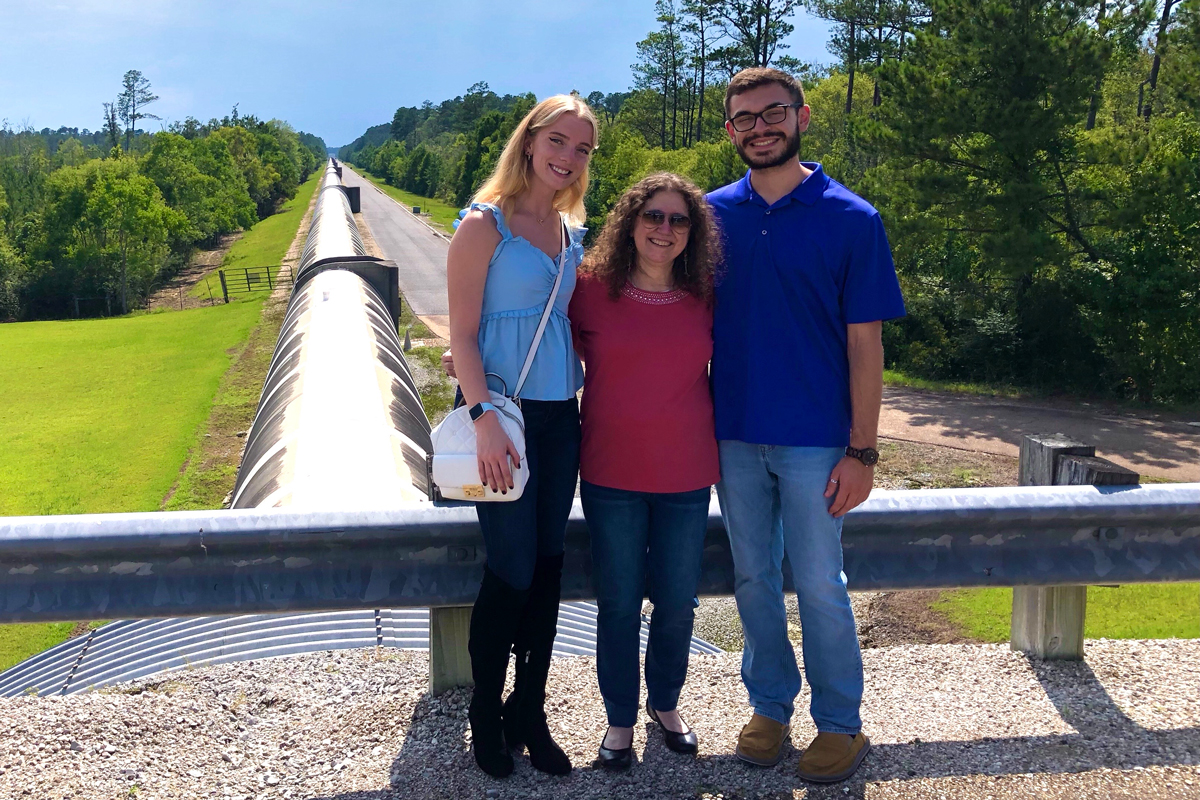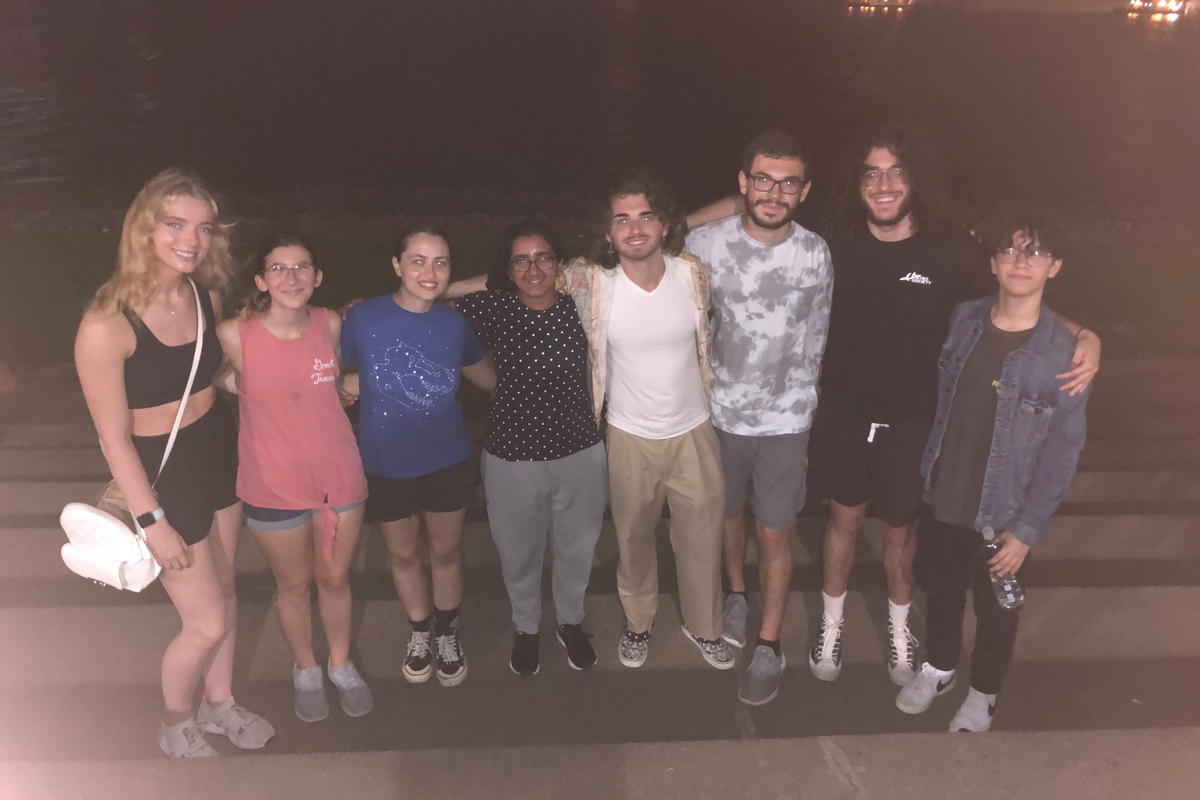 Jaidyn Spoon was in eighth grade when she decided she wanted to be an astrophysicist; her commitment hasn't wavered since. At the time, in 2015, scientists detected gravitational waves for the first time in history thanks to an instrument called LIGO (Laser Interferometer Gravitational-Wave Observatory). Now a senior majoring in physics at UNO, Spoon co-authored her first scientific paper as part of a research experience related to that very technology.
Just like ripples on the surface of water when you drop an object into it, gravitational waves are ripples in spacetime produced when massive objects — like black holes or neutron stars — collide. LIGO uses laser technology to measure the gravitational waves and requires two interferometer arms, each 4 km long, working in unison. One of these sites is located in Hanford, Wash., and the other in Livingston, La., near Louisiana State University where Spoon's research experience took place.
Spoon participated in the Research Experiences for Undergraduates (REU) program supported by the National Science Foundation. The initiative helps connect undergraduate students with opportunities at sites across the U.S., based on areas of research interest. Spoon said she intentionally looked for astrophysics opportunities with an emphasis on gravitational wave studies, and a handful of options were available.
"LSU really stuck out to me on the research side, and especially with a [LIGO] detector being there," Spoon says. "And the fact that Dr. [Gabriela] González was there, and I could work under her specifically doing research, I was so ecstatic."
González is a founding member of the LIGO Scientific Collaboration, and her lab focuses specifically on gravitational wave research — a perfect fit for Spoon's interests.
The research experience took place over the summer for about 10 weeks, working full-time, and Spoon was part of a cohort of other REU participants that spanned the science fields, all working on different projects, with only one other participant working on LIGO-related research. Spoon was paired with a graduate student to help investigate scattering noise in the LIGO Livingston detector.
The paper
published in Classical and Quantum Gravity
investigated environmental disturbances that can limit the sensitivity of the LIGO detector, specifically examining the impact of ground noise produced by trains that run near the location of the LIGO detector.
"This giant L-shaped detector has trains that run by one end of the detector, and when these trains come by, they shake a lot," Spoon explains. "When they shake, it causes disruption and the laser light hits off the mirror that's at the end of the detector, scattering light. My research helped identify the frequency of that noise."
Identifying the frequency bands that correlate most with train noise would allow them to narrow down the list of potential scattering surfaces within the detector. Knowing this, it would make it possible to dampen specific frequencies leading to a reduction of noise within the specific detector location. Spoon's research found that 77% of the trains had the same frequency range that was causing disturbances; if that noise can be mitigated, the researchers will be able to detect even more gravitational waves in future observing runs.
Beyond the hands-on research work, the REU provides opportunities for connection, meeting students and faculty members, experiencing local sites and culture, and building community in the field of interest.
"It was such a transformational opportunity, in both research and building friendships, and I learned so much about gravitational waves," Spoon says. "I knew it was what I was interested in, but being able to actually do the research, listening to different experiences from the graduate students, getting to see the lab at the university and going to LIGO […] I just think they did such a fantastic job immersing you in that realm of physics."
Spoon will graduate with her bachelor's degree in physics and a math minor in December of 2023, so she's already looking ahead to graduate school opportunities and applications. Spoon says she credits the faculty at UNO for getting her to where she is and supporting the outside research opportunity.
"[The UNO physics faculty] encourage you to do more than just graduate," Spoon says. "They care about you succeeding, understanding material and learning it, and encourage you to be involved. I wouldn't have known about these opportunities without their support."
And as for what the future might look like after graduate school?
"I want to do research and maybe work for LIGO and the LIGO Scientific Collaboration." Spoon says. "Working for NASA is a big dream, especially working with LISA, which is their Laser Interferometer Space Antenna. Essentially, LIGO in space."