Student Finds Path and Purpose in Philosophy
contact: Nalleli Zermeno - College of Arts and Sciences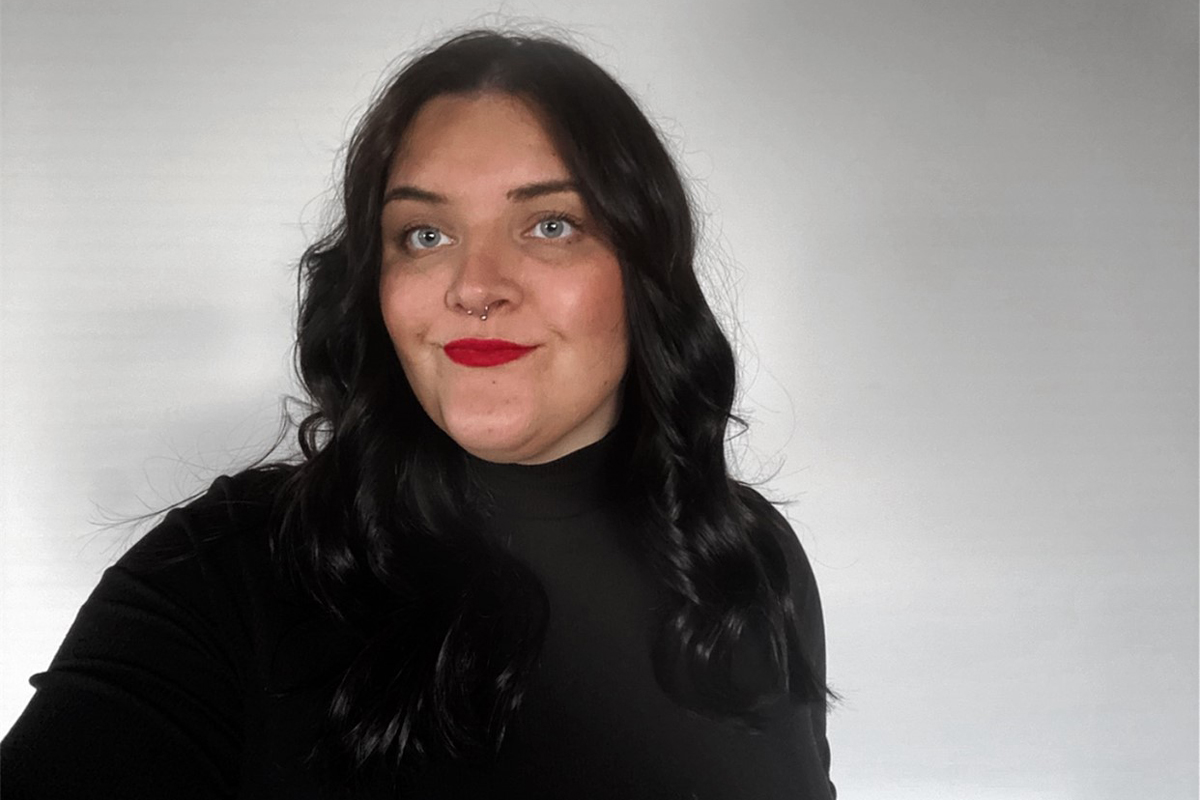 Brianna Larson graduated in December of 2022 and has been awarded the Outstanding Major Award for Philosophy. She majored in philosophy with a concentration in ethics law and social political philosophy.

"I've just always been really curious about why people do things the way that they do and how beliefs get formed but up until probably 2016, I didn't know what philosophy was." Larson said, "I never really had a set trajectory that I knew I wanted to go on. I just always knew what I valued – learning, helping others, and the arts."

Despite not having a clear path Larson kept an open mind; later her friend exposed her to philosophy. "My friend Brian [and I] would always have really cool conversations. So, I asked, did you go to school for something? And he said 'yeah, I studied philosophy.' And I was like, you can do that?!" Larson says, "I was enrolled like two weeks later."

Larson spent the first two years of her college career at Metropolitan Community College getting her generals before she transferred to UNO to major in Philosophy. With only two years left, Larson made it a goal to do as much as she could in the little time she had.

Although her interests in philosophy are vast, Larson concentrated in ethics law and social political philosophy.

"As a woman, as a person with a disability, I definitely have faced discrimination and I feel like I'm getting it in a really mild sense," Larson said. "What about people of color, those who are immigrants, or who are trans, what do they experience? How many doors are closed outright and will never open for them simply because of who they are?"

She earned a collection of accolades ranging from becoming a research partner at Elevate Omaha, presenting at different conferences, and even winning awards for her research; she also managed to donate her time to revitalize UNO's Philosophy Club.

Larson set out to create an outlet for students who may be interested in philosophy. "Going into classrooms can be really intimidating, especially going into classrooms for something like philosophy." She said, "We tried to create a group to uplift and prioritize the voices of underrepresented students."

The club is open to all students who have an interest in Philosophy.

The liberal arts are filled with science, humanities, and arts; many had questions about Larson's future in philosophy. "The biggest concern that I hear from people is, what can you do with philosophy?" She said, "And my kind of cheeky retort is, what can't you do with it?"

Larson's advice for prospective students: "Follow your passions. Life's too short not to. Even if you can't major in a subject, you can always minor in it."

In fall of 2023, Larson will begin a Ph.D. program in philosophy at the University of Cincinnati.