Research Opportunities a Highlight of Student Experience at UNO
contact: Nalleli Zermeno - College of Arts and Sciences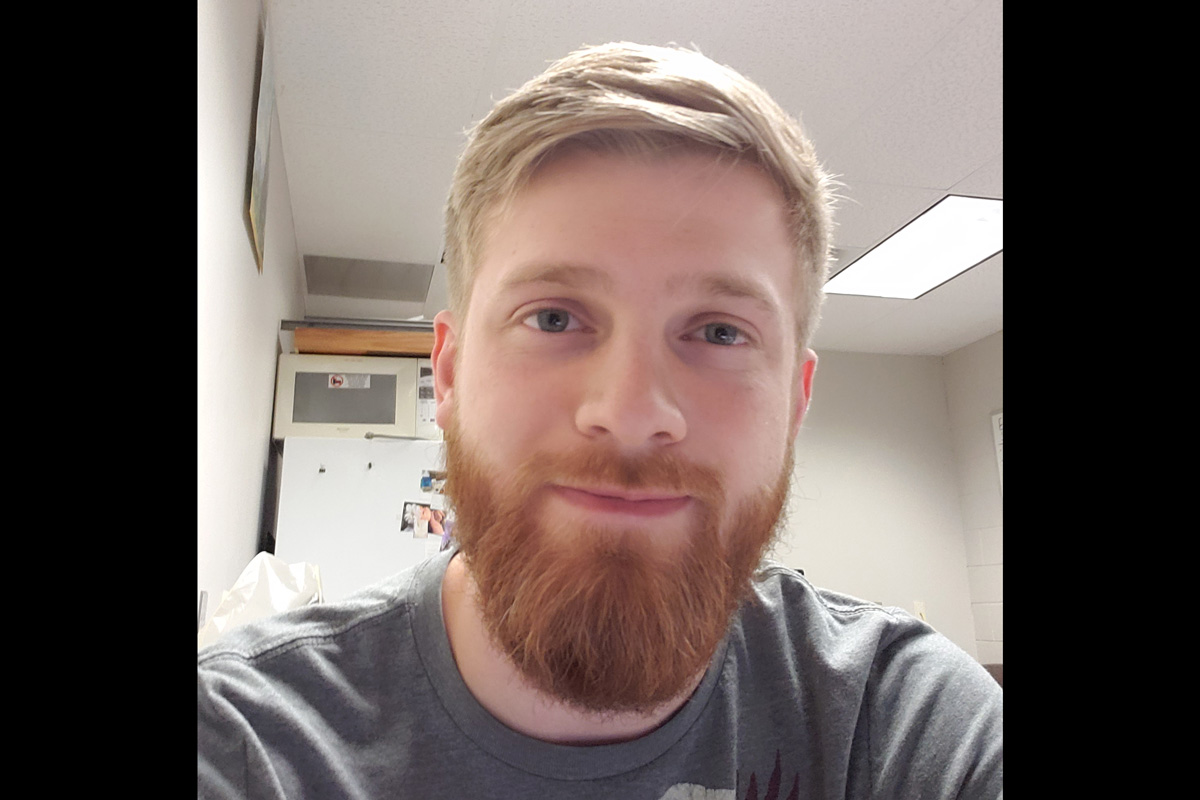 Connor Eastman, a senior at UNO, first found a love of science in middle school, not only in class but with his older sister, Rachel Miller. This passion led him to double major in Biology and Medicinal Chemistry and earn this year's Outstanding Major Award in both Biology and Chemistry.
"My sister was a big part of it, but my love of science started in my seventh-grade science class," Eastman says. "My teacher would take days where we just sit down and watch a Nova Documentary – and I thought that was amazing. Then I saw my sister doing science and it made it a very real, tangible thing, not just sci-fi on the television."
What started as a simple idea led Eastman to get a head start on his academic career and dual enrolling in AP Biology through Millard North and UNO. The idea of research piqued Eastman's interest, and he reached out to his sister, a UNO Chemistry alumna who, at the time, was doing research with Dr. Douglas Stack.
With Miller's help, Eastman began reaching out to different professors.
"I reached out to Dr. Tapprich, and he said, 'Why don't you come down, check out the lab, we'll see if this is a good fit,'" Eastman said. "All of a sudden, I was doing research in high school."
Currently, Eastman's research is in collaboration with his long-time lab partner, Lydia Phillips. Their focus is on solving the 5' UTR of enteroviruses, essentially developing a better understanding of what makes these viruses so infectious and good at causing disease. Enteroviruses are a group of viruses that cause a variety of infectious illnesses, the most well-known being polio. Differences in virus structure can contribute to a strain's ability to cause disease. By comparing different strains of enteroviruses — such as a wildtype strain of poliovirus versus vaccine strains of poliovirus — Eastman and Phillips are attempting to identify correlations and commonalities between the structure of the strains that contribute to its ability to be so infectious.
His advice for those interested in research is, "The first thing is just try." Eastman said, "You'll be surprised at how willing people are to take a chance on you and on what you're doing. All the biology and chemistry faculty here at UNO are super focused on creating the next generation of scientists."
Throughout his time at UNO, Eastman earned a variety of accolades including: a first-author publication, being president of the chemistry club, presenting his research at several conferences across the country, and being awarded the IDeA Networks of Biomedical Research Excellence (INBRE) fellowship.
"For me, it's not emotionally draining," Eastman said. "I'm getting to do science, and I'm getting to interact and help others with science. So, it's a long time commitment, but I enjoy every second of it."
Presently Eastman plans to continue his research in graduate school.