New Podcast Shines Light on "The Face of War"
published: 2022/11/01
contact: Nalleli Zermeno - College of Arts and Sciences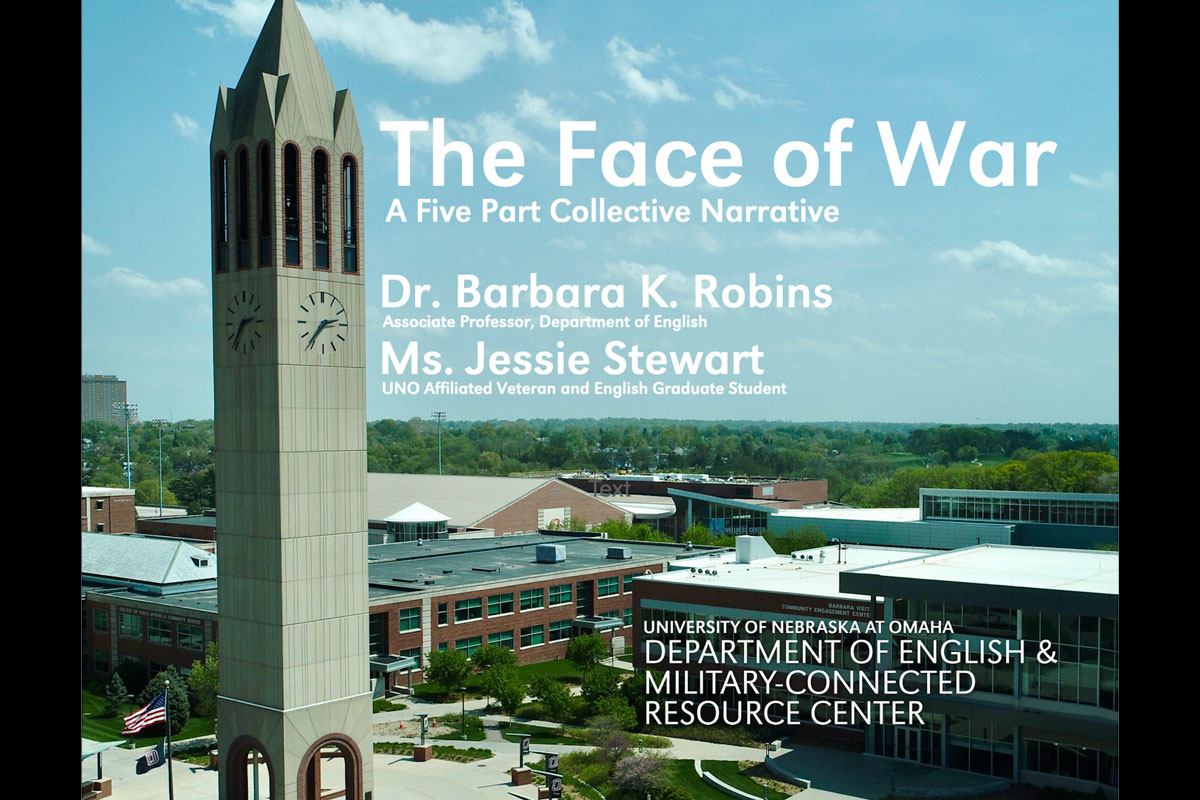 In 2022, Barbara Robins, Ph.D., an associate professor of English, and graduate student Jessie Stewart collaborated to launch a podcast called "The Face of War" that focuses on experiences of war and how it shapes people's lives. The goal was to bring more veteran stories to a public forum to educate, remind people they aren't alone, and give tools to navigate living and experiencing war and its rippling impacts. The five-part series offered new perspectives from refugees, veterans, spouses and family members of those that have lived through war.
"When this project came to light, it was easy to weave in the UNO community, because our project goal was to create a space of caring, understanding, and support," Stewart says. "It was a small way to give back to UNO as well, by offering the community a platform and a voice to share their stories."
Episodes include:
Robins and Stewart met in Robins' "Bringing the War Home" literature course about the veteran's point of view of the homecoming experience. Robins' late husband served in the Marine Corps during the Vietnam conflict, and Stewart deployed to both Afghanistan and Iraq as an Air Force logistics officer. They hit it off quickly and wanted to create a project that would engage the artistic side while addressing these important topics. With the Russian invasion of Ukraine in the spring, it seemed even more important to offer content that would bring comfort to questioning students and others at UNO and beyond. To get the project off the ground, they enlisted the help of Dr. Harley Barmore, a combat veteran of both Afghanistan and Iraq, and newly hired Director for the Military-Connected Resource Center.
"There's lots of fear, worry and anxiety out there that we may not realize or understand," Robins said. "We can offer some reassurance that there are ways to manage these stresses and anxieties, but also sometimes you have to meet it, step forward, and address it. Many people in our community have experiences and are impacted."
Once the idea for a podcast came to mind, the three immediately got to work in UNO's Creative Production Lab. The Creative Production Lab team was quick to support the project, transforming an idea into reality in just six weeks. The trio, bolstered by an English Department grant, hired UNO alumni Matthew Everson to finalize the podcast production. Podcast guests included a wide array of subject matter experts and affected individuals from across the UNO community.
In addition to the five main episodes, "The Face of War" contains an introduction and a sixth episode that looks back on the creation of the podcast through Robins' and Stewart's retrospection.
Stewart said the message they want listeners to take away is "to embrace each other and embrace community. We are all so very different, and yet we have so much in common. We only have one life to live, so sharing experiences, caring for, and embracing each other will help make our lives more meaningful and make the world a better place."
You can find the podcast on Anchor and Spotify.
---
Veterans' Lives on Campus
During this event, panelists discussed the creation of the podcast and addressed the various issues and perspectives of military veterans, active military, and their families, particularly related to their inclusion at UNO.