Arts and Sciences Dean Boocker to Step Down
After 14 years leading UNO's oldest and largest college, Dean David Boocker, Ph.D., will be stepping down at the end of the Spring 2022 semester.
published: 2022/01/24
contact: Courtni Kopietz - College of Arts and Sciences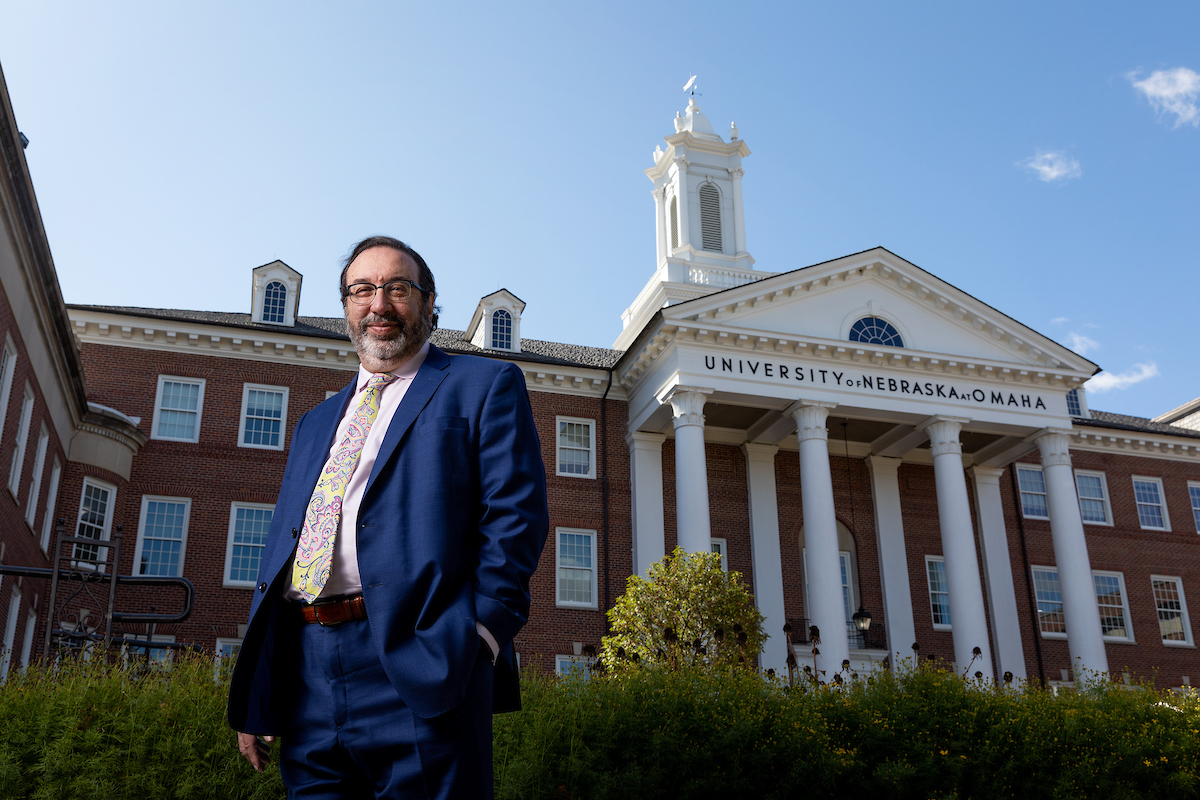 David Boocker, Ph.D., dean of the College of Arts and Sciences, has announced he will conclude his tenure in the position at the end of the Spring 2022 semester, concluding 14 years of leadership for the University of Nebraska at Omaha's oldest and largest academic college.

"There is no question that without Dean Boocker's vision and passion for our students, UNO would not be in the position it is today as an academic and cultural center for our community," Chancellor Joanne Li, Ph.D., CFA, said. "The diversity of opportunities the College of Arts and Sciences has provided a generation of our students has been a truly remarkable legacy that will serve the campus substantially well into the future."

Joining UNO in 2008 to serve as dean of the college, as well as a professor of English, Boocker has been deeply committed to supporting students on their academic journey. In his time as dean, he worked closely with faculty and staff to cultivate an environment that encouraged students to combine their passions with purpose; love their major or academic path; and prepare the next generation of problem solvers.

This focus helped establish the Exploratory Studies program, a campus-wide initiative housed in the College of Arts and Sciences designed to place formerly "undecided" students onto a clearer academic path. It also helped lead to changes in the college's graduation requirements, which allowed twice as many students to pursue a minor in addition to their major.

More than half of the college's full-time faculty were hired during Boocker's tenure. Additionally, he oversaw the expansion of the college – adding or collaborating with campus partners to develop new majors and programs including Medical Humanities; Neuroscience and Data Science; the Samuel Bak Museum and Academic Learning Center; STEM Trail Center; and the National Counterterrorism Innovation, Technology, and Education (NCITE) Center of Excellence.

Boocker's work with the University of Nebraska Foundation, Omaha Community Foundation and UNO departments has resulted in financial support for the Goldstein Center for Human Rights; Schwalb Center for Israel and Jewish Studies; facilities at Glacier Creek Preserve; numerous endowed chairs and professorships; as well as new scholarships to support student success, among other achievements.

"Dean Boocker has been the backbone of the College of Arts and Sciences through tremendous changes on this campus, always guiding a steady ship to ensure our students, faculty, and staff are not just supported but celebrated," said Sacha Kopp, Ph.D., senior vice chancellor for academic affairs. "It can't be overstated how much of an impact Dave has had on UNO's upward trajectory over the past decade through important academic initiatives, community outreach, and faculty development."

Prior to joining UNO, Boocker served as chair and professor in the Department of English & Journalism at Western Illinois University and as a professor of English at Tennessee Technological University. He holds bachelor's and master's degrees from the University of Louisiana Lafayette as well as a doctorate in English Literature from the University of Nebraska-Lincoln.