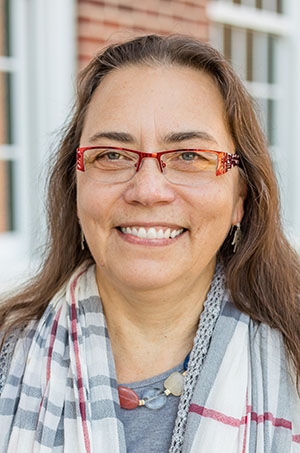 Barbara Robins, PhD
Associate Professor
402.554.3326
---
Additional Information
---
Education
PhD – Interdisciplinary, Native American Studies, University of Oklahoma

MA – English, New Mexico State University

BFA – Studio Art, Minor in Native American Studies, University of Montana
Publications
"We're Still Here! From the Heartland: Critical Reading and Writing at UNO  3rd ed.   Maggie Christensen and Tammie M. Kennedy, eds.  Southlake, TX: Fountainhead P, 2017.  P. 105 – 200. 
 "Hobson, Geary: Cherokee – Arkansas Quapaw/Chickasaw writer and scholar (1941 - )."  Native Americans Today: A Biographical Encyclopedia.  Bruce Johansen, ed.  Westport: Greenwood,      2010.
 "Tips for Nurturing the Home Garden."  Reading Leslie Marmon Silko: Critical Perspectives Through Gardens in the Dunes.  Laura Cotelli, ed.  Pisa, IT: Pisa UP, 2007.  p. 37-56.
 "Teaching Sherman Alexie's 'Every Little Hurricane'." Eureka Studies in Teaching Short Fiction.  3.2 (Spring 2003): 25–35.
Research Areas
Contemporary Native American Literature, Visual, and Performing Arts
9/11
Historical Trauma & PTSD
Indigenous Language Revitalizatio
Teaching Areas
Native American Literature, Visual, and Performing Arts
Research & Writing in Native American Topics
Veterans Literature
Medical Humanities