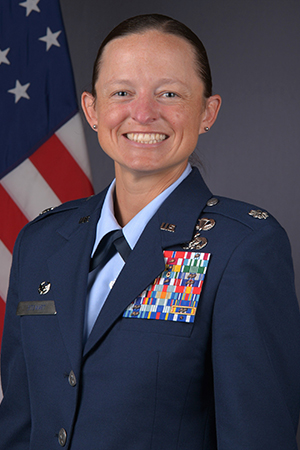 Jessica Stewart, Lt Col, USAF
Professor of Aerospace Studies
Commander, Air Force ROTC Det 470
---
Additional Information
About Jessica Stewart, Lt Col, USAF
Lieutenant Colonel Jessica H. Stewart is the Commander for AFROTC Detachment 470 at University of Nebraska Omaha. She is currently responsible for overseeing the training, development, and commissioning of the Detachment's cadets in preparation for future service as U.S. Air Force officers and leaders for the nation.
Prior to her current assignment, Lieutenant Colonel Stewart was the Commander, 709th Support Squadron, Air Force Technical Applications Center, Patrick Space Force Base, Florida. She led 82 personnel and managed a $2.3M budget supporting the unit's nuclear treaty monitoring mission. Her organization delivered global logistics, civil engineering, force support, and maintenance to 135 sites in 33 countries on all seven continents.
Lieutenant Colonel Stewart earned her commission at the Virginia Military Institute in 2005. She is a logistics readiness officer with experience in base opening and closing, joint, traditional, and non-standard logistics. She has deployed in support of Operation Iraqi Freedom, Operation Unified Protector, Operation Enduring Freedom, and Operation Inherent Resolve.
Education
2005: Bachelor of Arts degree in History, Virginia Military Institute, Va.
2005: Air and Space Basic Course, Maxwell Air Force Base, Ala.
2010: Squadron Officer School, Maxwell Air Force Base, Ala.
2012: Master of Arts degree in National Security, American Military University, W.Va.
2014: Advanced Logistics Readiness Officers Course, Joint Base McGuire Dix-Lakehurst, N.J.
2017: Air Command and Staff College (Correspondence)
2019: Master of Science degree in Operations Management, Advanced Study of Air Mobility (IDE InResidence), Joint Base McGuire Dix-Lakehurst (JBMDL), N.J.
2021: Air War College (Correspondence)
Assignments
August 2006 - August 2008: Flight Commander, 305th Logistics Readiness Squadron, JBMDL, N.J.
March 2009 - June 2010: Flight Commander, 305th Aerial Port Squadron, JBMDL, N.J.
June 2010 - July 2011: Director of Logistics, 363rd Flying Training Group, Al Dhafra Air Base, United Arab Emirates
July 2013 - June 2017: Director of Operations, 724th Special Tactics Support Squadron, Pope AAF, N.C.
June 2017 - May 2018: Commander, 65th Logistics Readiness Squadron, Lajes Field, Portugal
May 2018 - June 2019: Student, Advanced Study of Air Mobility (ASAM) Program, JBMDL, N.J.
June 2019 – June 2021: Commander, 709th Support Squadron, Patrick SFB, Fla.
June 2021 - Present: Commander, AFROTC Detachment 470, University of Nebraska Omaha, NE
Summary of Joint Assignments
July 2011 - July 2013: Global Force Manager, Special Operations Command - Africa, Kelley Barracks, Germany
Major Awards and Decorations
Bronze Star Medal
Defense Meritorious Service Medal with oak leaf cluster
Meritorious Service Medal with two oak leaf clusters
Joint Service Commendation Medal
Air Force Commendation Medal with oak leaf cluster
Army Commendation Medal
Joint Service Achievement Medal
Air Force Achievement Medal with two oak leaf clusters
Combat Readiness Medal
National Defense Service Medal
Afghanistan Campaign Medal
Inherent Resolve Campaign Medal
Global War on Terrorism Expeditionary Medal
Global War on Terrorism Service Medal
Air and Space Campaign Medal
Nuclear Deterrence Operations Service Medal
North Atlantic Treaty Organization Medal
Effective Dates of Promotion
June 1, 2005: Second Lieutenant 
June 1, 2007: First Lieutenant 
June 1, 2009: Captain 
November 1, 2015: Major 
April 1, 2020: Lieutenant Colonel 
(Current as of October 2021)