Welcome to the U.S. Air Force ROTC Program at the University of Nebraska Omaha. It's a challenge. It's an opportunity. It's a head-start on a lifetime of success, within the Air Force or Space Force and in everything you choose to do.
Mission Statement
The mission of the U.S. Air Force Reserve Officer Training Corps is to "Develop Quality Leaders for the Air Force and Space Force"
---
Air Force Core Values
Integrity First
Service Before Self
Excellence In All We Do
---
What is AFROTC?
Air Force ROTC is a program offered at colleges and universities across the United States that prepares students to become Air Force or Space Force officers. The AFROTC program helps students understand the career options available in the United States Air Force (USAF) and United States Space Force (USSF).
ROTC at the college level is one of three pathways to becoming a military officer. This differs from the Junior ROTC program offered in many high schools, which is a citizenship program.
About the U.S. Air Force
For over a century, the U.S. Air Force has defended this country in the air, space, and cyberspace through the skill and bravery of American Airmen. The mission of the United States Air Force is to fly, fight and win - airpower anytime, anywhere. Learn more about the U.S. Air Force
About the U.S. Space Force
The U.S. Space Force was established on Dec. 20, 2019, when the National Defense Authorization Act was signed into law. The Space Force is a separate and distinct branch of the armed services, organized under the Department of the Air Force. Learn more about the U.S. Space Force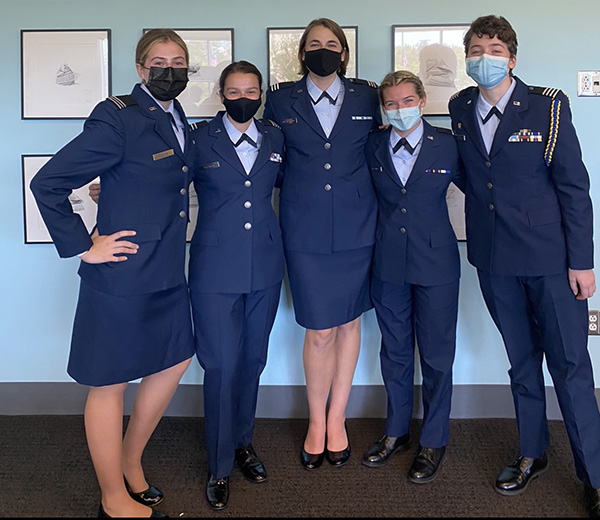 ---
ROTC Program Requirements
In the ROTC program, cadets have two voluntary years to experience if the Air Force is a future they want to pursue. Throughout the program, cadets will attend Physical Training (PT) sessions to stay physically fit, attend Leadership Lab to gain, practice, and refine leadership skills, and take academic classes to understand the history and mission of the Air Force and Space Force.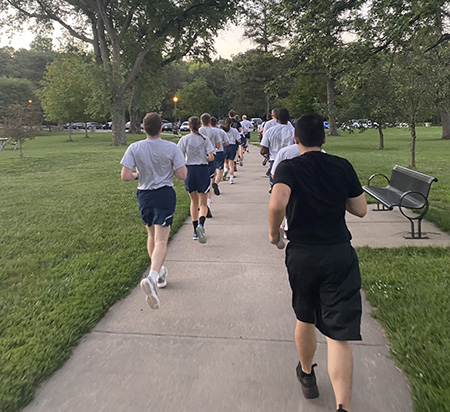 Benefits of Joining the AFROTC
Being in college is already stressful...so why would someone want to add another activity in their life? AFROTC opens up doors to those who have an interest in building a successful and exciting future while becoming a better person and making life-long bonds with the community and people around you. AFROTC can give you a future.
As one of the nation's top military-friendly universities, you will run into several veterans on campus. Veterans joining the Cadet Wing can use their GI Bill or apply for a scholarship to obtain a degree and commission into the USAF or USSF.
The USAF scholarships allow Active Duty enlisted members of any service to separate early and attend ROTC for two through four years in order to attain a degree and commission.
Monthly Stipend
Freshmen
$300.00
Sophomores
$350.00
Juniors
$450.00
Seniors
$500.00
Textbook Allowance
$900.00 per year