The STEM TRAIL Center Prepares our Workforce
We support lifelong learners to build strong STEM employees and citizens.
The STEM TRAIL Center, including the Omaha STEM Ecosystem (OSE), strives to assure that STEM learning experiences are accessible to and inclusive of all learners in our community. Our goal is to assure that these learners have the critical skills and opportunities necessary to become STEM professionals.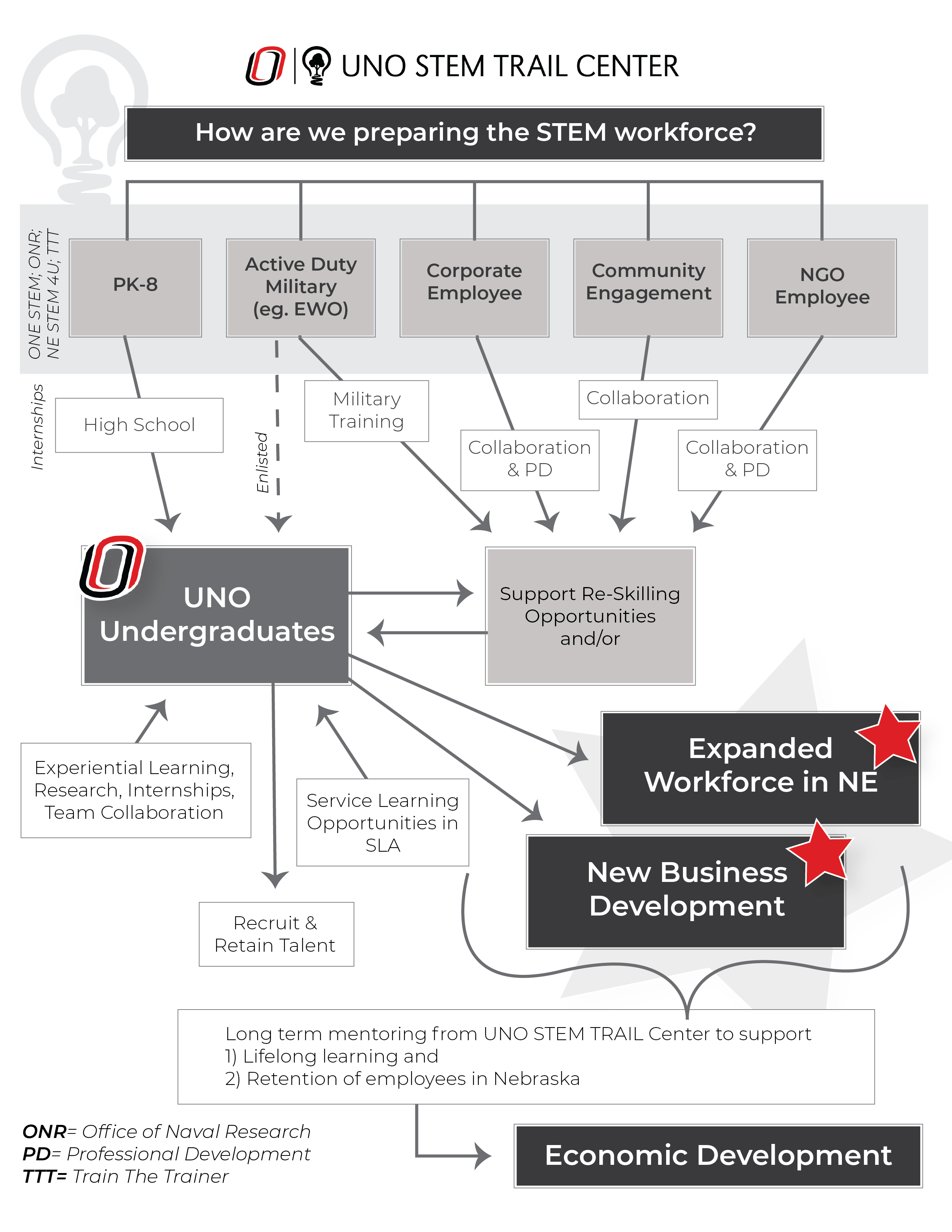 The OSE serves as the backbone organization by working closely with community partners to communicate, collaborate, and connect authentic learning experiences. The collective impact of this OSE initiative is focused on growing the number of STEM professionals and, thus, creating a balance between industry demand and available talent.
At the community level, OSE seeks to create a culture that is informed about STEM related news and ready to collaborate around solutions to any STEM-based challenges.
Visit the Omaha STEM Ecosystem website.
---
Nebraska Business Development Center (NBDC)
As evidenced via the statewide Department of Labor Surveys and recent highlights in the Omaha World-Herald, combined with progress reports from the Omaha Chamber of Commerce, Nebraska is facing a significant challenge in retaining talent in the state, recruiting the next generation of business leaders and innovators, and building small business locally.
Consequently, we aim to partner with the NBDC (and across UNO Colleges) to serve as a third-party SBIR clearing house via the "Entrepreneur in Residence" model, wherein our student participants can serve as the entrepreneur CEO and gain stakes in university spin-off companies to further develop technologies that they co-create with faculty mentored research projects at UNO.
This opportunity will add to the workforce and new businesses for the state, provide additional high wage jobs for our graduates, and serve as an internal review for faculty before competing on the national stage for new ideas.