The STEM Teaching, Research, and Inquiry-based Learning (TRAIL) Center

The Science, Technology, Engineering, and Mathematics (STEM) Teaching, Research, and Inquiry-based Learning (TRAIL) Center is housed at the University of Nebraska at Omaha (UNO).
As an administrative unit, it provides resources and materials to undergraduates, graduates, and faculty members at UNO and lifelong learners (reaching K-12 and adult learners) beyond. The Center does not control any curricula, as it is not an academic unit, but it does serve as a catalyst for course innovations as center affiliates work through colleges to study and implement curricular change.
The STEM TRAIL Center supports the community as well as other schools and universities. Specifically, the Center aims to provide a unified voice for STEM needs in the metropolitan area while providing a shared space for housing STEM professional development initiatives and coordinated financial support for STEM research initiatives.
---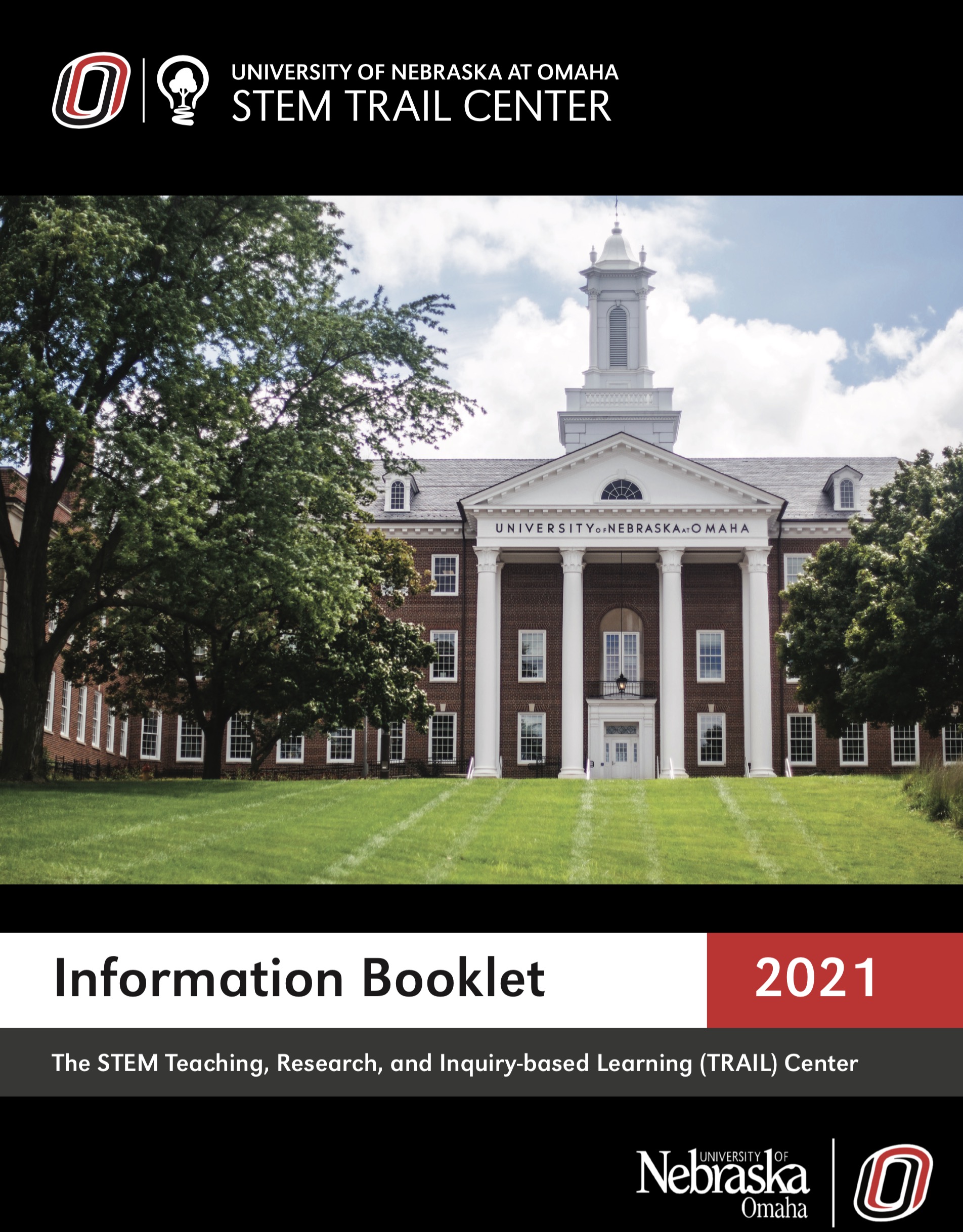 How the Center Engages with Others
The STEM TRAIL Center works cooperatively with the Omaha STEM Ecosystem (OSE; and others) to serve lifelong learners including students, community partners, and industry, at every level.
The Omaha STEM Ecosystem, a partner with the STEM TRAIL Center, believes in building a stronger STEM community by connecting education and business development for tomorrow's workforce. To this end, a strong infrastructure and capacity to connect and collaborate is essential. The recent launch of the STEM Community Platform (SCP) has allowed community partners to come together to ensure access and equity in education for all students.
Research has shown the key influencer for students is often an engagement experience that sparks innovation. The Omaha STEM Ecosystem and the STEM Community Platform speaks to that journey. Our partnership with the STEM TRAIL Center facilitates participation in that journey. To upload STEM programs, resources and training opportunities for educators or students, go to: STEM Portal (aiminstitute.org)
How do the STEM Trail Center and Omaha STEM Ecosystem differ?
The Omaha STEM Ecosystem is focused on bringing together networks of stakeholders, and the TRAIL Center is interested in identifying active learning and inquiry-based learning experiences for students in our STEM pipelines.
Furthermore, the STEM TRAIL Center aims to develop new technologies and inventions and thus aims to work through the OSE and other partners to identify licensees, for example.
How do the STEM Trail Center and STEM Ecosystem work together so that their efforts are complementary?
We work together by having the STEM Ecosystem identify potential partners and challenges within the business community and local economy. We work to support those needs by identifying key areas of opportunity for new industry in Nebraska to potentially generate grants via the Center, thus strategically contributing to Nebraska's economic needs and workforce development.
---
February 2020 - STEM TRAIL Center Announced as UNO Big Idea
A very exciting update in February was the selection of the STEM TRAIL Center as a "Signature Area of Excellence" or "Big Idea" for the UNO campus. We are one of 6 core areas on which the University has endorsed as a priority area with state-aided backing.
While our areas of research and teaching excellence have helped us to be where we are today, the University's investment in us will propel our programming and reach to an entirely new level. This investment by UNO challenges us to push the envelope on the next STEM innovations—we need your help to ensure the success of our students, continue to innovate and deliver high impact outcomes in research, and be on the leading edge of effective teaching practices.
If you haven't yet had the chance to attend one of our events, then please join us at an upcoming event. We'll close out this academic year with countless opportunities for professional development for undergraduates, community partners, faculty/staff, and graduate students. Join us for an event that aligns with your interest and schedule.
Finally, we know that we're still a very new entity and we'll continue to spread the message of our priorities and initiatives. Perhaps you'd like a customized message for your group, unit, or team? Just let us know and we would be happy to share with you some opportunities for collaboration: unostemtrailcenter@unomaha.edu.
---
2022 Programming
We are pleased to continue our STEM TRAIL Center faculty development series on revolving Fridays. Due to the COVID pandemic, the STEM TRAIL Center will be focusing on virtual events for the Spring and will make decisions for summer and fall events soon.
For Parking is available nearby in the West Parking Garage, and any UNO parking pass is valid at TAC while attending STEM TRAIL Center events.
Please RSVP for events, and double-check the location of specific events as some are held elsewhere on campus.

Teaching Practices Workshop Series, First Fridays
DBER Workshop Series, Second Fridays
DBER Speaker Series, Third Fridays
STEM Grant Workshop Series, Fourth Fridays
---