Newsletters come out at least once a semester, and we are always looking for interesting pieces. Become a published author by sharing your impressions of a class, internship experience, or opinions!
Even as a sophomore, English major Abigail Williamson leapt into Honors. She became the editor of the University Honors Program's electronic newsletter, The Distinction. She asked students to write stories for the issue each semester, helping them work through ideas and events that represent Honors students' efforts in many different areas. She would put out calls for columns, remind students of their submissions being due, and then worked tirelessly to lay out all the information in a PDF that showcased students' efforts. She was adept at texts and images and making sure that different voices and topics could be explored. She also showcased graduates every semester!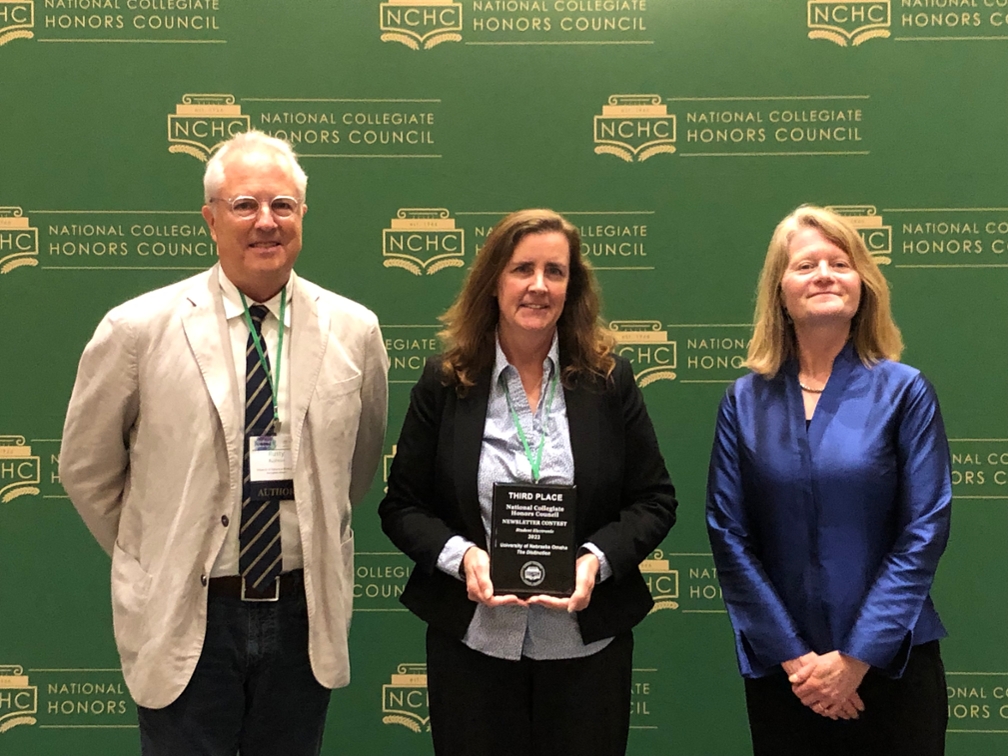 It's not just UNO that recognizes and applauds Abby's efforts. That's just what the National Collegiate Honors Council did in Dallas in early November at their annual conference. Selected from hundreds of newsletters from Honors Programs and Colleges across the country, The Distinction received the third place award in the "Student Electronic" category. Dr. Lucy Morrison accepted the award in person on behalf of the UNO University Honors Program, and she was then happy to celebrate Abigail's achievements by sharing the plaque with Abby too. And Honors is proud to add another plaque to the wall (recognizing The Distinction in 2017 and 2019 too).
Read the most recent Honors Program Newsletter.

See below for archived newsletters: