Current and Updated Issues Regarding SAM.gov Renewals/Registrations
Learn more about current issues that are occurring with the transition from the DUNS number and SAM.gov renewal/registration and how to troubleshoot them.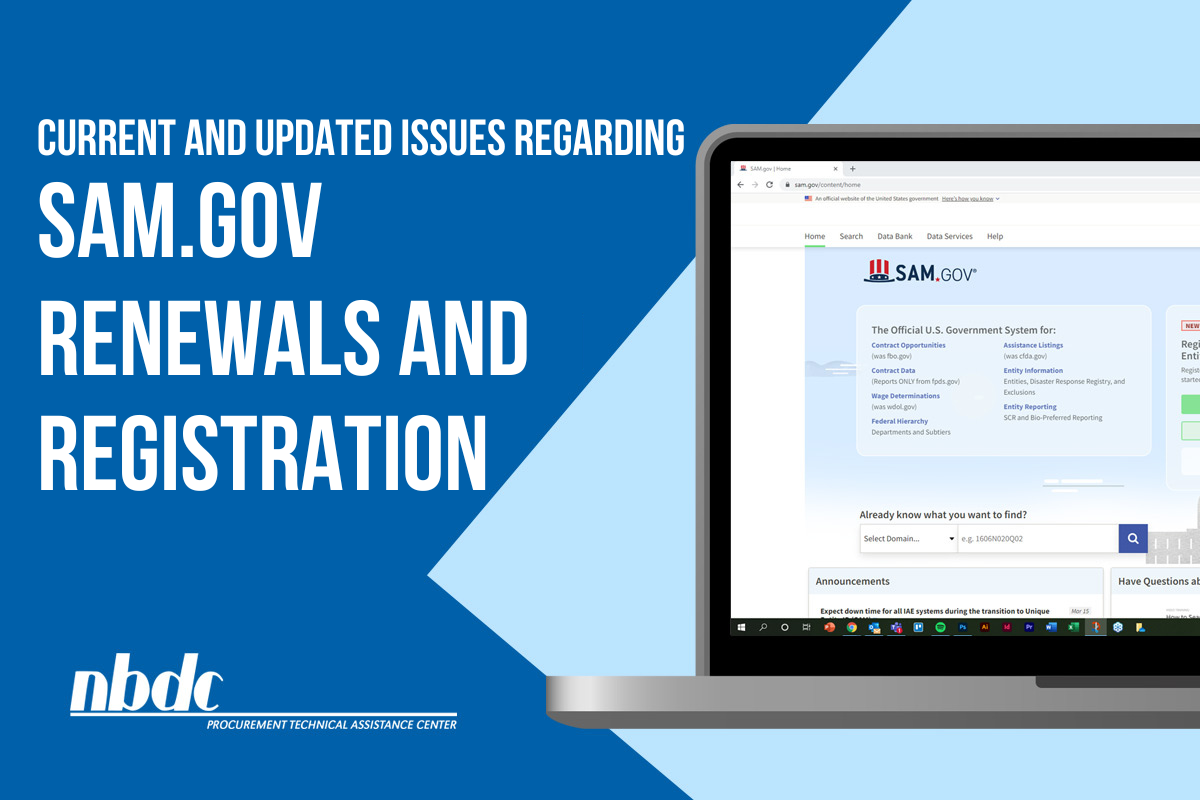 Omaha, Nebraska – On April 4, the federal government transitioned from the DUNS number as the Unique Entity Identifier (UEI) to the new SAM UEI. This transition created validation issues for the majority of companies and organizations trying to create, renew, or re-activate their SAM registrations. Even if you have been doing SAM renewals for more than 20 years, there is a good chance that you might experience validation issues.
Why are validation errors occuring with the new SAM registration/renewal process?
Prior to the transition, SAM.gov used the Dun & Bradstreet database to validate information. So, if you were registered in the Dun & Bradstreet database, the information entered into SAM.gov populated from your entity's DUNS number. The previous process was highly predictable, but the new validation process is still evolving – which leaves entities unclear of what information is needed when trying to renew or register accounts. If you are a for-profit business pursuing government contracting, and you are unsure what to do next, contact your local PTAC consultant for a no-cost consultation, and they'll be happy to assist. Although our consultants are also navigating this new process, we are a resource for guidance with experience in the new system.
What does SAM use to validate my information?
The Secretary of State is used to validate the legal business name.
The U.S. Postal Service is used to validate the physical address.
Use your 4-digit extension code if available.
You cannot use a PO Box Number, or a 4-digit extension for a PO Box Number – that will cause the SAM registration to be rejected.
What do I do if SAM does not list an exact match for my business and/or address?
If you are going through the renewal/registration process and SAM does not list an exact match of your correct legal business name and correct physical address, you will need to create a service ticket. This is a good point in the process to reach out to your local PTAC consultant for any questions prior to submitting the service ticket. This Knowledge Base article posted by the General Services Administration (GSA) provides the approved list of documents you can utilize to create a successful incident ticket.
We are discovering that businesses renewing on their own are unintentionally selecting a record that does not reflect the correct legal business name or correct formatting for their physical address, which can cause delays and issues.
How much does it cost to register or renew my business on SAM.gov?
Once these issues became apparent during the transition, many third-party companies have become more aggressive in their marketing efforts and will contact businesses to offer their fee-based services. A SAM renewal/registration is always free. Our team's services are available at no-cost to for-profit Nebraska businesses.
When should I start the SAM.gov registration/renewal process?
The wait time to receive a response from SAM.gov has lengthened due to the increased demand for support. Know when your entity registration expires and start the process of renewal two to three months in advance.
Can NBDC PTAC help me with my SAM.gov registration/renewal?
NBDC PTAC can assist any Nebraska based, for-profit business that seeks to pursue government contracting.There have been several challenges with the transition to the new SAM.gov registration/renewal process; however, our team is working diligently to identify these challenges as they present themselves and find solutions. Your local PTAC consultant is a great resource who can help ensure that you are able to complete the process with as little disruption as possible. Contact us at any time, and we will partner with you.