Client Story: NBDC Services Keep Flywheels Powersports on Track
Co-owners Matt Shaw and Matt Ellis worked with the Nebraska Business Development Center to grow their power sports equipment business.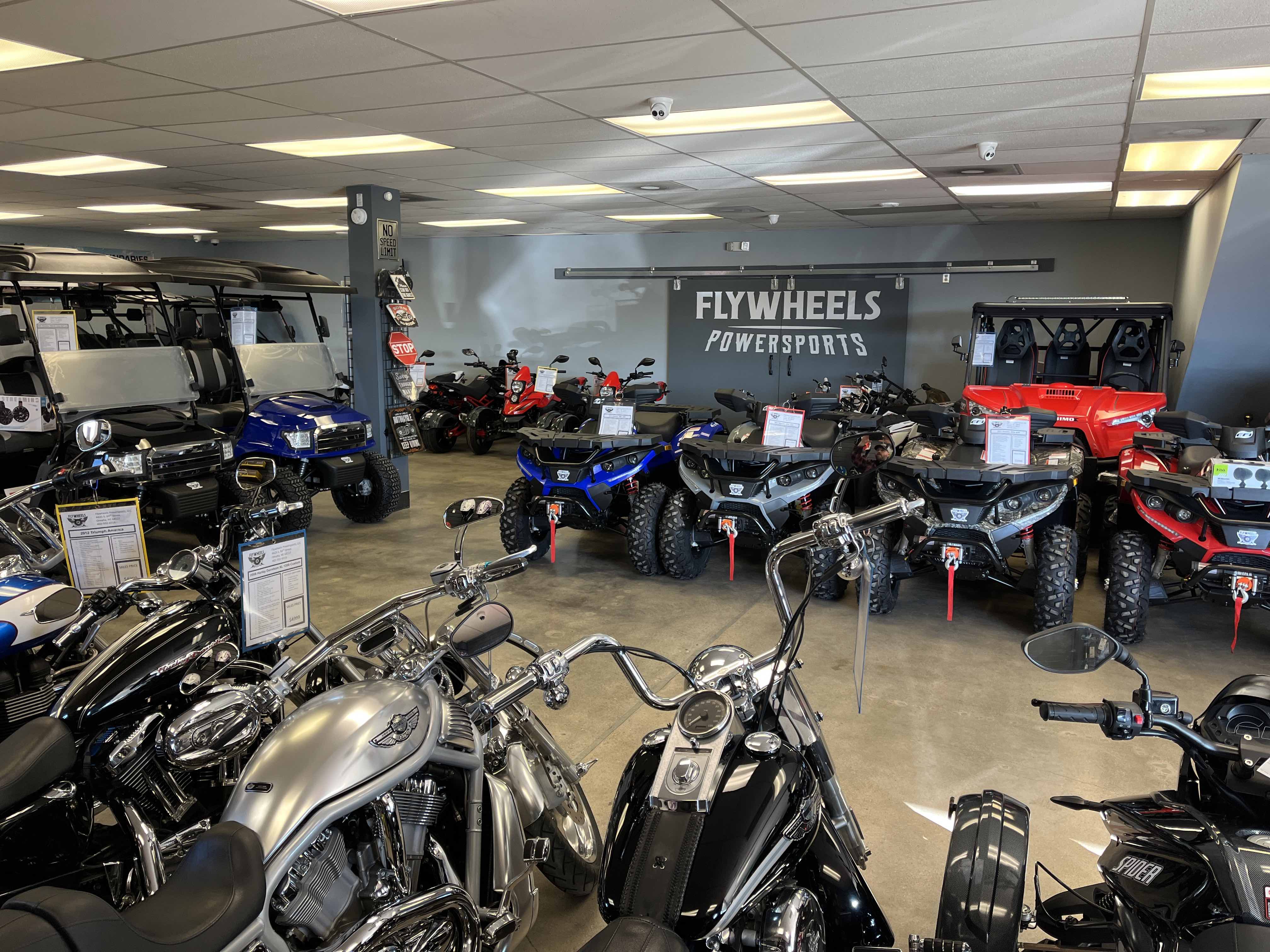 Omaha, Nebraska – The co-owners of Flywheels Powersports in Omaha have utilized the Nebraska Business Development Center's (NBDC) consultants and services, including when they opened the businesses and now as they seek ways to help the power sports equipment business grow.
Flywheels Powersports is an independent dealer for many brands of ATVs, utility task vehicles (UTVs), extreme terrain vehicles (XTVs), pit-bikes, dirt-bikes, mini-bikes, go-karts, golf carts, scooters, motorcycles, mobility scooters, electric bikes and other sports and recreational machines.
Co-owner Matt Shaw says he first learned about the NBDC and its services when he earned a Lean Manufacturing certificate while working for a data and market analysis company. In early 2020, he started his own software company and worked with NBDC Technology Commercialization Director Josh Nichol-Caddy.
When the COVID-19 pandemic hit a few months later, it had an immediate impact on his new software business, Shaw says. "My core target audience was the health care industry," he says. "COVID put health care into pandemic response mode, so my software company was put on hold."
He turned to the idea of owning a power sports equipment business "because I wanted to do something I love," he says. "There was a business in Omaha for sale, and we wanted a market analysis comparison of other powersport companies for sale across the U.S."
In May 2020, Nichol-Caddy introduced Shaw and his business partner, Matt Ellis, to Tony Schultz, Omaha Center Director of America's SBDC-Nebraska, based at the NBDC. "Tony helped with the market analysis as well as our financial projections," Shaw recalled. "It helped us validate some of the ideas and data we had."
Shaw and Ellis used the information from the NBDC to help obtain a loan and opened Flywheels Powersports in January 2021.
Most recently, Schultz introduced Shaw to Anne Herman, a Marketing and Entrepreneurship instructor at the UNO College of Business Administration, through the NU Connections program.
NU Connections unites the University of Nebraska system to promote university programs, services, and resources that Nebraska businesses can utilize to grow and diversify. Administered by the NBDC, NU Connections provides Nebraska businesses access to startup assistance, laboratory and facility use, research and technology development, market research and other services.
"I had started writing a sales plan for training but I wasn't sure how to market it appropriately," Shaw says. "Dr. Herman connected me with three graduate students who looked at my materials as part of a capstone course. It was completed in May and was very helpful."
Shaw says the NBDC is a valuable resource for start-ups and existing businesses.
He says he plans to continue working with the NBDC and its consultants. "I submit our FTE (full-time equivalent) counts and annual financials," he says. "In turn, the NBDC validates our numbers against other like companies in their database. It's another way to validate what we're doing. If we're having a problem, comparing our numbers to other companies lets us know, 'OK, we're having a problem here, but so is everybody else.'"