Sanitize360 LLC Working to Expand Government Contracting Opportunities
Learn how Rudy Perez of Sanitize360 LLC enlisted the help of NBDC's PTAC program to help grow his sanitizing business through government contracting.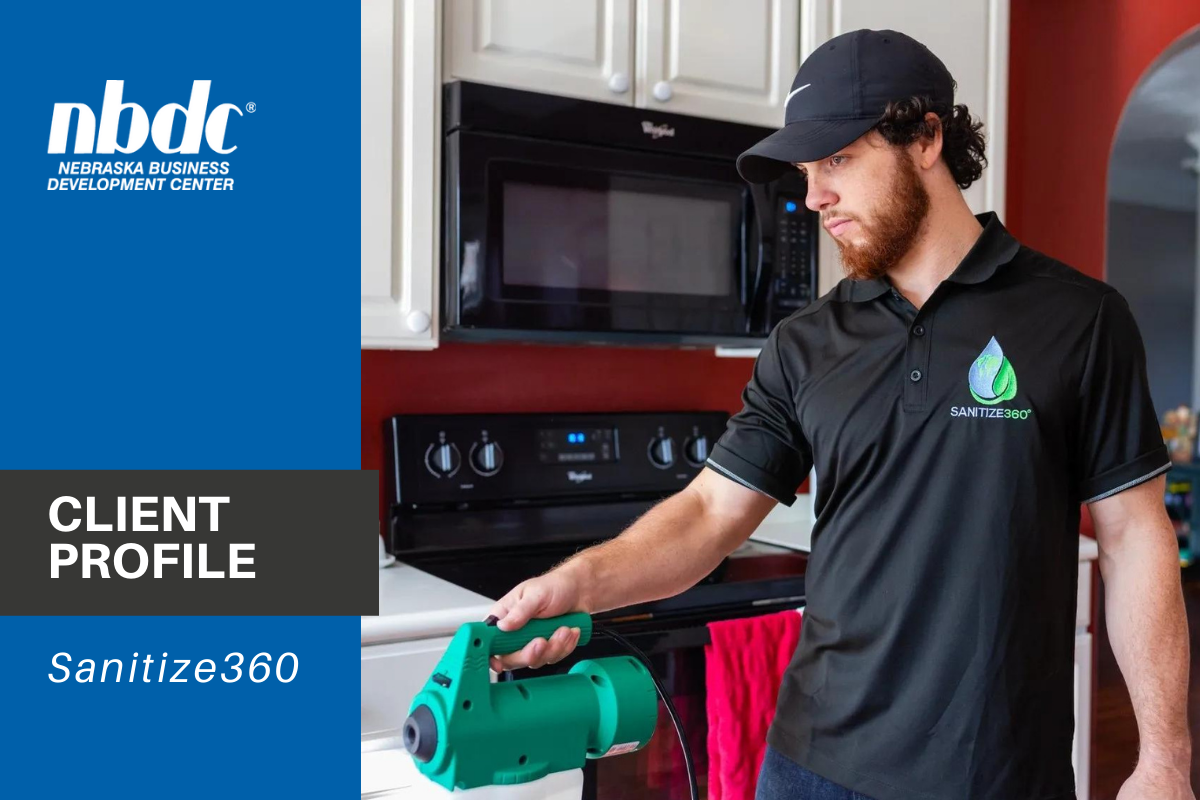 Lincoln, Nebraska – Rudy Perez has taken his passion for helping people and turned it into a sanitizing and cleaning service at a very appropriate time, and he continues to grow his business with the guidance of the Procurement Technical Assistance Center (PTAC) at the Nebraska Business Development Center (NBDC).
After earning a bachelor's degree in business administration and becoming a certified life coach, Perez began Sanitize360 LLC in 2019 and gained a few clients. He set aside some capital while also structuring a creative plan to purchase an existing cleaning business in Lincoln.
"Starting a business anytime can be risky, and I didn't have a lot of capital," Perez recalls. "I did my research into the cleaning industry, and learned about new equipment that reflected a concern for the environment. I also learned the cleaning industry is a low cost startup."
His research led him to an ultra-low volume (ULV) spray application where a small amount of chemical is used to treat a large area for pathogens. This is carried out by a special piece of equipment called a ULV fogger that releases a pesticide in the form of a water-based fog.
Perez began offering his expanded commercial and residential sanitizing services just prior to the COVID-19 outbreak. That timing, and his desire to provide the latest, most environmentally-safe services possible, helped him launch his business.
"I promoted my services with a flyer, and I joined the Lincoln Chamber of Commerce to network with other business owners," he says. "Then I started meeting with the NBDC to try and secure some government contracts."
Perez has worked with PTAC Consultant Quentin Farley on a variety of opportunities. Farley assisted Perez with his System for Award Management (SAM) registration and to create a Small Business Administration (SBA) profile. They also wrote a capabilities statement and a BidMatch Profile, reviewed the SBA's 8(a) Business Development program, and conducted market research on local, state, and federal levels.
Farley also helped Perez register on state and local procurement sites, research past contract awards on current solicitations for market analysis, reviewed several proposed bids, and assisted with bid submissions.
"Rudy has been awarded a state contract and has bid on several state and local opportunities," Farley says. "He's had good commercial success and is looking to win more government contracts."
Perez says he has gone from a one-man operation to 11 employees who share his commitment to ensuring environmentally-safe, high-quality cleaning services. "We are very focused on satisfying all of our clients," he says. "I want to give the best service possible because I believe what you give, you get back."
He says Farley and the NBDC have been instrumental in helping to navigate an often complicated government bidding process. "There are so many rules, regulations and criteria that have to be followed and formatted correctly," he says. "Quentin is very knowledgeable in that regard. When I have questions, he answers them in a timely fashion. He really goes above and beyond."