SBDC: Entrepreneurship Webinar Series
Entrepreneurship Series Yields Advice, Tools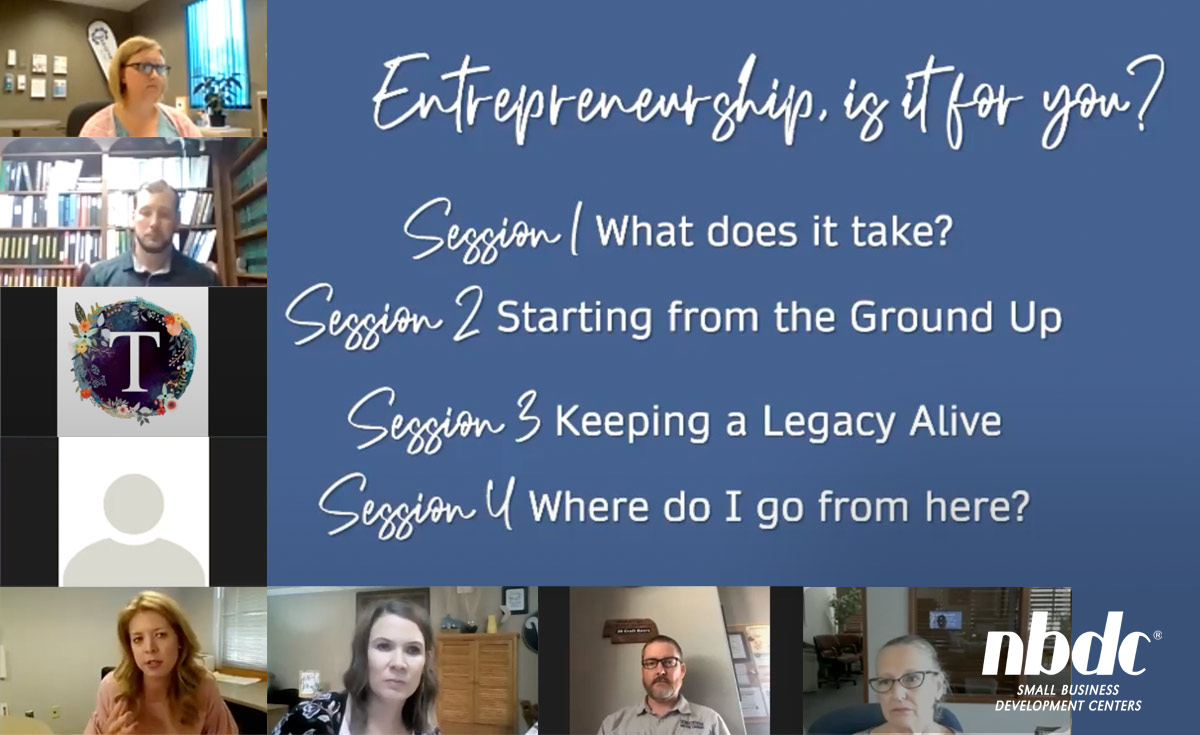 Kearney, Nebraska – The Nebraska Business Development Center (NBDC) tapped the extensive statewide network of the Connecting Young Nebraskans organization to present a four-part web series titled, "Entrepreneurship, Is It for You?" that presented business owners' experiences along with tools to assess financial and other factors necessary for starting a small business.
The series was created and hosted by Sara Bennett, Associate Center Director, America's SBDC-Nebraska at the NBDC office at the University of Nebraska at Kearney.
"The goal was to enlighten young Nebraskans about the opportunity to own their own business, whether by starting one or buying one," Bennett says. "Another objective was to demonstrate the importance people age 20 to 40 have in creating and sustaining businesses and jobs in communities all across the state."
Rhonda Veleba of Fairmont, Coordinator of Connecting Young Nebraskans, says the 11-year-old organization has a network of more than 800 and 900 people. Connecting Young Nebraskans holds a number of virtual events annually, Veleba says, even in the years prior to the restrictions created by the COVID-19 pandemic, as well as an in-person summit every two years.
"Our network is very diverse, and includes not just young Nebraskans but also community leaders and others invested in seeing young business owners, innovators and entrepreneurs succeed in our state," she says. "Sara presented the material very well, and the tools she created for self-assessment were very useful. Our participants also appreciated the live, give-and-take they had with the four business owners who served as guest speakers."
Bennett says each session had a different topic and featured a speaker who has succeeded in launching their own business. The four were Chais Meyer from Kearney, co-founder of 24 Hour Tees and Nest: Space; Caleb Pollard from Ord, president and co-founder of Scratchtown Brewing Company; Elizabeth Schutz from Grand Island, co-owner of The Chocolate Bar; and Melissa Norgard from Sidney, co-owner of Sam & Louie's New York Pizzeria and a former economic development director.
Meyer shared traits of being an entrepreneur in Session 1: "What Does it Take?" When asked, "What gets you excited about the work that you do every day?" he responded, "Ultimately, I think it comes back to crafting experiences for others, because if I was doing this just for me, it wouldn't be as successful as if I was creating this for others."
Pollard spoke in Session 2: "Starting From the Ground Up." He advised his fellow entrepreneurs to build a professional services team that facilitates success. "That team includes an attorney, accountant, financial advisor, and mental or spiritual guidance as well as a mentor who can help you with big decisions," he said.
Schutz had been a longtime employee of The Chocolate Bar before she purchased the business in 2019. In Session 3: "Keeping a Legacy Alive," she shared her experience transitioning from manager to owner. "I felt like I was apologizing a lot for things I was doing as an owner that I had never done before," she told participants. "I kept saying 'I'm sorry, I'm not sure of this.' But I just needed to get through it . . . and stop apologizing."
Norgard had been the economic development director in Sidney for five years when she and her husband, Stan, purchased the Sam and Louie's franchise. In Session 4: "Where Do I Go From Here?" she talked about how they have added a brewery and grown despite the pandemic. "You don't get into the restaurant business because there is a lot of money in it," she said. "You do it because you are passionate about it and you do it because you want to add something to the community that it has been missing."
Veleba says the series will help young entrepreneurs decide if they are ready for the next step or if there are areas they still need to work on before starting a business. "Teaming with other organizations like the NBDC enables us to share audiences and advance awareness of the resources that exist," she says.
The four sessions were recorded and are available on the Connecting Young Nebraskans YouTube page at www.youtube.com/channel/UC7fQOFziDqfCUE0leT2B-AQ.
The assessment tools and business checklist created for the sessions are available online at https://drive.google.com/drive/folders/1OGQ2QLAvRcsNr96w4h6dMpGWF-Ozlfxg