Client Story: COR Therapeutic Services, LLC
Six women partner to start mental health practice to meet a growing need in the Norfolk area.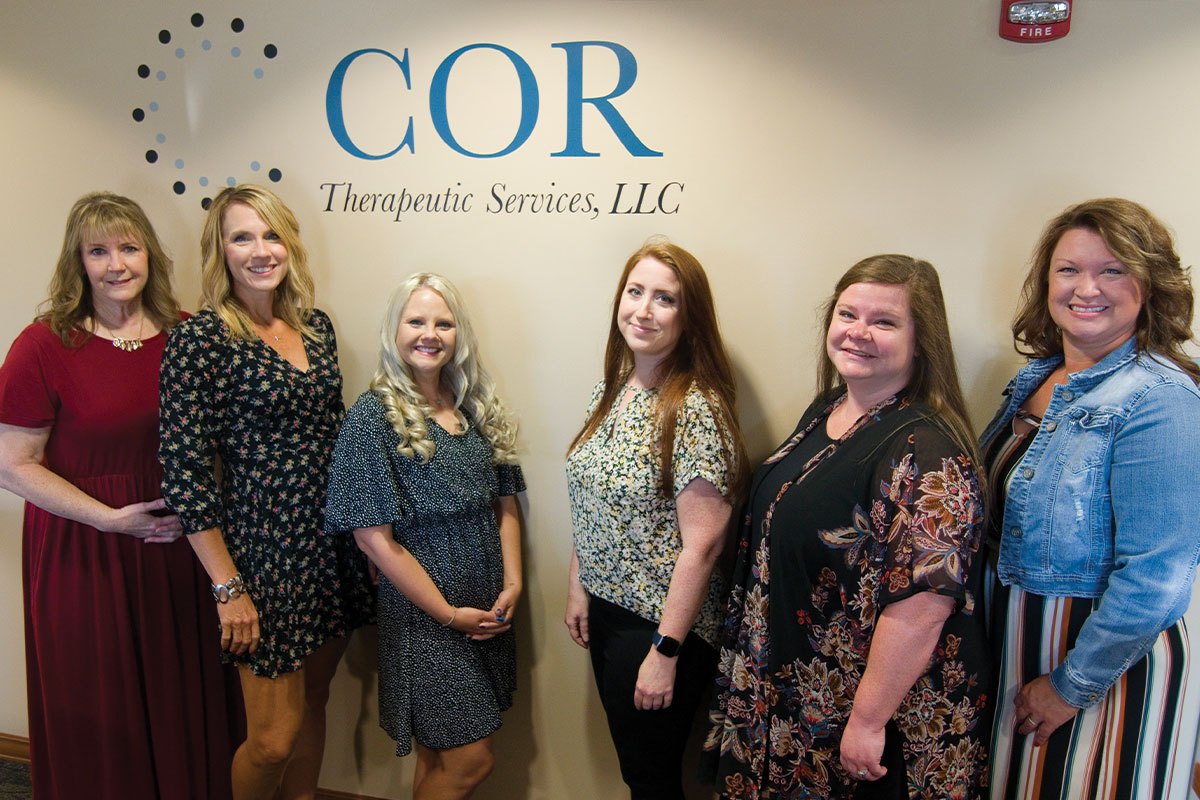 Guidance provided by the Nebraska Business Development Center (NBDC) to a group of mental health service providers as they worked to open their own practice in Norfolk has led to expansion into three other Nebraska communities.
COR Therapeutic Services, LLC, is a partnership between Beth Larson, Child and Family Services Program Director; Business Manager Nicky Kettler; Amanda Milander-Mace, Judicial Services Program Director; Rebecca Stahlecker, Substance Services Director; Abbie Rowley, Home-Based Services Supervisor; and Stephanie Wragge, Support Services Coordinator.
The six women were previously employed at a local counseling and support service. As a group, they decided to leave that business and establish their own practice.
When they approached a bank seeking financing for leasehold improvements, furniture, fixtures, equipment and working capital, the lender suggested they contact
Loren Kucera
, NBDC Center Director at Wayne State College, for assistance in preparing a business plan, projections and a formal loan proposal.
"I worked with Beth, with input from the other five partners, in finalizing the projections and preparing the applications, including one for the Northeast Nebraska Economic Development District (NENEDD) revolving loan fund," Kucera recalls.
The loans were approved in November 2020 and the business opened its Norfolk location in January 2021. The company has since opened clinics in Columbus, Hartington and O'Neill. There are currently 30 employees.
"There is a growing need for mental health services everywhere and definitely in rural areas," Larson says. "We offer in-person counseling along with Telehealth and online services in order to provide better access for everyone."
Larson says opening the business on the heels of the COVID-19 pandemic was a direct response to that need for services. "There have been a lot of issues we have seen that are directly related to COVID, such as an increase in domestic violence, anxiety, depression and conditions resulting from isolation," she says.
She says providing telehealth services may have helped to encourage people who otherwise were reluctant to seek out mental health resources in a small community where many residents are acquainted.
"Once they became connected with our services, it erased a lot of the stigma and preconceptions that can often accompany seeking mental help," she says. "After they do walk through our doors, we work very hard to ensure confidentiality."
Kettler says COR Therapeutic Services has also reached out to the community through podcasts, roundtable discussions, social media and blogs posted on the website
www.cortherapeutic.com
.
The partners say collaborating with Kucera and NBDC was instrumental in establishing their own business. "Loren was accessible, knowledgeable and very thorough in making sure we assembled all the information we needed," Larson says.
Kucera provided the tools necessary to write a comprehensive business plan, Kettler says. "With six partners, he knew it was important that he get input from all of us," she says. "He was definitely interested in our success."
About NBDC
The Nebraska Business Development Center (NBDC) helps Nebraska businesses start, grow and develop, by strengthening Nebraska businesses for a healthy economy and prosperous communities. NBDC is a University of Nebraska at Omaha center that provides confidential consulting business development services across Nebraska to entrepreneurs and business owners for the life cycle of their business. NBDC partners with the University of Nebraska-Lincoln, University of Nebraska at Kearney, University of Nebraska Medical Center, Wayne State College, and Chadron State College to deliver its services statewide. The U.S. Small Business Administration (SBA), the U.S. Defense Logistics Agency (DLA), the U.S. Department of Commerce (EDA), and other federal, state and private organizations support NBDC. Visit nbdc.unomaha.edu for more information.
---
If you have a story idea, news tip or event, please contact:
Jen Decker, Communications Manager, Nebraska Business Development Center
jenniferdecker@unomaha.edu | 402.554.3616