Procurement Technical Assistant Center Hosts Meet the Buyers
Doors swing open for businesses wanting to sell to the government at Meet the Buyers conference.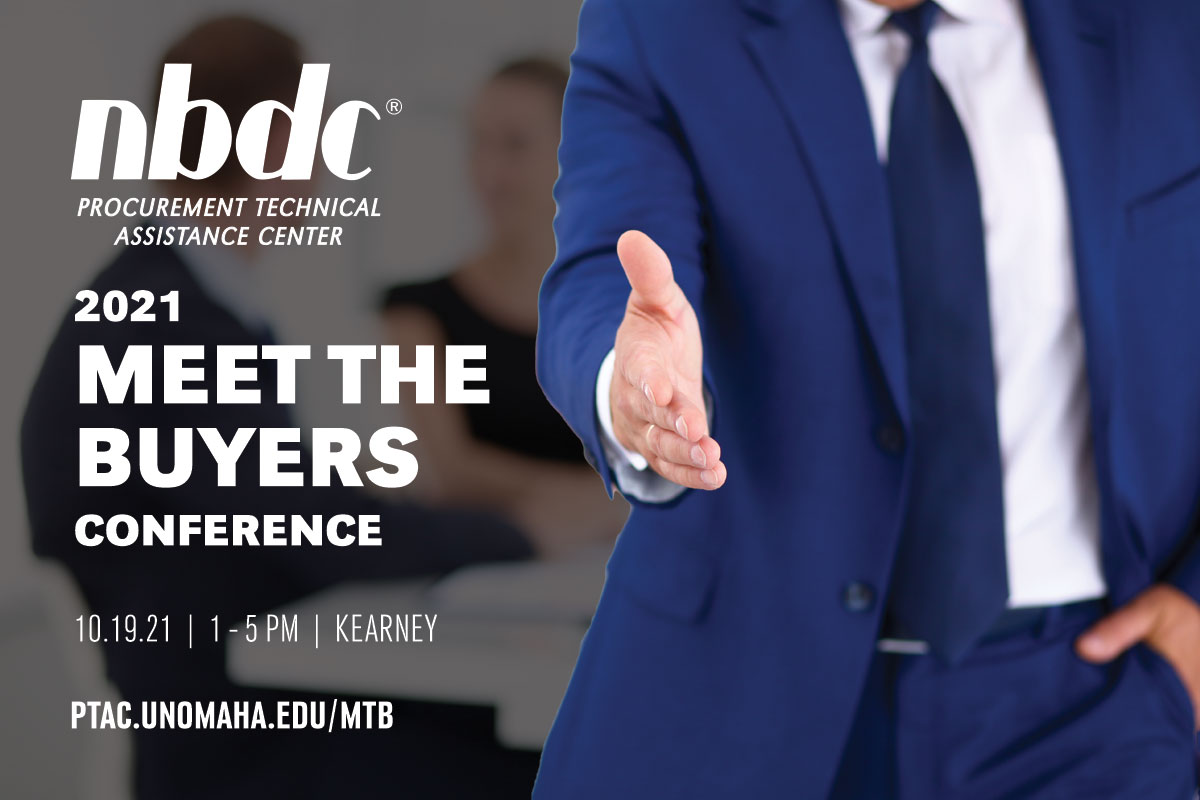 The sixth annual
Meet the Buyers conference
gives business owners and their leadership a rare opportunity to showcase their products and services directly to local, state and federal contracting officers, potentially leading to sales growth and valuable, long-term business relationships.
Sponsored by the Nebraska Business Development Center (NBDC) and its
Procurement Technical Assistance Center
(PTAC), the 2021 conference will return to an in-person event October 19 in Kearney after being held virtually last year due to COVID-19 restrictions. It will take place from 1 pm to 5 pm CDT at the University of Nebraska at Kearney Student Union.
"Meet the Buyers is beneficial to businesses because it puts a face on an agency," says PTAC Consultant
Daniel Kuchar
. "Government contracting can seem very abstract or systematic, but when you meet a contracting officer or buyer and get the chance to talk, it helps to build relationships and create a selling strategy based around meeting their specific needs."
Karen Caverzagie, Vice President of Contracts at
Spiral Solutions & Technologies, Inc.
, has attended Meet the Buyers and says it is a valuable experience. "Putting faces to names and finding out a little bit more about potential customers is one of the best ways to cultivate new business opportunities, " she says. "Anytime I can have a conversation with potential customers is a win. There are many pieces that go into our company's contracting strategy, but face-to-face interaction with customers is one of the most important approaches."
The 2021 Meet the Buyers conference will begin with presentations from featured agencies, followed by open networking with the agency representatives.
Kuchar says participating agencies will include Offutt Air Force Base, FE Warren Air Force Base, General Services Administration (GSA) - Building Maintenance & Operations; GSA - Office of Small Business Utilization (OSBU); US Army Corps of Engineers; the Nebraska National Guard; Union Pacific Railroad; the Society of American Military Engineers (SAME); the U.S. Small Business Administration (SBA) and others.
For those who plan to attend, Kuchar advises to bring business cards, capability statements, product sheets, "and a willingness to both listen and speak.
"You will want to have a 30-second elevator pitch for your business," he says. "Be prepared to answer questions about what differentiates your product or service, and how your product will help the agencies overcome a challenge, or meet their needs and add value to their work."
Registration is limited to 90 participants. For more information, contact Kuchar at
dckuchar@unomaha.edu
or call 402-554-6270.
About NBDC
The Nebraska Business Development Center (NBDC) helps Nebraska businesses start, grow and develop, by strengthening Nebraska businesses for a healthy economy and prosperous communities. NBDC is a University of Nebraska at Omaha center that provides confidential consulting business development services across Nebraska to entrepreneurs and business owners for the life cycle of their business. NBDC partners with the University of Nebraska-Lincoln, University of Nebraska at Kearney, University of Nebraska Medical Center, Wayne State College, and Chadron State College to deliver its services statewide. The U.S. Small Business Administration (SBA), the U.S. Defense Logistics Agency (DLA), the U.S. Department of Commerce (EDA), and other federal, state and private organizations support NBDC. Visit nbdc.unomaha.edu for more information.
---
If you have a story idea, news tip or event, please contact:
Kelly Jefferson, Communications Director
kjefferson@unomaha.edu | 402.554.6256