Client Story: Shadow Tool Systems
Guidance on entering the international market helps Omaha company with a unique tool system.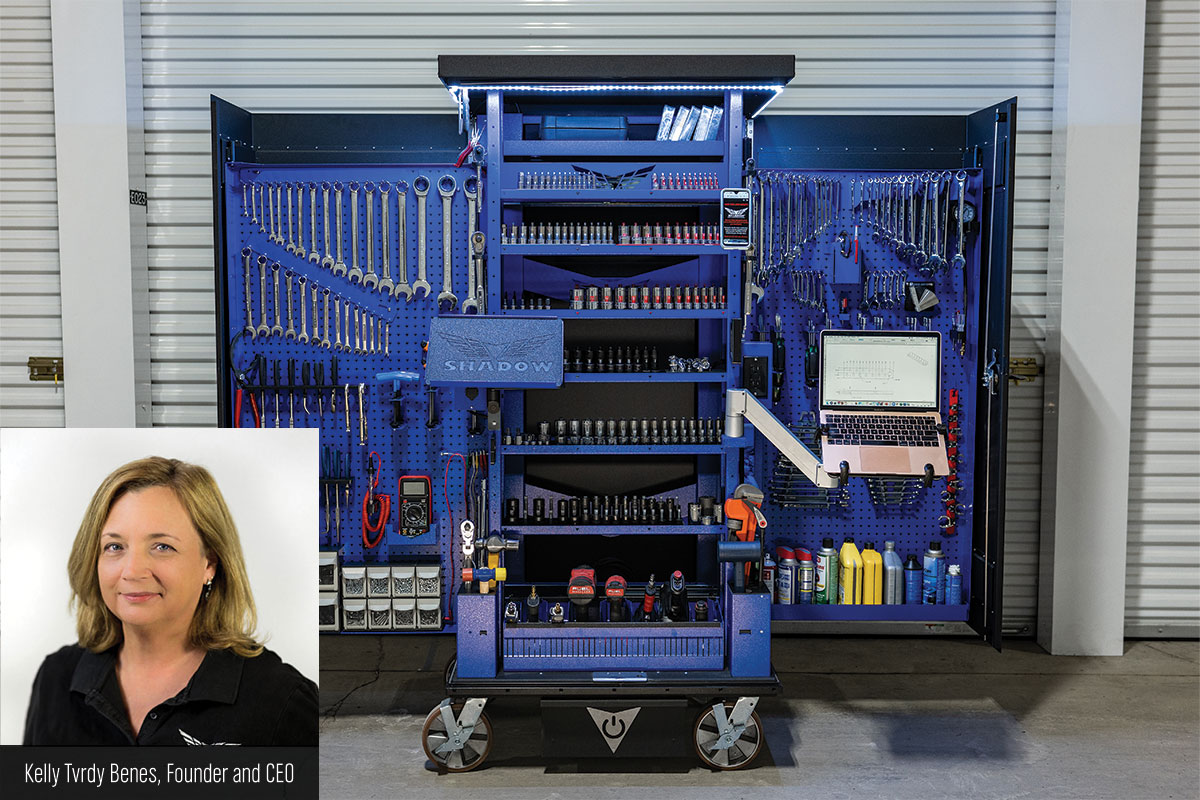 An Omaha company that is gaining buyers for its unique tool staging system continues to rely upon the guidance of the Nebraska Business Development Center (NBDC), most recently gathering information and advice about tapping international markets.
Shadow Tool Systems
, formerly In8 Motion, has created the Shadow Tool Staging System product lines that revolutionize tool accessibility and control in order to reduce physical strain and increase workflow for mechanics in a variety of industries.
Kelly Tvrdy Benes is the founder and CEO. After earning a bachelor's degree in agricultural education, she moved into the field of industrial mechanics. She has since launched or helped launch several innovative machines and devices. She holds numerous patents for manufacturing processes, dating back to when she was founder and co-owner for 25 years of a custom design-and-build automation company in Fremont.
She founded In8 Motion in 2014 after she received a patent on the initial Shadow Tool Staging System design, which was developed by her brother, who is an automotive mechanic. About that same time, she contacted the NBDC to obtain advice on raising capital to launch her new business.
The Shadow Tool Staging System, which Benes has worked to refine the past several years, evolved through interviewing and watching mechanics in manufacturing plants, repair shops, military squadrons and other places struggle with their conventional tool boxes, which are largely stacks of drawers.
"Drawers make it difficult to track tools, and they waste physical motion," Benes says, "which can cause physical strain and loss of time.
Her product is a large cabinet that houses a tool staging system that features open physical and visual tool access, as well as electronics and power support, and is movable on large ergonomic casters. Benes' company is situated in Omaha, and the Shadow Tool Staging System is manufactured in Minnesota because Nebraska has limited resources for the necessary manufacturing process and volumes, she says.
"It's been a challenge getting people to accept a new way of doing things that makes it more efficient for the end-user," Benes says "We are changing a product that hasn't changed in 100 years."
Benes has worked with the NBDC's business consultancy team, and the center's
Procurement Technical Assistance Center
(PTAC) consultants to explore defense and other government markets. She has attended NBDC's Meet the Buyers conferences.
"The PTAC consultants involved me with the SBIR (Small Business Innovation Research) Roadshow," Benes says. "It was one of the single most impactful moments for my company, where the Air Force representatives educated me on the catastrophic costs the military faces with tool tracking issues. That influenced every design aspect since, making Shadow superior for inventory control today. PTAC also helped me obtain a Nebraska Innovation Fund (NIF) Prototype Grant."
Through NBDC's
Innovation & Technology
program, Benes also participated in Technology Transfer Day.
Most recently, she began working with NBDC International Trade and Market Research Consultant
Eswari Kalugasalam
to research potential foreign markets for the Shadow Staging System. Benes was also encouraged by Kalugasalam to be part of the Midwest Regional Collider event, which led to a demonstration for U.S. Air Force bases and current dealings with Lockheed Martin.
"A significant portion of my success so far is due to working with NBDC and taking advantage of its services," Benes says. "As a start-up, I don't have the funds to pay someone to do what NBDC has done for me. Knowing I have their support is huge for me, and would be reassuring for any small business."
About NBDC
The Nebraska Business Development Center (NBDC) helps Nebraska businesses start, grow and develop, by strengthening Nebraska businesses for a healthy economy and prosperous communities. NBDC is a University of Nebraska at Omaha center that provides confidential consulting business development services across Nebraska to entrepreneurs and business owners for the life cycle of their business. NBDC partners with the University of Nebraska-Lincoln, University of Nebraska at Kearney, University of Nebraska Medical Center, Wayne State College, and Chadron State College to deliver its services statewide. The U.S. Small Business Administration (SBA), the U.S. Defense Logistics Agency (DLA), the U.S. Department of Commerce (EDA), and other federal, state and private organizations support NBDC. Visit nbdc.unomaha.edu for more information.
---
If you have a story idea, news tip or event, please contact:
Kelly Jefferson, Communications Director
kjefferson@unomaha.edu | 402.554.6256