Innovation & Technology Program Hosts Science, Agriculture & Energy (SAgE) Cohort
"SAgE" advice is available for entrepreneurs with agriculture innovations.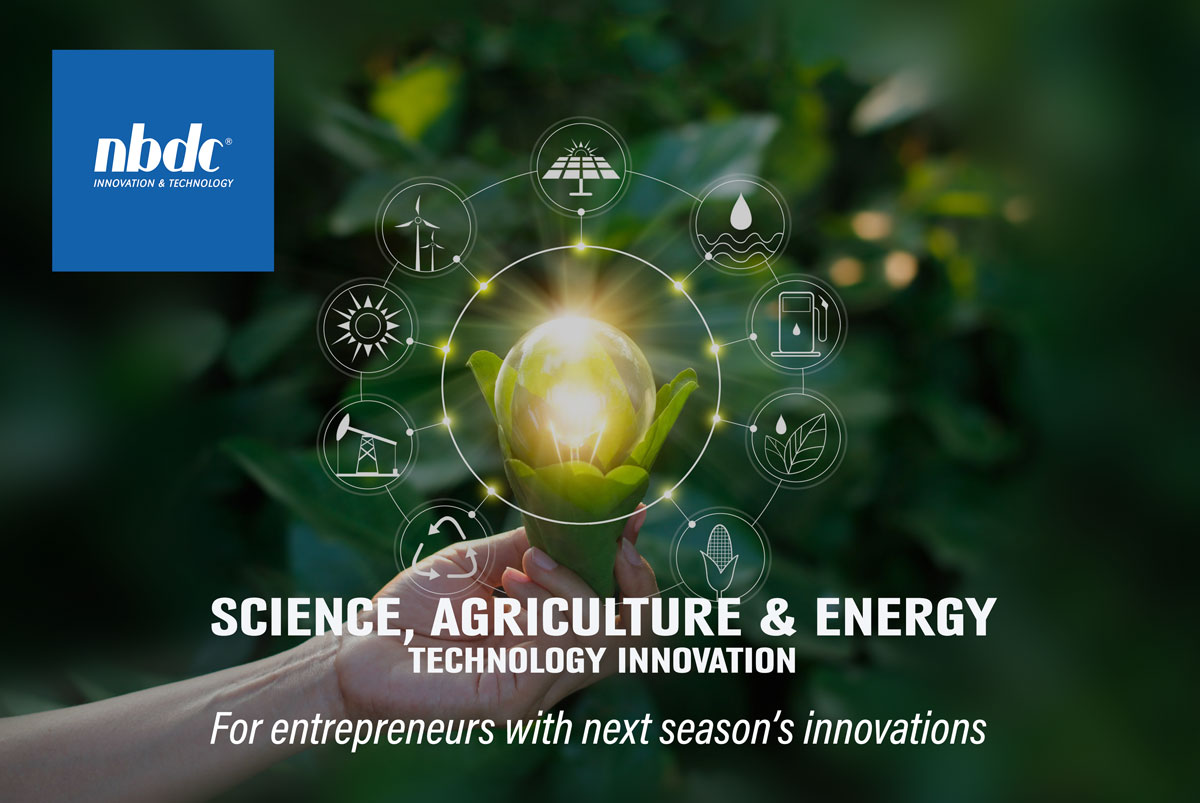 Omaha, Nebraska – The Science, Agriculture and Energy (SAgE) series being presented this summer by the Nebraska Business Development Center (NBDC) and its Innovation and Technology Commercialization program helps participants prepare for pitch events and conferences, as well as obtain advice on how to apply for funding opportunities.
The series began in 2020 in partnership with Invest Nebraska and the Combine Incubator, whose goals are to provide financial and operational help to high-growth companies, advance the entrepreneurial economy and attract out-of-state capital to Nebraska.
"Increasing awareness and educating entrepreneurs as to the resources available to them is what makes programs like the SAgE series so valuable," says Invest Nebraska Program Director Matt Foley. "By building a community of successful applicants, we can show other entrepreneurs that their aspirations are achievable."
NBDC began the Innovation and Technology Commercialization program in 2013 through funding with Small Business Administration (SBA) Federal and State Technology (FAST) Partnership Program funds.
Since 2013, NBDC clients have submitted 155 Small Business Innovation Research and Small Business Technology Transfer (SBIR/STTR) grant proposals. Of the 155 submissions, 54 have been awarded and 25 are currently under review. "This is a success rate of 41 percent, notably higher than the national SBIR/STTR average award rate of 15 percent," says Sara Bennett, coordinator of the SAgE series. "Total investment to NBDC Innovation clients during the last eight years is nearly $25 million."
Invest Nebraska was created by the Nebraska Venture Capital Forum Act, introduced in 2001 and passed by the Legislature. Since 2002, Invest Nebraska's statewide impact includes more than $25 million in capital deployed, with an additional $110 million in private co-investment capital, $227 million in follow-on capital raised and the creation of more than 700 jobs.
In 2019, Invest Nebraska founded the Combine Incubator to support ag tech startups. Last year, the U.S. Economic Development Administration awarded Invest Nebraska a Build to Scale Award to expand its efforts with the Combine Incubator.
The Combine Incubator hosts food and ag tech companies progressing through the Combine Commercialization Program, monthly AgriFood Meetups, visits from the Combine Insights Producers Network, and local and regional investors. The incubator is situated on the Nebraska Innovation Campus in Lincoln.
"The NBDC is a helpful resource for Invest Nebraska and the Combine," Foley says. "Building upon this partnership through the SAgE series is critical."
The NBDC SAgE sessions will present specific topics, highlighting information and guidance regarding the SBIR/STTR application processes for the USDA, Department of Energy and the National Science Foundation (NSF).
"We put together this series of events in an effort to support innovators as they work to commercialize research and technology," Bennett says. "Specifically, we are focusing on innovations intended for use in agricultural applications, energy uses, and general scientific research and development. Nebraska is a prime state to develop technologies that support and advance agriculture and energy."
The SAgE series includes:
July 20: Nebraska Resources 101: NeDED Innovation Programs
July 27: Virtual One-on-One Meetings with USDA and NSF Program Managers
August 10: How to Register in SAM.gov
August 25: Developing your SBIR/STTR Commercialization Plan
Sept 15: "Cuss and Discuss" virtual interaction with others planning to submit SBIR/STTR proposals to the USDA or NSF who share their challenges and successes.
Bennett says the "Cuss and Discuss" session goes beyond the "nuts and bolts" of the informational sessions to bring together entrepreneurs willing to swap experiences and offer encouragement.
To obtain detailed information about the series or to register for any of the webinars and workshops, visit nbdc.unomaha.edu/sage.
See related story: Innovation & Technology Program to Present Two Online Series for Ag, DoD Entrepreneurs