Client Story: Clear Focus Eyecare
New owners expand optometry services at Clear Focus Eyecare in North Platte, Nebraska.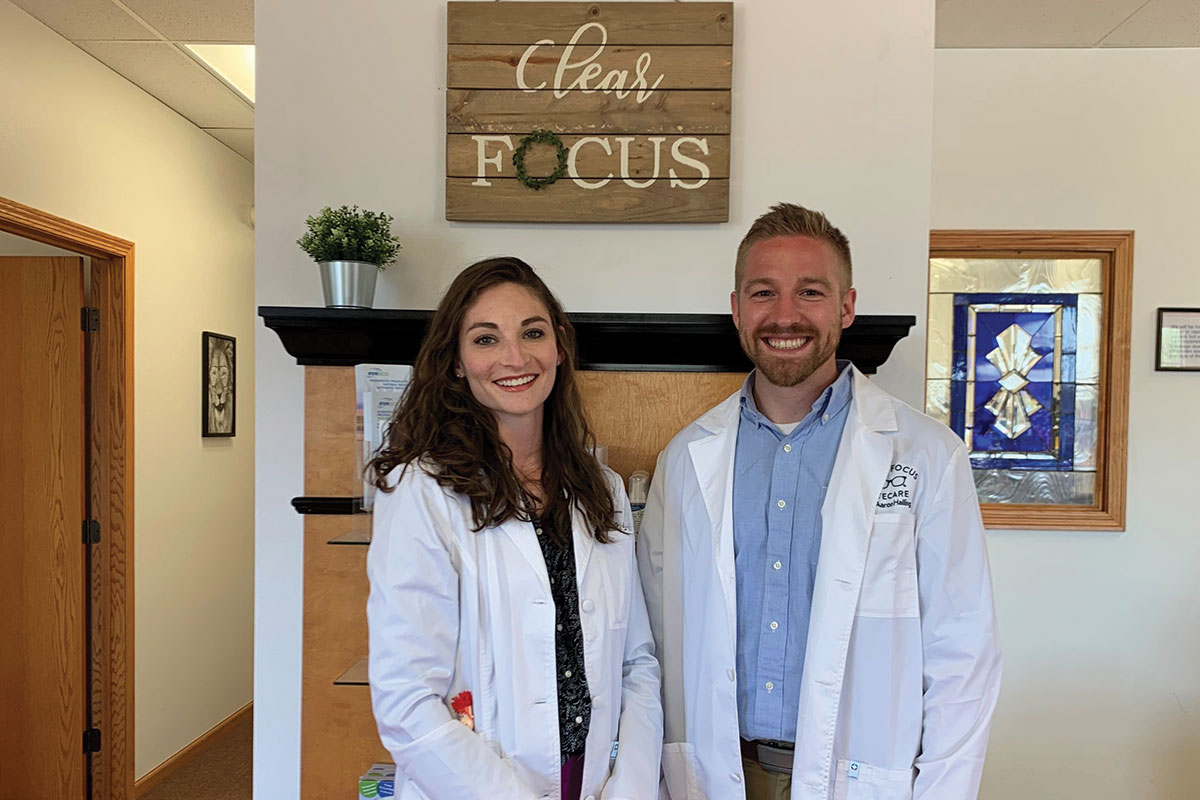 North Platte, Nebraska – Guidance from the Nebraska Business Development Center (NBDC) helped a pair of recently graduated optometrists see their way into ownership of an established eye care business in North Platte.
Aaron Halling, O.D., and his wife, Jobeth Halling, O.D., met while attending school together at the University of the Incarnate Word Rosenberg School of Optometry (UIWRSO) in San Antonio, Texas, where both earned their Doctorate of Optometry degrees.
Dr. Aaron Halling is from Denton, a small farming community in northeast Kansas, while Dr. Jobeth Halling is a native of North Platte. After graduation, they moved to North Platte to start their eye care practices and to be nearer their families.
Clear Focus Eyecare was established in 2006 by John Gutschenritter, O.D. The Hallings learned that Dr. Gutschenritter wanted to retire, so they met with a local banker about purchasing the business.
To obtain help with their business plan and financial projections, the Hallings were referred by the banker to the NBDC office in North Platte and the Small Business Development Center (SBDC) Director Charlie McPherson, who met with them in May 2020 in a Zoom call, due to the COVID-19 pandemic.
McPherson assisted the Hallings throughout the summer on developing the business plan and financial components of the business. As a result, the couple purchased the business that fall and took over ownership Oct. 1, 2020.
The Hallings have since expanded eye care services. Dr. Aaron Halling is especially interested in the treatment and management of ocular diseases, as well as specialty contact lenses and vision therapy.
Dr. Jobeth Halling, who earned the Outstanding Pediatric Award and Outstanding Clinician Award while studying optometry, is also experienced in specialty contact lenses along with dry eye treatments.
"In many cases, patients with dry eyes are told to use artificial tears or other eye solutions," she says. "In reality, there are so many other options. We hope to apply our skills and fresh perspectives and work to find the root cause of these ocular issues."
The Hallings say the NBDC and McPherson were instrumental in their effort to purchase the business.
"We had attempted to put together a business plan but we didn't have the experience to get it done right," says Dr. Aaron Halling. "Charlie was great from the get-go."
Dr. Jobeth Halling agrees. "Charlie put sense into our nonsense. He knew exactly what we needed and helped us get to where we wanted to be."
About NBDC
The Nebraska Business Development Center (NBDC) helps Nebraska businesses start, grow and develop, by strengthening Nebraska businesses for a healthy economy and prosperous communities. NBDC is a University of Nebraska at Omaha center that provides confidential consulting business development services across Nebraska to entrepreneurs and business owners for the life cycle of their business. NBDC partners with the University of Nebraska-Lincoln, University of Nebraska at Kearney, University of Nebraska Medical Center, Wayne State College, and Chadron State College to deliver its services statewide. The U.S. Small Business Administration (SBA), the U.S. Defense Logistics Agency (DLA), the U.S. Department of Commerce (EDA), and other federal, state and private organizations support NBDC. Visit nbdc.unomaha.edu for more information.
---
If you have a story idea, news tip or event, please contact:
Jen Decker, Communications Manager, Nebraska Business Development Center
jenniferdecker@unomaha.edu | 402.554.3616