NBDC adds SourceLink Nebraska to Website Navigation
The new SourceLink Nebraska tab will provide visitors information and resources.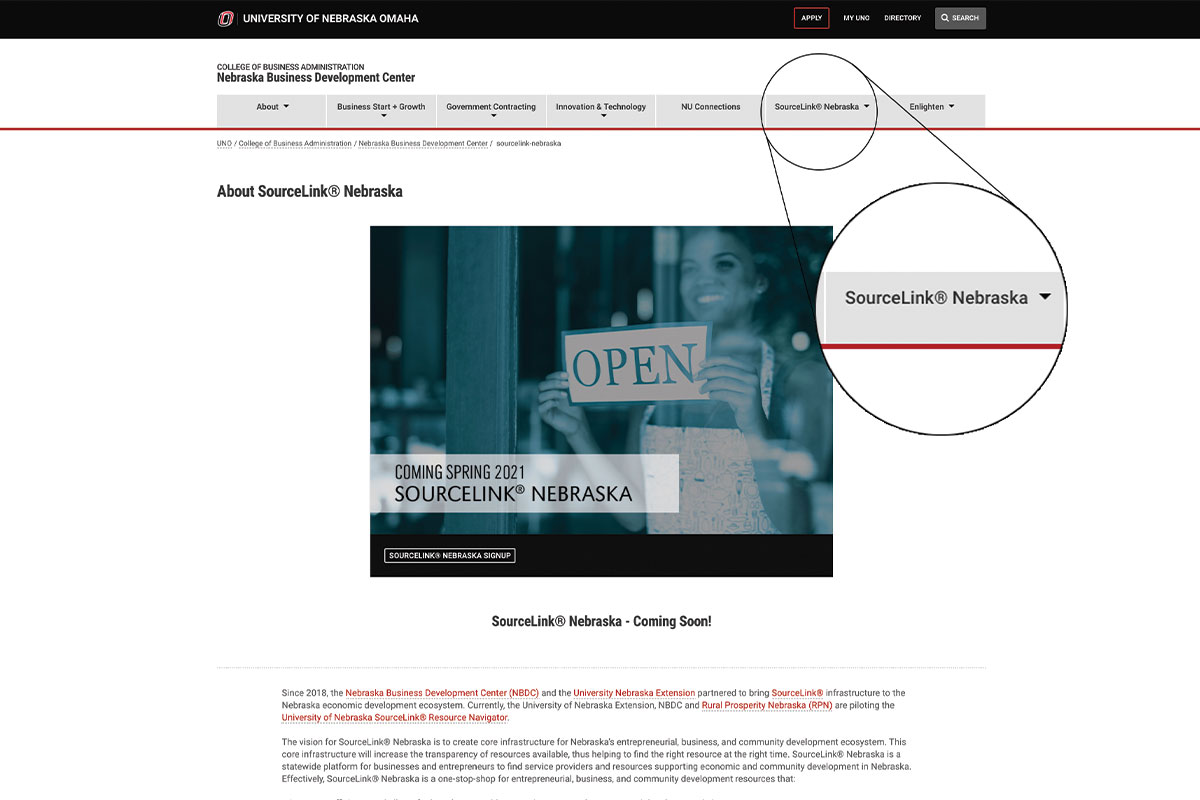 Omaha, Nebraska – Nebraska Business Development Center (NBDC) at the University of Nebraska at Omaha (UNO) and a department of the College of Business Administration adds SourceLink Nebraska to website navigation.
SourceLink Nebraska is a statewide platform for businesses and entrepreneurs to find service providers and resources supporting economic and community development in Nebraska. In an effort to expand their reach, the program has been added to the NBDC website navigation with a new tab that includes pages to educate visitors about this new resource.
This new program tab will allow interested entrepreneurs, business owners, and resource partners a location to obtain program information until the platform launches an independent website in the spring of 2021.
"The addition of the SourceLink Nebraska program tab allows for increased transparency and responsiveness, thus enhancing our ability to serve the community until a permanent SourceLink Nebraska website can be built," said Scott Asmus, SourceLink Nebraska Network Builder.

The SourceLink Nebraska program tab provides an opportunity for entrepreneurs, business owners, and resource partners to access up-to-date program information with the following pages:
The vision for SourceLink Nebraska is to create core infrastructure for Nebraska's economic development ecosystem. This core infrastructure will increase the transparency of resources available, thus helping to find the right resource at the right time.
For questions about SourceLink Nebraska, contact: info@sourcelinknebraska.com.
About NBDC
The Nebraska Business Development Center (NBDC) helps Nebraska businesses start, grow and develop, by strengthening Nebraska businesses for a healthy economy and prosperous communities. NBDC is a University of Nebraska at Omaha center that provides confidential consulting business development services across Nebraska to entrepreneurs and business owners for the life cycle of their business. NBDC partners with the University of Nebraska-Lincoln, University of Nebraska at Kearney, University of Nebraska Medical Center, Wayne State College, and Chadron State College to deliver its services statewide. The U.S. Small Business Administration (SBA), the U.S. Defense Logistics Agency (DLA), the U.S. Department of Commerce (EDA), and other federal, state and private organizations support NBDC. Visit nbdc.unomaha.edu for more information.
---
If you have a story idea, news tip or event, please contact:
Jen Decker, Communications Manager, Nebraska Business Development Center
jenniferdecker@unomaha.edu | 402.554.3616