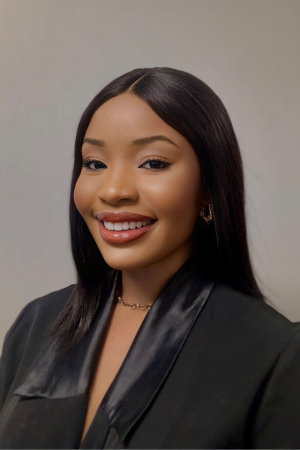 Samiat Ajao
Network Navigator
SourceLink Nebraska
Phone: 402.554.6404
---
email:
office:
College of Business Administration
Mammel Hall Suite 200
67th and Pine Streets
Omaha, NE 68182
office phone:
personal website:
Additional Information
Expertise and Consulting Area
Originally from Lagos, Nigeria, Samiat is a graduate assistant for the Nebraska Business Development Center's SourceLink Nebraska program. Samiat's primary responsibility involves curating a comprehensive calendar of entrepreneurship and business-themed events sourced from diverse resource partners. In this capacity, she meticulously identifies relevant events, evaluates their suitability and adds them to the calendar. Additionally, Samiat efficiently manages the process of profiling and tracking resource partner information, ensuring accurate and up-to -date data.
Prior to Joining NBDC, Samiat earned her Bachelor of Science in Economics and Development Studies from Kwara State University. She also has an experience in Supply Chain and Logistics within the FMCG Industry. Samiat is Currently pursuing an MBA degree at the University of Nebraska at Omaha.
Academic Degrees
Bachelor of Science, Economics, Kwara State University (Malete, Kwara State, Nigeria) (2018)