ENVISION22 Wrap-Up: A long-awaited milestone
On Oct. 27 and 28, NCITE hosted its first in-person annual conference on UNO's Scott Campus. The event drew about 200 in-person and virtual guests from 13 states, Washington, D.C., and the United Kingdom.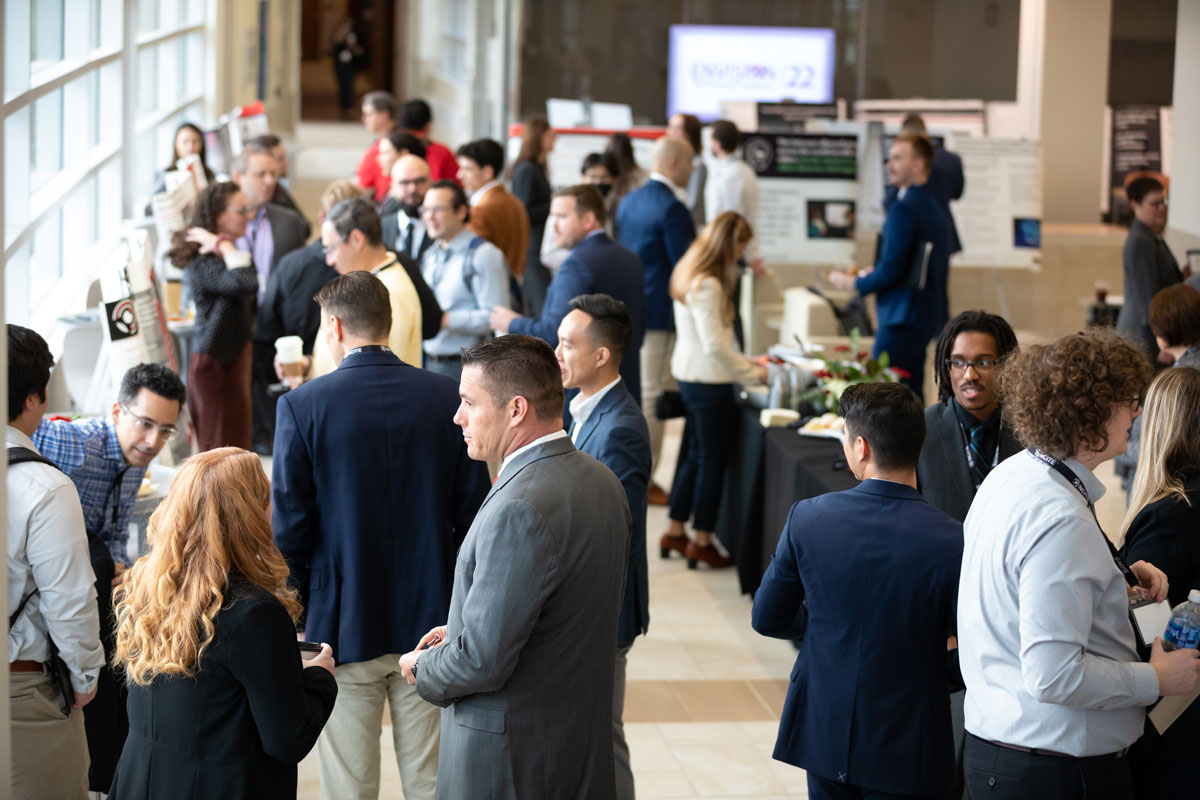 By Blake Ursch
NCITE Strategic Communications Manager
They came from near and far guided by a shared mission: To better understand some of the world's most pressing problems.
On Oct. 27 and 28, the National Counterterrorism Innovation, Technology, and Education Center (NCITE) hosted ENVISION22, its first in-person annual conference. The event, held on the University of Nebraska at Omaha's Scott Campus and streamed virtually, brought together members of NCITE's world-class research consortium with leading voices in government, academia, law enforcement, and more.
The two-day conference drew about 200 in-person and virtual guests total. In-person visitors traveled from 13 states and Washington, D.C., as well as the United Kingdom.
The event featured a jam-packed agenda of presentations on the latest national security research alongside commentary from federal government figures: Sam Vinograd from the Department of Homeland Security and Josh Geltzer from the White House National Security Council.
"There is something about being physically together to solve problems that I think we've all missed," said Gina Ligon, NCITE director, in her opening remarks. The conference, delayed for NCITE's first two years due to the COVID-19 pandemic, represents the center's ultimate vision, she said.
"If you look outside, we have big sky here. Omaha is representative of wide-open space, of being able to look up and think big," Ligon continued. "We are trying to fashion ourselves as a place where experts can get outside of the Beltway and think together collaboratively."
In her welcome remarks, UNO Chancellor Joanne Li laid out the stakes: "Sadly, the world has become a more dangerous place. You are here to help us stay ahead of the curve," she said. "The success of your research, the success of your project, the success of your work will forever interlock with the safety and welfare of humankind."
Discussing Innovative Research
The first day of the conference featured more than two dozen presentations from members of NCITE's research consortium at UNO's Mammel Hall. Speakers summarized their research endeavors and perspective on the current U.S. threat landscape and took questions from the audience.
The series kicked off with a three-person panel discussion moderated by Sam Hunter, NCITE's director of strategic operations and professor of industrial-organizational psychology at UNO. The panel included Martha Crenshaw, director of the Mapping Militants Project at Stanford University; Seamus Hughes, deputy director of the Program on Extremism at George Washington University; and Austin Doctor, director of counterterrorism research initiatives with NCITE and assistant professor of political science at UNO.
Crenshaw emphasized the decentralized nature of today's far-right extremist organizations. The groups are often amorphous and porous with members belonging to several groups at once and moving among them.
"They're entangled," she said. "They often coordinate and act in concert without necessarily any central direction."
Doctor discussed the emerging threat to critical infrastructure, particularly the growing number of tools available for extremist organizations to commit cyberattacks on government agencies, hospitals, and other crucial elements of the social fabric.
The day then split into two tracks of bundled presentations, with each group of talks moderated by a member of NCITE's UNO faculty. The 23 presentations included:
Gary Ackerman, University at Albany: How Can We Reduce the Terrorist Threat from Emerging Tech?
Michelle Black, UNO: What Do Future Counterterrorism Workers Need to Know?
Daisy Muibu, University of Alabama: How Are Counterterrorism Practitioners Affected by Exposure to Violent Material?
Pete Simi, Chapman University: What Threats Are Public Officials Facing?
Iris Malone, George Washington University: How Can Machine Learning Predict Mass Casualty Violence?
View a full list of NCITE research projects in the conference program and check out the online agenda.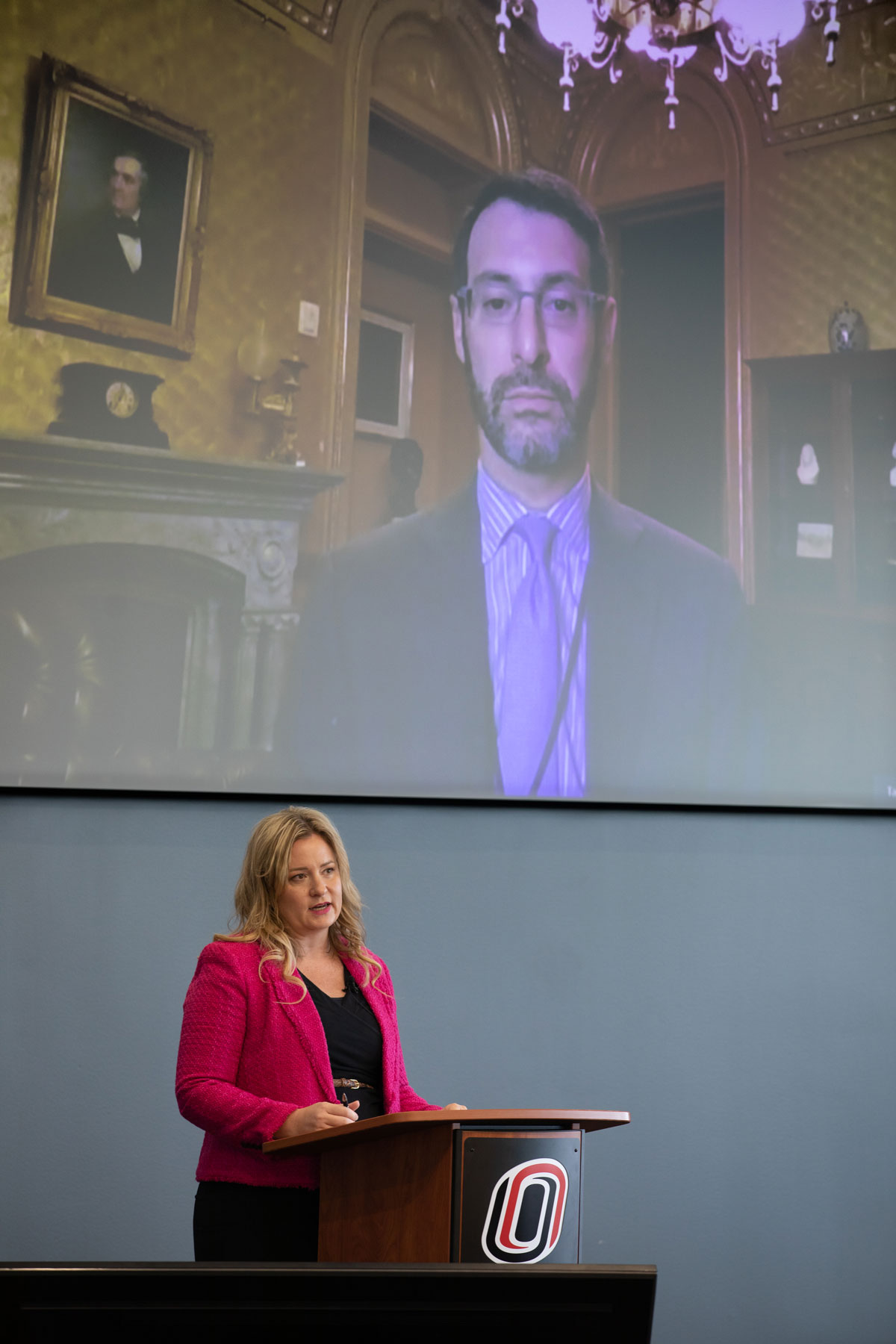 Hosting Distinguished Guests
Josh Geltzer, deputy assistant to the president and deputy homeland security advisor with the White House National Security Council, delivered remarks remotely from the White House as the conference's first keynote speaker.

"We all in government depend on research to inform our efforts," Geltzer said. "We depend on it day-in and day-out as we try to keep up with the threat that's evolving … not just in a way that meets the moment of today but is sustainable."

Geltzer also took questions from the audience, including one from Aaron Elkins, NCITE principal investigator and associate professor at San Diego State University, who asked about the federal government's priorities in addressing international versus domestic terrorism.

"Our answer is, we have not at all ceased doing our work on international terrorism, because they haven't ceased to pose a threat. At the same time, we've really upped our game on the domestic terrorism threat," Geltzer said. "Ultimately, it's our responsibility to try to tackle it all."

Responding to a question from Ligon, Geltzer also explained what gives him hope: "At the same time as there's been a resurgence in politically-motivated violence, there has been a resurgence in reasserting a commitment to breaking down political and other forms of divides, all of which is really quite encouraging."

Another high-profile guest joined the conference later Thursday: Samantha Vinograd, assistant secretary for counterterrorism, threat prevention, and law enforcement policy with DHS. During her visit, Vinograd hosted two invite-only roundtables: one on domestic violent extremism with local stakeholders and one on the Afghan experience in Nebraska with members of the local Afghan community.

Vinograd later sat down with Ligon at Maverick Landing for a fireside chat at a reception hosted by Chancellor Li. The reception was attended by prominent Nebraska figures, including U.S. Rep. Don Bacon and Ted Carter, president of the University of Nebraska system.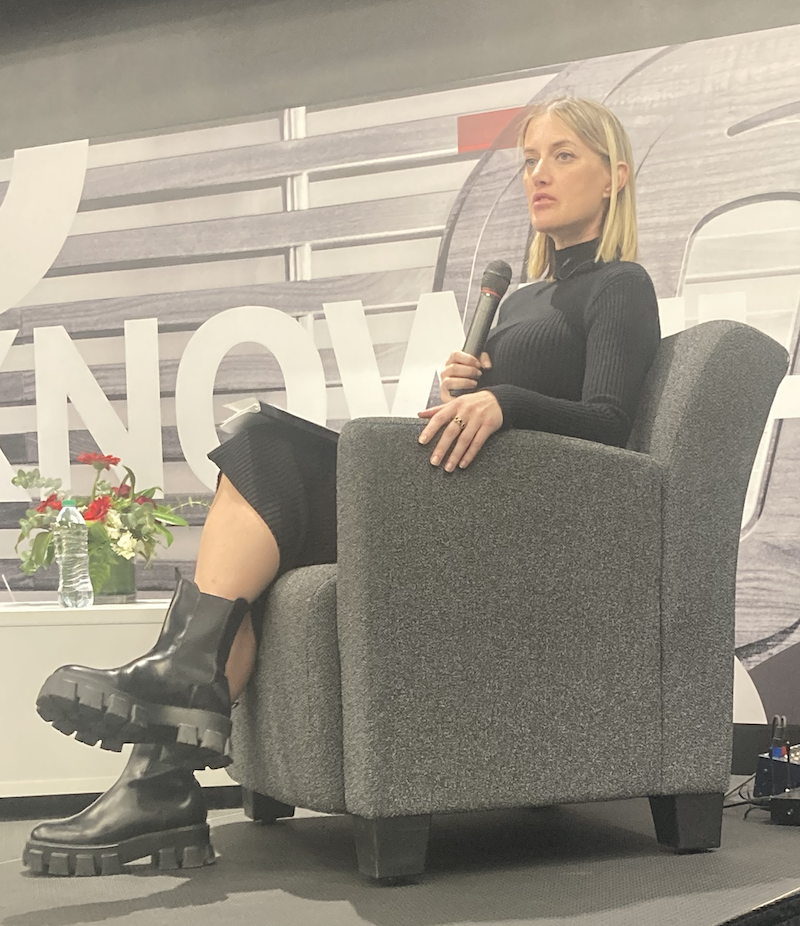 "I am just overwhelmed with all that you're doing here and feel incredibly grateful for the partnership that we have. NCITE is a Center of Excellence across administrations. It is so critical to the work of the federal government," Vinograd said. "In today's threat environment we all need to work as closely together as possible."

Vinograd spoke about what keeps her up at night: The ongoing normalization of violence and the impact it's having on the younger generation. She also addressed what she thinks the average American can do to strengthen the civic fabric and bolster national security.

"My father is a 93-year-old Holocaust survivor, and he taught me from a very, very early age the power of one voice," Vinograd said. "We as a country need to be able to come together and work together to mitigate this threat. It is not a political issue. It is a patriotic issue. Everybody has a voice. Everybody has a role to play in preventing targeted violence and terrorism."
Building the Future of Counterterrorism
The second day of ENVISION22 dawned at the Scott Conference Center. There, following a meeting of NCITE's Board of Directors, Ligon awarded Crenshaw the center's Career Achievement Award for her illustrious career spanning more than 50 years.

"When I started my career in terrorism, there was nothing," Crenshaw said. Later, she continued, others would ask her how she was able to find a definition of terrorism in those early days.

"I made it up," she said.

The morning continued with the announcement of the winners of NCITE's student research poster contest, sponsored by industry partner Splunk. The contest involved 23 posters from 31 students who stood by their work and discussed it with conference attendees during breaks on the first day.
Tin Nguyen, research associate at NCITE, announced the winners, who later gathered for a photo with Crenshaw:
Joseph Stewart and Cecelia Gordon from the University of Oklahoma,
Jeffrey Vargas from San Diego State University, and
Christian Seto from Arizona State University.
The poster contest reflected one of NCITE's core missions – cultivating the future counterterrorism workforce. Erin Bass, NCITE prinicipal investigator and associate professor in UNO's College of Business Administration, presented on her work to engaging business and data analytics students in solving homeland security problems during the conference's research presentations on day 1.
Additionally, students on Friday had the opportunity to meet professionals in government and industry during a student networking session sponsored by Splunk. There, NCITE's undergraduate and graduate student workers from an array of disciplines were able to learn more about potential career paths and make valuable contacts.
Ultimately, the conference was defined by a single animating hope, one that Ligon expressed to the audience upfront.
"We're all here for the same reason. We're all here to apply whatever backgrounds we brought with us to be able to solve some very difficult problems," she said. "And you fit here. You belong here. And Omaha represents that community."