Theodore has been honored with so many awards. His newest: 2023-24 Minority Dissertation Fellowship provided by the American Educational Research Association (AERA).
A Conversation with SPA's Theodore Johnson, Recent AERA Minority Dissertation Fellowship Award Recipient
| | |
| --- | --- |
| UNO's School of Public Administration is proud to celebrate the selection of our own Theodore W. Johnson, MPA, for a highly competitive 2023-24 Minority Dissertation Fellowship provided by the American Educational Research Association (AERA). | |
TJ is talented. Industrious. And ardent about sharing his research interests focusing on racial and educational equity in the aviation field. Theodore is a Ph.D. candidate in public administration, an instructor within UNO's Aviation Institute and currently pursuing a fellowship in Washington D.C. Sponsored by the FAA, he is spending this year working for the agency as an inaugural Samya Rose Stumo National Air Grant Fellow, working with aviation/aerospace related issues with the FAA.
For this newest AERA fellowship, TJ was chosen as one of six from hundreds of applications based on his current research – research that includes his recent successfully-defended dissertation proposal entitled, "Siloed Voices with a Resounding Experience: A Phenomenological Analysis of the Experiences of Black HBCU Aviation Students." This $25,000 award is given to early career scholars who are members of racial and ethnic groups historically underrepresented in education research. The fellowship aims to provide support for doctoral dissertation research, to advance education research by outstanding minority graduate students, and to enhance these students competitiveness for academic appointments at major research universities.
Besides this fellowship, Theodore is gaining a list of well-deserved accolades for his accomplishments as a researcher and leader here at UNO.
He was in Omaha from his D.C. fellowship in mid-May to receive the DEAI Emerging Leader award from the College of Public Affairs and Community Service (CPACS).

Before that, he was recognized nationally by the American Society of Public Administration (ASPA) as a Founders Fellow in addition to being named a Dwight D. Eisenhower Transportation Fellow by the U.S. Federal Highway Administration.

In 2022, he was honored with the Best Student Paper Award from ASPA's Section on transportation & Policy Administration. This paper explored the experiences of Black/African-American collegiate aviation students, and could potentially affect the racial diversity in the aviation workforce.
As an instructor with UNO's Aviation Institute, TJ is also involved with student life. He oversees the student chapter of the Organization of Black Aerospace Professionals, and he recently implemented a symposium for UNO aviation students focusing on mental health in aviation. And then, there is that dissertation. He plans on presenting his dissertation research and graduating in 2024.
Theodore's Thoughts:
We caught up with him amidst this all to congratulate him; and we heard his reflections on his most recent honors and thoughts about equity in the aviation field.
"I don't brand myself as a pilot, although I have my certifications," he said. "That would detract from the real work that needs to be done in other areas of the aviation field. . . showing that management roles are just as important and that equity is everyone's business.
"With my research, I have been ascertaining the experiences of racial minorities who are forced to 'sink or swim' in traditionally underrepresented fields like aviation because their experiences, once shared, often become the survival guides for future generations."
"The academic and non-academic support I have received at UNO has been unparalleled."
Theodore Johnson, MPA, Ph.D. candidate, and recent fellowship recipient.
Theodore commended his time as a student and faculty member at UNO – saying it has been nothing short of extraordinary. "The academic and non-academic support I have received has been unparalleled, which has empowered me to excel personally, professionally, and academically. Consequently, I have grown as an educator, scholar, and aviation professional.
"I will most likely stay in the higher education arena as that has the most impact on students, and I can impact the industry through research," he said.
"I try to be a living testament to working in the aviation field. The feedback from the award package was empowering. People are supportive of the work that needs to be done. But the job isn't finished and I intend to use my growing national platform to implement equity in needed areas."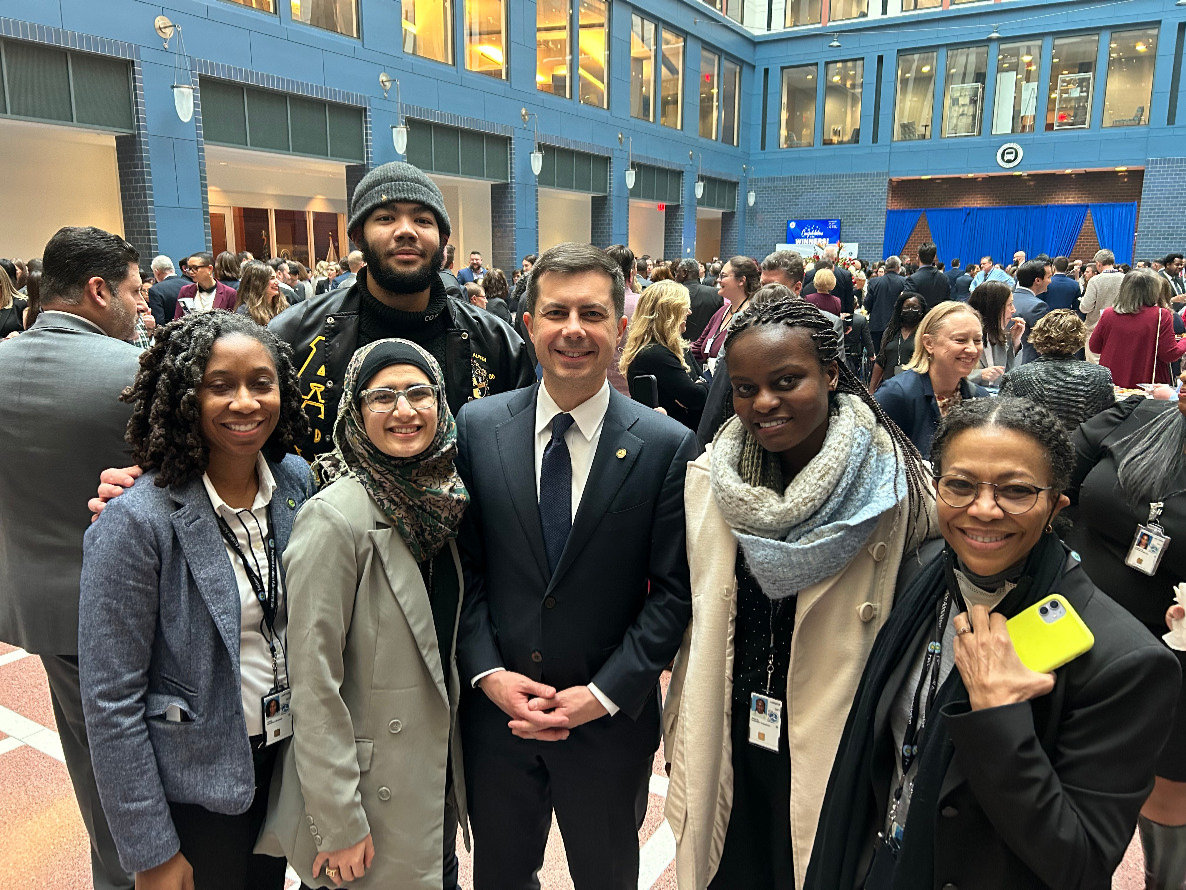 Theodore Johnson, back row, from his 2023 fellowship in DC, shown with Pete Buttigieg, US Secretary of Transportation, and other co-horts.