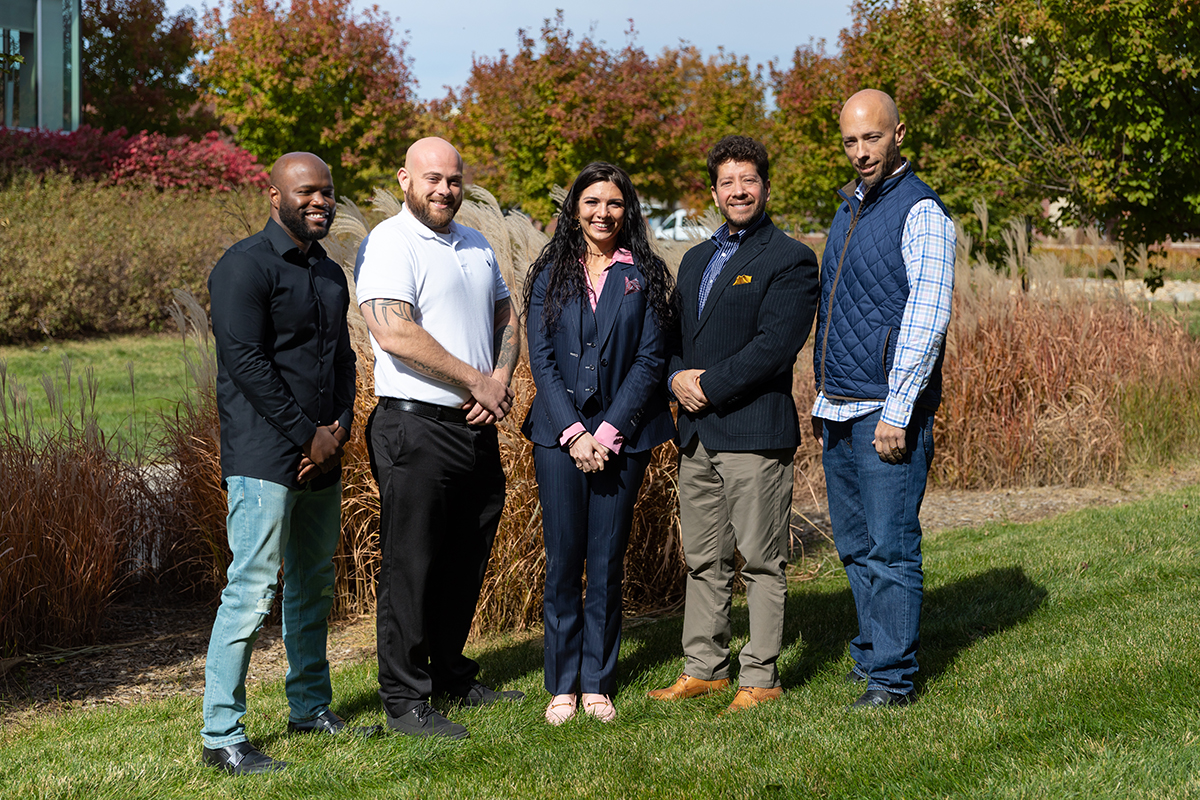 Juvenile Justice Certificate Program 2022-2023 Class from left: Diante Jones, Derek Hanika, Cassy Ross, Charles Valle, and Matt Allen.
Diante Jones is an author and founder of View Point, a program serving gang involved youth in Omaha, Nebraska. Diante has personal experience living within the gang culture, as he was able to escape that lifestyle in 2002. Diante's life experiences and education gives him a unique perspective to be able to serve gang involved youth within the Juvenile Justice system, a task he has taken on since 2014. He is currently employed at Community Based Services as a Gang Intervention Specialist.
Derek Hanika is a District 2 juvenile probation supervisor. He is responsible for supervising six officers, and one assistant probation officer. His other responsibilities include focusing on juvenile detention and intake, participating in Juvenile Detention Alternatives Initiative and Crossover Initiative efforts in Sarpy County, and several other local and statewide committees. He has been with State Probation for 10 years and has served in numerous roles and levels of juvenile and adult supervision. He values integrity, community safety, and using a wide lens to view the world which assists him in helping people make change.
Cassy Ross is currently the communications director for State Senator Megan Hunt. In this role she meets with stakeholders, gathers information, and helps develop legislative bills. Cassy has a Bachelor of Arts in political science and global studies. She has studied abroad and completed two intensive Arabic language programs. Cassy has a passion for human rights and seeking solutions to complex system problems.
Charles Valle is a bilingual community youth coach with Community Based Services in Omaha, Nebraska. He is also a professional mediator, negotiator, and entrepreneur. He holds a master's degree in negotiation and conflict resolution from Creighton University and a Juris Doctorate from the Catholic University of Cuenca (Universidad Católica de Cuenca-Ecuador). Charles has many years of experience working on human rights and women rights issues in his home country of Ecuador and immigration issues in the United States. Currently his focus is working with at risk youth. By collaborating with judges, probations officers, social workers, and therapists, he helps kids and families navigate the complex juvenile court processes and frequently employs his interpreting and translating skills to accomplish this. Charles cares for his community and wants to make a difference in the life of adolescents through motivation, empowerment, and leading by example.
Matt Allen is the CEO of Community Based Services (CBS) LLC, which was founded and organized in Nebraska in 2011. The mission of CBS is to help "at-risk" youth and families accomplish goals and eliminate barriers preventing them from being successful in the community. Since 2011, CBS has provided community youth coaching, peer mediation, family support, mentoring, gang intervention, and electronic monitoring for youth and families. Matt loves implementing the skills he has learned through experience and continuing education to help accomplish the CBS mission. Matt earned a criminal justice degree from the University of Nebraska at Omaha and is a licensed EMT and volunteer on a local fire department.