Goodrich Scholars Visit Elmwood, NE
Goodrich Scholarship Program faculty, Imafedia Okhamafe, Ph.D., and Todd Richardson, Ph.D., create learning opportunities and connections with Goodrich scholars.
This summer, eleven Goodrichers and two Goodrich faculty members spent the weekend in and around Elmwood, NE serving the local community while learning about the life and work of best-selling author and longtime Elmwood resident Bess Streeter Aldrich (1881-1954). In preparation for the trip, everyone read Aldrich's most famous novel, A Lantern in Her Hand, which is set in Cedartown, NE, a fictional version of Elmwood. This was the fourth such "Rural Excursion" Goodrich has taken, trips that are designed to experience the uniqueness, diversity and sophistication of Nebraska culture.
Saturday morning, the students made a visit to the nearby Louisville Care Center where they played games with some of the facility's residents. It was an illuminating experience as many of the residents had grown up in the area when Aldrich was still living there. Later that afternoon, the students went to Elmwood and took a tour of Aldrich's home, led by the Aldrich Foundation's executive director Teresa Lorenson, in order to learn about the author's family, career and literary legacy. Aldrich's home has been beautifully maintained by the Bess Streeter Aldrich Foundation, and a couple of Goodrichers commented on how much they would love to live there. After the tour, the Goodrich group pitched in by doing some yard work on the Aldrich home, followed by a raucous good time over dinner at Round the Bend Steakhouse in South Bend, NE. Before returning home on Sunday, the group stopped by the Lee G. simmons Conservation Park to learn about the wildlife of the Great Plains.
The service-learning project was the fourth such trip by the Goodrich Scholarship Program—last year, ten scholars visited Central City, NE to learn about the life and work of Wright Morris, an award-winning writer and photographer. The previous year, eight scholars visited Bancroft, learning about the life and work of John G. Neihardt, Nebraska's Poet Laureate in Perpetuity, and author of the classic Black Elk Speaks; the students also spent time in Winnebago, home of the Winnebago Tribe of Nebraska. In 2013, the first year of this Goodrich Rural Nebraska Initiative, scholars visited Red Cloud, NE, home of Willa Cather. Such service learning excursions are a part of an effort by Goodrich to enlarge our scholars' sense of place through first-hand experiences with the culturally vibrant, rural regions of their home state.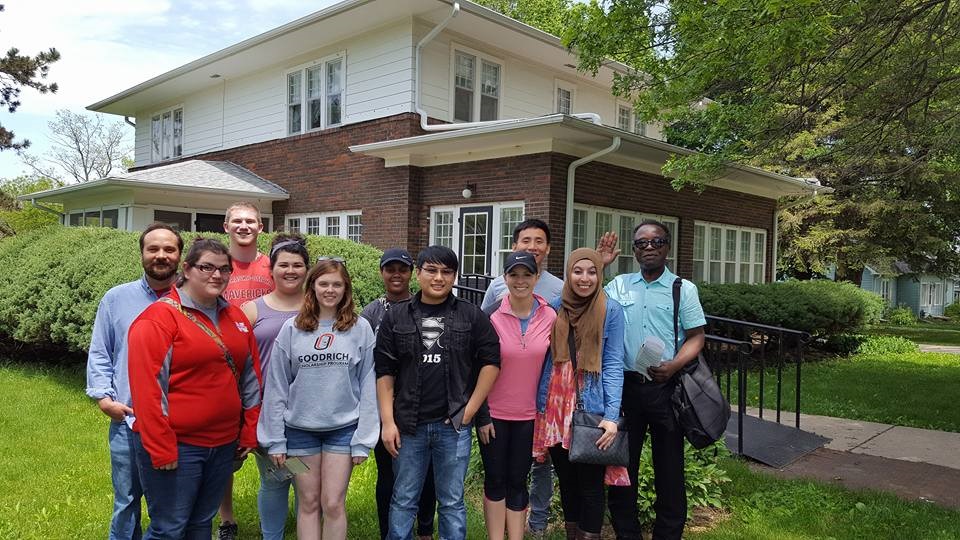 Goodrich scholars in Elmwood, NE