Application
If you want to apply for the University of Nebraska Omaha's (UNO) Goodrich scholarship, you've come to the right place. The Goodrich Scholarship Program has taken steps to make the application process easy for you.
The Goodrich Application Process
The Goodrich scholarship is both merit-and-need-based. Merit and financial aid are evaluated based on a composite of selection criteria, including:
Application data
Financial analysis
Academic record
References
Personal timed essay
Interview
The Goodrich Scholarship Program application process is now open. The application process deadline is February 1, 2024. Eligibility requirements include: Nebraska resident, have 31 or fewer UNO transferrable college credits by May 2024 including spring semester, US citizen or legal non-citizen of the US--FAFSA-eligible. If you have any questions about the process, you can stop by the Goodrich office in the College of Public Affairs and Community Service, Room 123, email unogoodrich@unomaha.edu or call 402.554.2274.
NOTE: Applicants who receive tuition scholarships, including but not limited to Regents, Chancellor's, Dean's and Buffett Foundation, cannot combine or stack any of those awards with a Goodrich scholarship. For more information about stacking scholarships, please contact UNO's Office of Financial Support and Scholarships at 402.554.2327.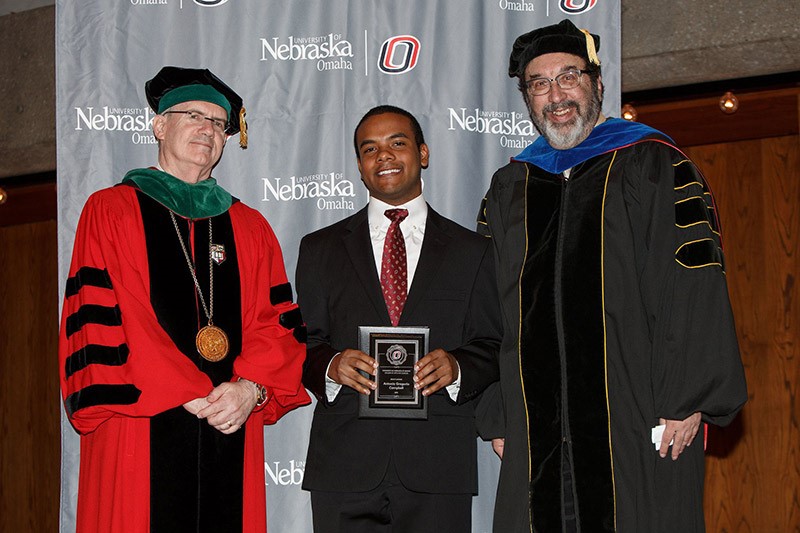 Goodrich Graduate Receives Senior Vice Chancellor Outstanding Undergraduate Student Award