Bioinformatics Core Facility
Emerging, Collaborative, Serving the Life Science Research Community
Bioinformatics is a new way of learning biology. It is a multidisciplinary field that bridges the gap between computer science and molecular biology to access, analyze and extract knowledge from multidimensional data.
The days of biological researchers capturing data in text documents or basic spreadsheets is over. Now researchers are confronted with previously unimagined levels of information, and bioinformatics helps them navigate these vast data sets to discover knowledge and derive new hypotheses.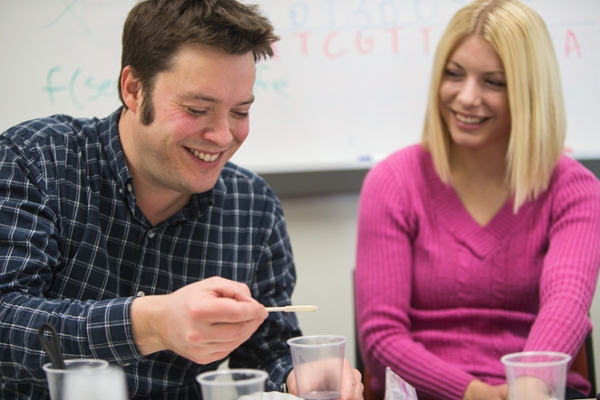 The Bioinformatics Core Facility is a support infrastructure of faculty, staff and students from multiple disciplines and educational backgrounds that assist in the research of biomedical and health informatics. The core is continually engaged in updating and upgrading hardware and software to meet the needs of researchers using our infrastructure.
Leading the Way
UNO, which offers a bachelor's degree in bioinformatics, is a pioneer institution in the discipline and is positioned to assist researchers by helping them integrate cutting-edge computational tools and biomedical knowledge. In 2013 we launched a graduate program in biomedical informatics, which lets students specialize in bioinformatics or health informatics.
Since its inception, BioCore has delivered on its commitment through successful collaborations with the University of Nebraska-Kearney, the University of Nebraska-Lincoln, University of Nebraska Medical Center, Creighton University and colleges in Nebraska.
BioCore can assist research groups with the following:
Hardware and Systems Administration
Collaborative Life Science Research
Software Support
Education and Outreach Activities
jBIO
BioCore has developed an intelligent content management system (jBIO), which allows multiple INBRE units (Idea Networks of Biomedical Research Excellence) and their researchers to upload data, manage and use a collection of open-source and in-house computational tools through one-time access. If you are a member of NE-INBRE and need to create a group account, please fill out the group request form.