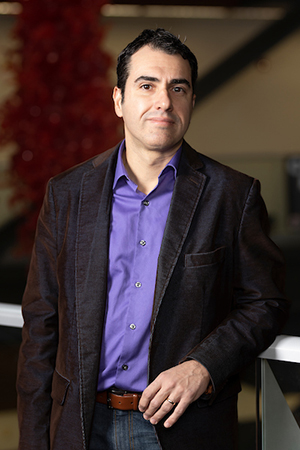 Dario Ghersi, M.D., Ph.D.
Associate Professor
School of Interdisciplinary Informatics
---
email:
office:
PKI  173B
office phone:
lab room:
PKI 357
lab phone:
office hours:
Tuesday 4:00pm - 5:15pm , Open door policy
Google Scholar:
personal website:
note:
This profile is pulling in data from Digital Measures. Postings on personal websites or social media do not indicate that the individual is speaking on behalf of UNO.
General Information
Biography
In 2004 I received an M.D. from the University of Genoa with a thesis on computational immunology. From 2004 to 2005 I worked as a Research Associate in the Department of Rheumatology at the Hospital for Joint Diseases in New York City. In 2005 I enrolled in the Ph.D. program in Computational Biology at Mount Sinai School of Medicine working on the structural bioinformatics of protein binding, and I graduated in 2010. I was a Postdoctoral Fellow at Princeton University from 2010 to 2014, where I worked on large-scale genome sequencing data. In 2011 I was awarded a postdoctoral fellowship from the American-Italian Cancer Foundation. I joined the University of Nebraska at Omaha in 2014 as an Assistant Professor of Biomedical Informatics in the School of Interdisciplinary Informatics.
Teaching Interests
Bioinformatics, Biomedical Informatics, Structural Bioinformatics, Biologically-inspired Computing, Linear Algebra for Advanced Computing and AI.
Research Interests
Cancer Genomics, Structural Bioinformatics, Immunoinformatics, Small Molecule Bioinformatics
Service Summary
Some of my current service assignments:1. Graduate Program Curriculum Chair for the M.S. in Biomedical Informatics2. Co-director of the BISB track in the IGPBS Ph.D. program (joint effort with UNMC).3. Committee Member in the Bioinformatics Undergraduate Committee4. Committee Member in the Doctoral Program in Biomedical Informatics5. Committee Member in the Honors Program.6. Graduate Council Committee member.
Additional Information
Teaching Interests
Bioinformatics
Computational Biology
Genomics
Research and Creative Interests
Cancer genomics
Structural bioinformatics of protein binding
Protein interaction networks
Education
MD, University of Genoa (Genoa, Italy) 2004
Ph.D., New York University (New York, NY) 2010
Awards
American-Italian Cancer Foundation, 2012
Courses Taught
BIOI1000 - Introduction to Bioinformatics