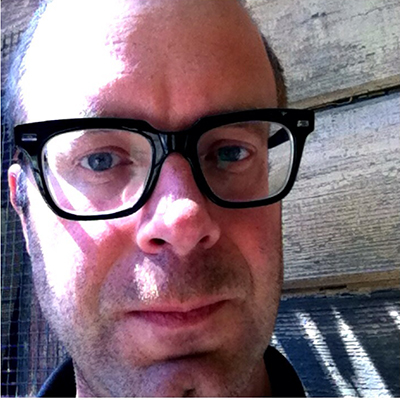 Graham Foust
Mentor
Poetry
MFA in Writing
---
Additional Information
---
Biography
GRAHAM FOUST's poems, essays, translations, and reviews have appeared in numerous magazines and journals, including The Nation, Conjunctions, TriQuarterly, Ploughshares, Boston Review, American Letters and Commentary, A Public Space, Gulf Coast, New Ohio Review, Verse, Fence, and Dairyaire:  The Magazine about Wisconsin.  He is the author of five books of poems, including Leave the Room to Itself, winner of the 2003 Sawtooth Poetry Prize;  Necessary Stranger, a finalist for the 2007 Northern California Book Award; and To Anacreon in Heaven and Other Poems, a finalist for the 2014 Believer Poetry Award.  His sixth book of poems, Time Down to Mind, was published in December of 2015.  With Samuel Frederick, he has translated three books by the late German poet Ernst Meister:  In Time's Rift (Wave Books, 2012), Wallless Space (Wave Books, 2014), and Of Entirety Say the Sentence (Wave Books, forthcoming 2015).  In 2014, Romanian artist Alex Mirutziu based his exhibit "Each thought's an instant ruin with a new disease" on Foust's poem "Politics."  He also works at the University of Denver. 
Teaching Philosophy
"Many years ago, one of my creative writing teachers led my classmates and me in an exercise he claimed would teach us all we needed to know about the creative process in two minutes.  The first part of the exercise took virtually no time, as all he did was pass out notecards and ask us to write our names on one side.  (This man had in front of him a room full of people who'd been in school for almost their entire lives, so I'd venture to say that most of us probably wrote our names on the cards before he asked us to do so.)  Next, he asked us to turn the cards over and write an alias for ourselves, and the next 110 seconds were strangely painful.  In theory, we'd simply been asked to write another name, but the practices demanded by this second task couldn't have differed more from the automatic reactions of the first.
"His point, of course, was that there was one correct answer to the first task.  Our minds converged on it and carried out his order quickly and without much effort.  The second task, however, had no single answer, for in order to answer the question, we had to explore a range of potentially divergent alternative personalities that could then be translated into other monikers.  In two minutes, we'd gone from deploying the Pavlovian responses of our grade school years to staring down the oblivion of the blank page.  This was eye opening, but I could hear the clang of metal doors in the background as well—is this what I signed up for?  A lifetime of vertiginous panic?
"Well, not exactly, for I think I've managed to overcome my fear of the blank page without too much agony, and I'm usually able to laugh at my bad drafts in the same way my classmates and I laughed at our ridiculous aliases way back when.  I also came away with a useful exercise for both my creative writing classes and my literary study classes, for I'll admit it—I've probably inflicted this very exercise on a thousand students in the last fifteen years.  That said, I also tend to take things a little farther than my teacher did by asking my students if it's really true that there's one right answer to the question 'What's your name?'; if it's in fact the case that the possibilities for one's alias are limitless.  After all, isn't it possible that you're 'Robert' to your grandmother, 'Bobby' to your parents, 'Bob' to your teacher; and 'Blargh!' to your baby sister?  And does the world really need another six-foot-five, 280-pound guy nicknamed 'Tiny'?
"Pushing the envelope of my teacher's initial exercise allows me to show my students that creative writing—a discipline that sounds to some ears like a real-life version of the proverbial 'underwater basket weaving' class—isn't about a lack of rules, but rather is about the search for rules, about 'finding a form' as philosopher and literary critic William H. Gass says.  Moreover, literary study isn't about circling 'a' instead of 'b' on a multiple-choice exam, but rather is about locating the various entry points that might prove useful when faced with a text that encourages us to read it in a variety of different ways.  For example, do the words 'an elephant' in 'Metaphors,' Sylvia Plath's great poem about pregnancy, refer to the speaker's feelings about her size, or do they make reference to that thing in the room that can't be talked about?  In short, they do neither because they do both, and they do both because they do neither.  Plath's metaphoric elephant, then, is a 'being in uncertaint[y]' as John Keats would have it, an image which in turn allows readers to 'dwell in Possibility,' that 'fairer House' envisioned by Emily Dickinson. 
"By 'fairer,' Dickinson of course means 'more beautiful,' but one hears a sense of justice there as well.  That is, she suggests that poetry, in its multifariousness, is somehow more reasonable than prose. By training my students to weigh their options for writing and reading, I enable them to become practiced at the art of getting themselves into a space where they can be not only judicious and critical, but also integrative and inclusive.  If I can get my students to learn to dwell in that space, I've no doubt they can take it—and take it almost anywhere—from there."