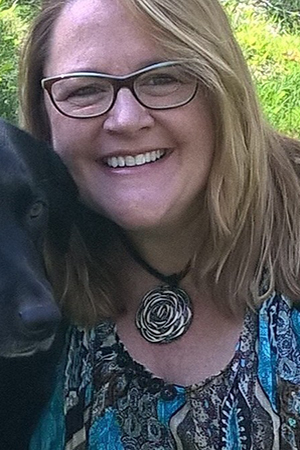 Charlene A. Donaghy
Stage & Screen Mentor
MFA in Writing
---
Additional Information
---
Biography
CHARLENE A. DONAGHY's plays are produced and awarded across the United States, from New York to Los Angeles, and in Great Britain and Canada. Hansen Publishing Group publishes her collection of plays, Bones of Home and Other Plays. Of her writing, Pulitzer & Tony Award Winning Playwright Doug Wright states: "With plays that are intoxicating and mysterious, Donaghy has a gift for finding the truth that lurks below our eccentricities." Charlene's publications include Best American Short Plays (3x), Best Ten Minute Plays, 25*10 Minute Plays for Teens, Estrogenius (2x), In the Eye, Louisiana Literary Journal, and Mad River Review. Her recognitions and awards include international finalist for Great Britain's North American Actors Association Playreading Award, nominee for the National Partners in American Theatre Playwriting Award, a two-time John Cauble national semi-finalist, a finalist for the Actors Theatre of Louisville Heideman Award, a finalist for Canada's Bottle Tree Productions, and other accolades. Charlene is Festival Director for the Warner International Playwrights Festival, Producing Director for the Provincetown Tennessee Williams Theater Festival, and Co-Founder of the Association for Theatre in Higher Education's Award of Excellence in Playwriting. She teaches in the University of Nebraska Omaha's MFA in Writing, as well as UNO's Department of Theatre. She is a member of The Dramatist Guild of America (past Regional Representative), The Playwrights' Center, Association for Theatre in Higher Education, Association of Writers and Writing Programs, New York City's 9th Floor Playwrights' Collective, and she is a founding member of Boston's Proscenium Playwrights. 
Teaching Philosophy
"Make Voyages!  Attempt them!  There's nothing else!"  So writes Tennessee Williams and I completely agree. Every student is on a voyage, and everything I do as an educator is to encourage you to find your voice, muse, self, bliss, fun, and fulfillment in your art and craft. As a writer you have the joy of knowing words live not only on the page but come alive, breathe, and twist on the stage and on screen with language, song, ideas, and spectacle. You can create anything! We will work together, in true collaborative nature, through discussion, question, thought, and imagination. We will embolden you to develop critical writing and reading skills to express your art and to revel in the heart of who you are as a writer.
"My real-world stage, screen, publication, and production experience adds invaluable levels of education and writing development for my students. I write every day, energized by my place in our art, whether a first draft or a fiftieth because, eventually, everything comes together and the voyage is as wondrous as the destination. My teaching philosophy is about that world where craft, practice, and thought mingle with individuality, exploding into something rewarding to the writer and moving to readers and audiences. Finally, I hope that my students recognize my enthusiasm for this voyage that we travel together: there's nothing else!"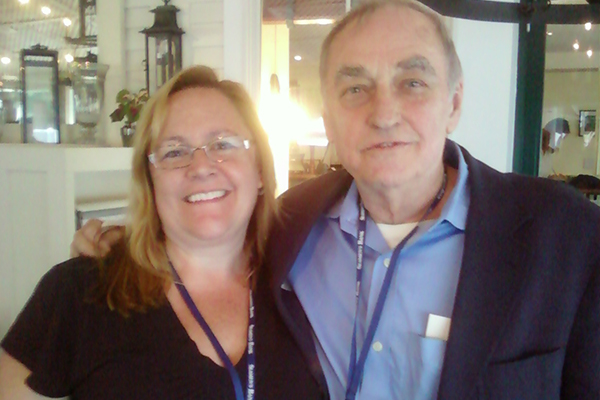 Charlene A. Donaghy and Pulitzer Prize-winning playwright Lanford Wilson at the Provincetown Tennessee Williams Theater Festival.