Rabbi Sidney and Jane Brooks Lecture Series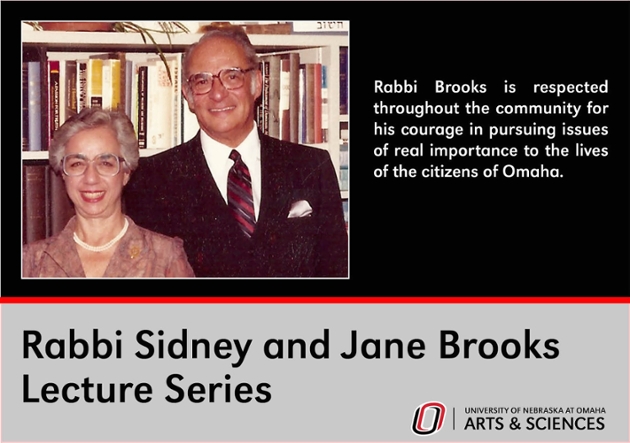 For more than 40 years Rabbi Sidney H. Brooks played an integral role in the religious life of the Omaha community. He served as Rabbi of Temple Israel for thirty-three years before his retirement in 1985. During those years and since, Rabbi Brooks encouraged a continuing dialogue between people of different faiths. In order to accomplish this goal, Rabbi Brooks devoted much of his time and effort to ecumenical organizations such as Operation Bridge, Omaha Interfaith Housing, the National Conference of Christians and Jews and the Institute on Judaism for Christian Clergy at Temple Israel.
For his efforts to promote interfaith dialogue, Rabbi Brooks received the Humanitarian Award from the National Conference of Christians and Jews, a special award from the Omaha Metropolitan Association of Churches, and he twice received the George Washington Award of Honor from the Freedoms Foundation.
Rabbi Brooks is recognized widely for his pursuit of social justice and action in all walks of life. Never one to shirk responsibility, Rabbi Brooks often brought social issues into the conversation about religious life. While this was not always popular, Rabbi Brooks is respected throughout the community for his courage in pursuing issues of real importance to the lives of the citizens of Omaha. In recognition of these efforts, Rabbi Brooks was awarded an Honorary Doctor of Humane Letters from the University of Nebraska Omaha in 1985.
Born in 1920, in Cincinnati, Ohio, Rabbi Brooks graduated from the University of Cincinnati in 1942 with a degree in English Literature. In 1946, Rabbi Brooks graduated with a Master's Degree in Hebrew Literature from the Hebrew Union College Rabbinical School. A prolific writer and speaker, Rabbi Brooks has published many interviews, editorials, and articles in local and national newspapers and journals. He also collaborated in the editing of Rabbi Samuel S. Cohon's Jewish Theology and Dr. Richard Freund's Understanding Jewish Ethics. In 1971, Rabbi Brooks received an Honorary Doctor of Divinity Degree from Hebrew Union College.
Throughout the years, Rabbi Brooks was encouraged and supported by his wife, Mrs. Jane Brooks. Mrs. Brooks also has participated significantly in the religious life of the Omaha community.
---
2018-2019 (Spring 2019)
Tri-Faith Initiative: Origins and Outcomes of a Bold Endeavor in the Heartland
Wendy Goldberg, Interim Executive Director, Tri-Faith Inititative
2017-2018 (Fall 2017)
Violence, White Supremacy, and #Charlottesville: Can We Learn Anything from the Ethics of War 
Laura Alexander, Assistant Professor of Religious Studies and Goldstein Family Community Chair in Human Rights

2016-2017 (Fall 2016)
Believing Alone: Religious Liberty in America
Alan Potash, Jewish Federation Chief Executive Officer
2015-2016 (Fall 2015)
Watching Movies, Seeing Transcendence: Film as a Site of Interfaith Encounter
Professor John Lyden, Grand View University
2014-2015 (Fall 2014)
SAME-SEX MARRIAGE, Religious Discrimination, and David Heineman
William L. Blizek
Professor of Philosophy and Religion, UNO
2013-2014 (Fall 2013)
Reimagining Interfaith: Opportunities and Challenges Learned from Project Interfaith
Beth Katz, Founder and Executive Director, Project Interfaith
2012-2013 (Spring 2012)
Jesus and Money-Changers: Undermining the Origins of Christian Anti-Semitism 
Dr. Curtis Hutt, Visiting Assistant Professor and Special Programs Coordinator, Schwalb Center, UNO
2011-2012 (Spring 2012)
The Tri-faith Initiative: Beyond Dialogue to Cooperation.
Rabbi Aryeh Azriel, Temple Israel
Right Rev. J. Scott Barker, Episcopal Diocese of Nebraska
Dr. Syed Mohiuddin, American Institute of Islamic Studies and Culture
2011
Judaism and Christianity: Two different paths to the same God
Rabbi Norman M. Cohen, Founding Rabbi of Bet Shalom, Minnetonka, Minnesota 
2009
Entering a dialogue, working towards relating: Dynamics of conflict management and polarization in the Israeli society
Ran Kuttner, Assistant Professor of Conflict Resolution at the Werner Institute for Negotiation and Dispute Resolution Creighton University School of Law 

2008
Diagnosing and Combatting Holocaust Fatigue
Dr. Alan Steinweis, Hyman Rosenberg Professor of Modern European History and Judaic Studies in the Department of History at the University of Nebraska – Lincoln 
2007
The Jewish Experience in the Muslim World
Daniel J. Schroeter, Teller Family Chair in Jewish History Department of History at the 
University of California, Irvine

2006
Theology, Identity and Politics: Jews, Christians and Israel in the 21st Century?
Rabbi David Sandmel, Crown Ryan Professor of Jewish Studies, University of Pennsylvania
2005
The Many Faces of Martin Buber: Herald of a New Age for Christians and Jews
Dr. Gilya Gerda Schmidt, Professor and Head of the Department of Religious Studies, and Chair of the Fern and Manfred Steinfeld Program in Judaic Studies, at the University of Tennessee
2004
Looking Beyond Mel Gibson's The Passion - Reviewing & Previewing the Wider Ramifications
Dr. Michael Cook, Sol & Arlene Bronstein Professor of Judeo-Christian Studies at Hebrew Union College-Jewish Institute of Religion, Cincinnati campus
2002
Hither, Whither and Thou: Major Trends in Jewish Translations of the Bible
Dr. Leonard Greenspoon, Klutznick Chair in Jewish Civilization at Creighton University
2001
Muslim-Jewish Coexistence Through Modern Times
Moshe Gershovich, Professor of Modern Middle Eastern History, UNO 
2000
Jews and Christians:  Lessons from the Middle Ages
SaMarc Saperstein, Charles E. Smith Professor of Jewish History and Director of the Program in Judaic Studies at the George Washington University

1999
The Return to the Cave of Letters Project 2000
Dr. Richard A. Freund, 
1998
My Work with the Dead Sea Scrolls
Dr. Sidnie White Crawford
1997
Learning from the Dead: From Ancient Egypt to Ancient Israel
Joseph Zias
1996
The Bible and Archaeology: The Tenth Anniversary of the Bethsaida Excavations Project
Dr. Rami Arav
1995
Coming to a Neighborhood Near You: Religious Fundamentalism in American and the World
Martin Marty
1994
The Story of the Good Samaritan
Daniel Breslauer