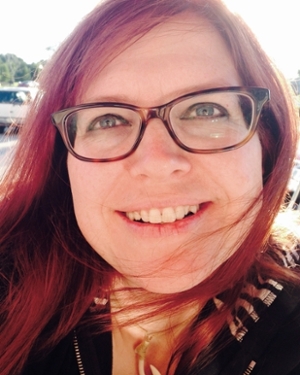 Julien Wulfgar (Fielding)
---
Additional Information
Background
Julien R. Fielding joined the Religious Studies Department as a part-time lecturer in summer 2005, and in 2008 was awarded an Excellence in Teaching (part-time) award through the College of Arts and Sciences. She has a bachelor's degree in art history from the University of Nebraska at Omaha and a master's degree in religious studies from the University of Kansas at Lawrence.
Fielding's main interest is Eastern religion and film. She has had several articles published in the Journal of Religion and Film, contributed three entries to Encyclopedia of Religion and Film (edited by Eric Mazur), and contributed three essays for the Continuum Companion to Religion and Film, which is edited by Prof. William Blizek. Her book, Discovering World Religions at 24 Frames Per Second, was published through Scarecrow Press in late October 2008. She is currently writing a book on remaking Asian films and working on a documentary about Shinto.
In February 2006, she presented a paper on Native American filmmakers Chris Eyre and Sherman Alexie at the Popular Culture Association's meeting in Albuquerque. In January 2007, she taught two seminars at the Hawaii International Conference on Arts and Humanities – one on the films of Japanese auteur Hayao Miyazaki and one on religion and film. And she has screened and discussed the Japanese film Harakiri, participated in a post-screening discussion of Slumdog Millionaire, and given a lecture on Hindu iconography in American popular culture.
Fielding's other interests include East Asian religions, particularly Buddhism, Shinto, Daoism and Confucianism; popular and folk religion in East Asian film; ascetic traditions, art and religion, and representations of good and evil in religion, particularly images of devils, hell, angelic beings and heaven. She's recently become enamored with religious traditions in Hawaii. A film fanatic, she enjoys watching and talking about J-horror, K-horror, and anime, especially the films of Hayao Miyazaki, Mamoru Oshii, Satoshi Kon, and Isao Takahata. She can also be heard referencing such films as Fight Club, Lord of the Rings, Star Wars, The Matrix, and anything in which you find a superhero.
Fielding teaches Introduction to World Religions at UNO.