Outside the Classroom Learning
Outside the classroom learning experiences are often the most memorable learning experiences, and they help us to make sense of the world around us by connecting feelings and learning. These experiences stay with us into adulthood and influence our beliefs, lifestyle and work. They influence our values and the decisions we make. They allow us to transfer learning experienced outside to the classroom and vice versa.
In the Department of Mathematics, there are many opportunities for students to engage with faculty, fellow students, their curriculum and content outside of the traditional learning environment.
---
Student Worker - Web and Social Media Coordinator for Data & Decision Sciences Team

The Data and Decision Sciences (DDS) team within the department of Mathematics at UNO is hiring one student to assist with the advertisement of the DDS Consulting Lab, its academic research, and community projects. The DDS team is composed of faculty and students, which focus is to perform academic research and community projects in the area of Data Science, Statistics, and Operations Research. The goal of these three areas combined is to transform data into information, and information into insights. The main duties of this position include the development of a website, creation and management of social media pages in platforms such as Facebook and Twitter, as well as the creation of video content for the DDS YouTube page, and etc. Students should be able to start as soon as possible and this position is expected to last for approximately one semester. Both undergraduate and graduate students are encouraged to apply. Working remotely is possible. Please, contact Dr. Fabio Vitor or Dr. Xiaoyue Cheng for additional details.
---
Cool Math Talks
The "Cool Math Talk" Series aims to present some interesting and fun uses of mathematics. The level of mathematics presented in these talks with be such that most undergraduate students with an interest in mathematics will be able to follow along. All interested students are encouraged to attend.
---
Kerrigan Research Minigrants Program
The Kerrigan Research minigrants program invites UNO graduate and undergraduate students to apply for minigrants to work on research projects with department faculty members. A minigrant project is for $500 payable at the end of the fiscal year (the fiscal year ends June 30) upon completion of the project.
Eligibility: Full-time UNO undergraduate and graduate students
Application Deadline: February 1st of the current academic year. Late applications will not be considered.
Proposal Guidelines: All applications must include two pages description of the projects. Incomplete applications will not be considered. The project description should:
Have the student's name (if not taken, write status: available)
Include the project's start and end dates
Include the title of the project
Include an abstract (less than 100 words)
Include the purpose(s) of the project (i.e. the questions/issues to be addressed by the project)
Include a timetable (Provide a timetable for completing the work entailed in the project)
Duration: Either from September 15th or February 1st to June 30th
Application Process: Applications are to be emailed to either Dora Velscov, dvelscov@unomaha.edu or Mahboub Baccouch, mbaccouch@unomaha.edu.
Requirements:
All students must work with a faculty mentor. The student's faculty mentor must commit to supporting and advising the applicant throughout the research project.
Each student must submit a final report no later than June 30th containing results of what was accomplished, and a list of papers and/or publications that directly or indirectly result from the grant; otherwise the student will receive no funding.
Incomplete projects will receive no funding. The mentor is responsible for the completion of the project.
A student cannot participate on more than one project per year.
A student cannot participate on more than three projects during their time at UNO.
Project's will be accepted on a first come, first served basis until February 1st.
Each faculty mentor may propose up to two projects per year, however only the first will be accepted on a first come, first served basis. The second will be held until February 1st and accepted on that date if there is funding still available.
Students must be recruited by March 1st. No student will be accepted to a project after this deadline and all unclaimed proposals will be removed on that date.
In order to be eligible for a Kerrigan minigrant the student must be registered for at least 6 hours if an undergraduate, and 3 hours if a graduate student.
The minigrant cannot be work that is also counting for an independent study, thesis, or masters project. However, the minigrant may be used to develop an initial idea that will later be developed into a thesis.
---
NASA NE Space Grant FY21 Research Mini-Grant
Dr. Baccouch's proposal "Discontinuous Galerkin Method Applied to Navier-Stokes Equations" has been selected as the awardee for NASA NE Space Grant FY21 Research Mini-Grant. He is looking for a qualified student to work with him on this project during Fall 2020 and Spring 2021. The student is responsible to apply numerical methods to solve these partial differential equations. The student worker will be responsible for the codes and preparation of manuscripts for publication from Sep 1, 2020 - Apr 30, 2021.
Start Date: September 1, 2020
End Date: April 30, 2021
Award Amount: $12.50/hr, approx. 11.5hrs/wk over 32 weeks.
The student will need to complete the Space Grant FY21 Mini-Grant Student Form. Please see this link to get paid from the mini-grant BEFORE you begin.
The student will be considered a NASA Nebraska Space Grant student awardee.
Eligibility
1) Graduate and undergraduate students are eligible to receive funding, as are full-time and part-time students. Underrepresented minorities and women are strongly encouraged to participate. Students must attend the institution that received the mini-grant.
2) Knowledge of numerical methods, partial differential equations, and programming skills are required.
Interested students should contact the PI Dr. Baccouch at mbaccouch@unomaha.edu
Selected student will need to complete the form through the NASA Nebraska Space Grant Info.
Questions: The NASA Nebraska Space Grant staff members are available to answer questions. Please contact them at: Nasa.Nebraska@unomaha.edu
---
Problem of the Week and Solutions
View the Problem of the Week and Solutions Archive
---
Putnam Competition
Each December a group of undergraduate UNO students participate in the William Lowell Putnam Mathematical Competition.
UNO teams frequently place highly on the prestigious Putnam Competition, held annually for the top undergraduate mathematics students in the U.S. and Canada. The competition began officially in 1938 but has origins as far back as 1933 when 10 students from Harvard competed against 10 students from the United States Military Academy at West Point.
The competition consists of two, three-hour sessions of six math problems, which are graded on a scale of 0-10 points. Competitors must show the steps in their work to justify an answer and receive full credit, and partial credit may be given only when showing significant progress towards the solution.
Sponsored by the Mathematical Association of America, the competition has counted many distinguished mathematicians and scientists among its participants over the years, including Nobel Prize winner John Nash, noted for his work in game theory and differential equations and the subject of the 2001 Hollywood film "A Beautiful Mind."
UNO teams routinely do quite well in this most competitive of university mathematics competitions. Every year since 2012, UNO has placed in the top 22% in the US and Canada. In 2013,UNO's Putnam team placed 49th out of 557 competing institutions, good enough to be among the top 10 percent of participating North American schools. In 2019, again UNO's Putnam team placed in the top 10 percent (56 out of 568).
Interested students are encouraged to join the Putnam Study Group on Gather.Town from 1:00-3:00 any Friday during the fall and try some Putnam caliber problems.
If most institutions can hold on-campus classes in Spring 2021, the competition will continue as normal. If students cannot come to campuses, the problems will be-self graded and administered for fun with no winners declared or prizes distributed.
Please contact Dr. Griff Elder for more information.
---
π/2 Mathematical Competition (also called Half-Putnam Exam)
Nicknamed the "Half-Putnam," this is a local, problem solving contest, imitating at a lower level the prestigious Putnam Competition. It is organized during the spring semester, on the first Saturday of March.
Eligibility: UNO undergraduate students who registered for it by the announced deadline.
---
Calculus Bee and Calculus: The Musical!
The Calculus Bee is a contest for students currently enrolled in high school calculus. It takes place towards the end of the spring semester. The Bee consists of three rounds. The first round is a written test open to all high school calculus students. The 30-item exam is administered in the schools then scored at UNO to determine the 100 semi-finalists. The semi-finalists compete in a clicker round of timed questions the day of the Bee. From this competition, the top 8 are selected to compete in a double-elimination head-to-head round to determine the Calculus Bee Champion.
"Calculus: The Musical" is held in conjunction with the Calculus Bee each year. The "MaTheater" is a company that produces math and science musicals that are performed across the country each year.
Any questions regarding Calculus: The Musical! can be directed to unodualenroll@unomaha.edu. Questions regarding the Calculus Bee can be directed to jrech@unomaha.edu.
Calculus: The Musical! and the Calculus Bee 2019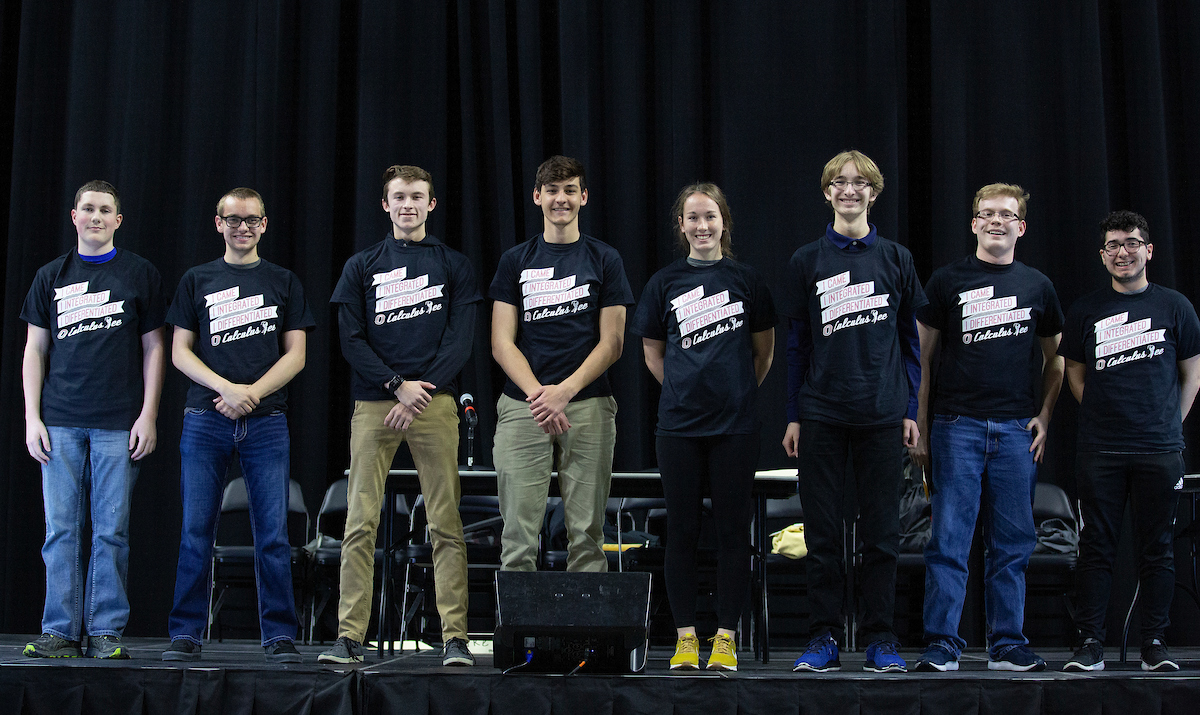 Eight finalists competed in the Calculus Bee in Baxter Arena at the University of Nebraska at Omaha in Omaha, Nebraska, Thursday, April 4, 2019.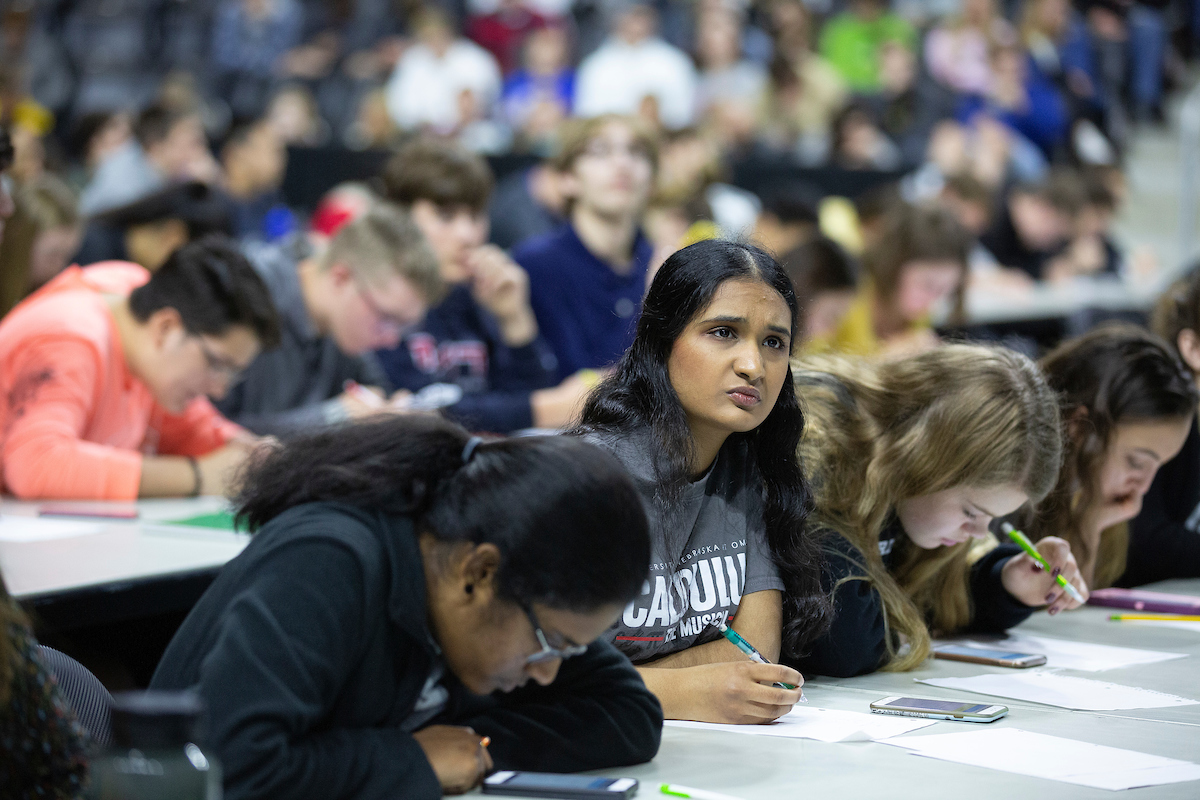 High school students compete in the Calculus Bee in Baxter Arena at the University of Nebraska at Omaha in Omaha, Nebraska, Thursday, April 4, 2019.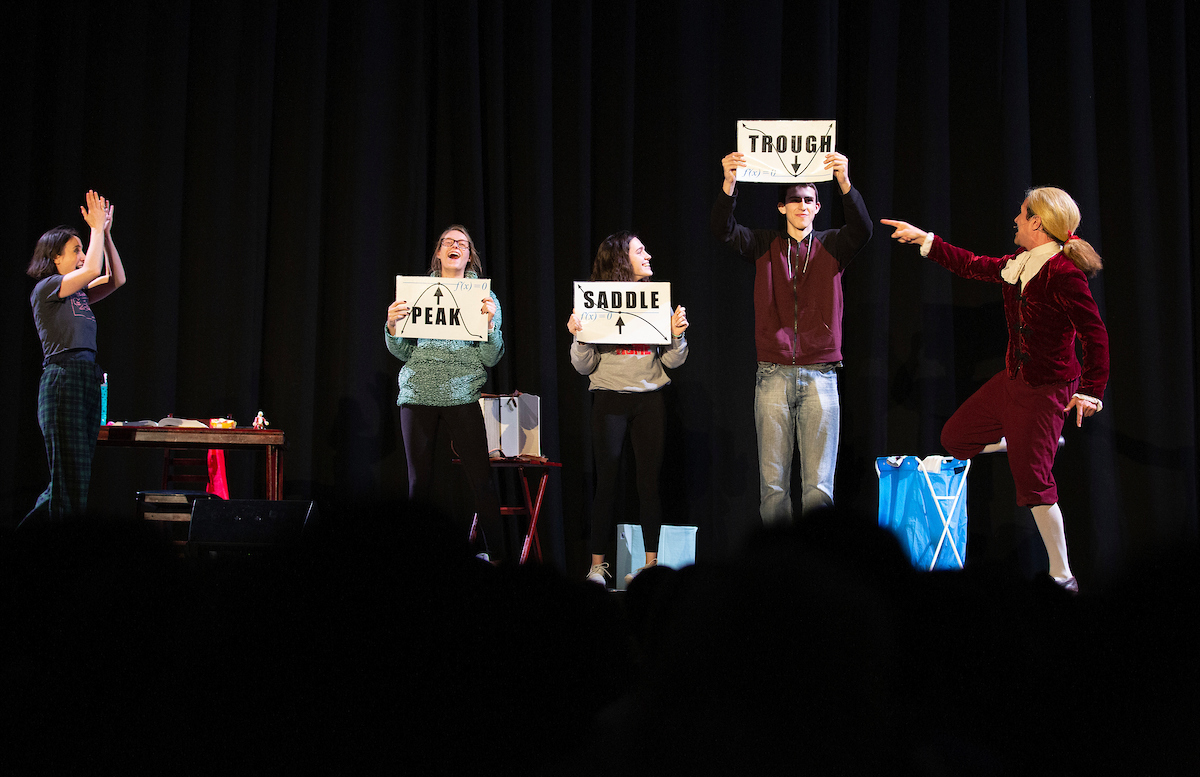 Actors with Matheatre of Minneapolis perform Calculus: The Musical! for high school students in Baxter Arena at the University of Nebraska at Omaha in Omaha, Nebraska, Thursday, April 4, 2019.