Welcome to the MatheMavericks Zone!
This is a communal study space with tutors for Calculus 1 and below should you need them. Come spend time with your classmates, work on your homework, and deepen your understanding of Math!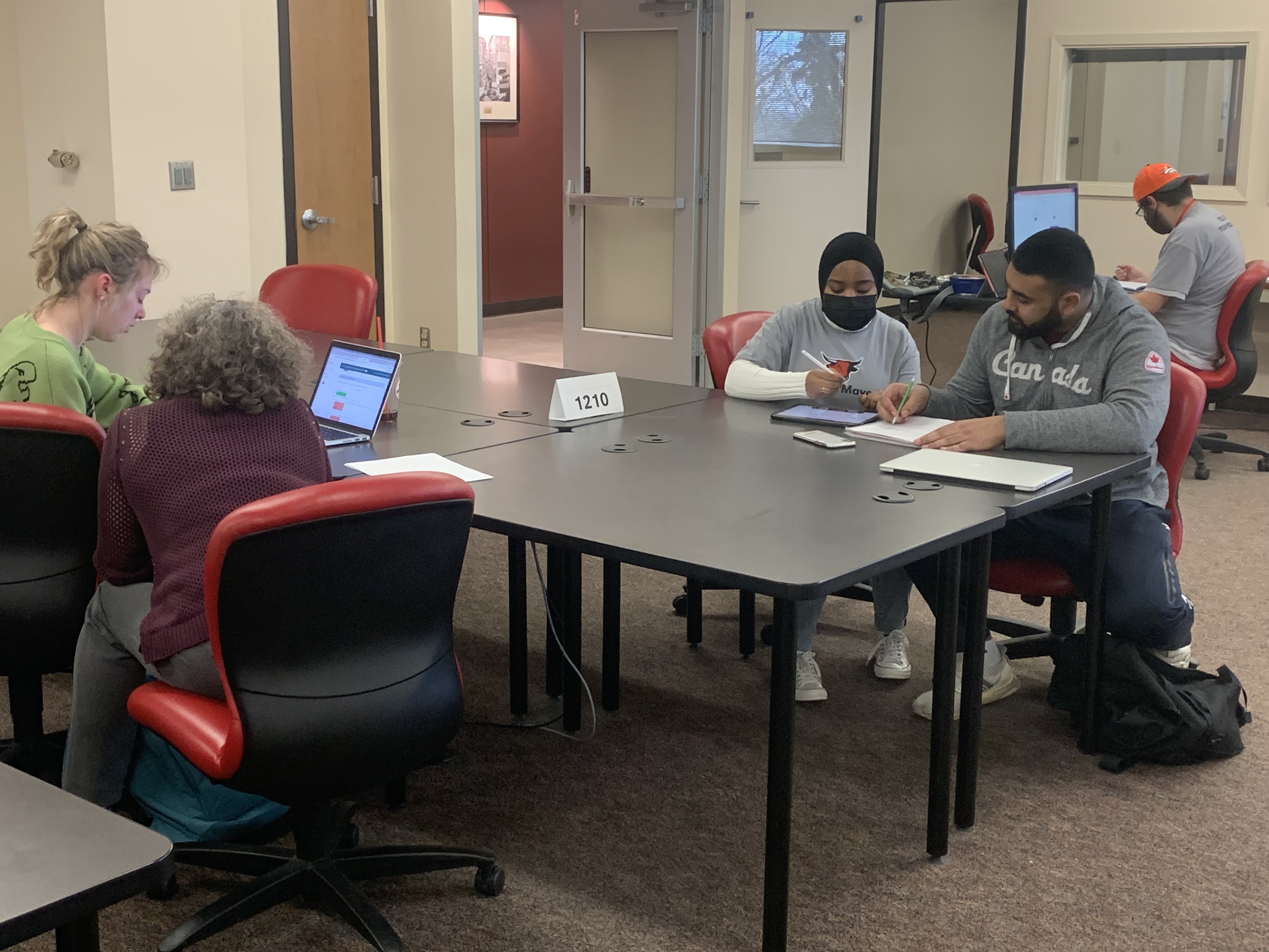 In-Person Math and Statistics Assistance
The on-campus MatheMavericks Zone is available at 116 Mammel Hall. Free shuttle services between Mammel Hall and the Criss Library are available.
The Spring 2023 tutoring hours are:
| | |
| --- | --- |
| Day of the Week | Hours Open in 116 Mammel Hall |
| Monday | 10:00 am - 4:00 pm |
| Tuesday | 10:00 am - 5:30 pm |
| Wednesday | 10:00 am - 4:00 pm |
| Thursday | 10:00 am - 5:30 pm |
| Friday-Sunday | Closed |
Tutoring on Zoom will be available by appointment later in the Spring semester. Please contact your instructor for details.
How do I contact or meet with my teacher?
While the Durham Science Center is under renovation, Mathematics instructors may have offices all over campus. Please email your instructor with any questions, or arrange a time and place to meet!
Instructors host Office Hours (free question/discussion time) in the MatheMavericks Zone. So it is always a good idea to stop by and check!
| | | |
| --- | --- | --- |
| Instructor | Email | Teaching |
| Becky Brusky | rbrusky@unomaha.edu | MATH 1130, STAT/MATH 1100 |
| Jeff Depue | jeffreydepue@unomaha.edu | MATH 1120, MATH 1130, MATH 1210 |
| Keith Gallagher | keithgallagher@unomaha.edu | MATH 1130, MATH 1330 |
| Nicole Infante | ninfante@unomaha.edu | MATH 1210, MATH 1220, MATH 1320, MATH 1370 |
| Chris James | christopherjames@unomaha.edu | MATH 1220, MATH 1370 |
| Sophie Marks | smarks@unomaha.edu | MATH 1120, MATH 1210 |
| Leslie McFee | lmcfee@unomaha.edu | MATH 1220 |
| Kenzie Medeiros | kenzimedeiros@unomaha.edu | MATH 1320 |
| Linda Rau | lindarau@unomaha.edu | MATH 1370, STAT 1530 |
| Greg Sand | gsand@unomaha.edu | MATH 1320, STAT 1530 |
| Larissa Schroeder | larissaschroeder@unomaha.edu | MATH 1220 |
| Karina Uhing | kluhing@unomaha.edu | MATH 1340 |