Whether you're registering for your first semester or preparing for graduation, your CFAM adviser plays an important role in your education.
Explore answers to frequently asked questions about advising:
When does Summer/Fall 2015 enrollment begin?
The Summer 2015 schedule will be viewable on February 9.
The Fall 2015 schedule will be viewable on March 9.
Available courses can be browsed at http://www.unomaha.edu/class-search/.
General enrollment dates: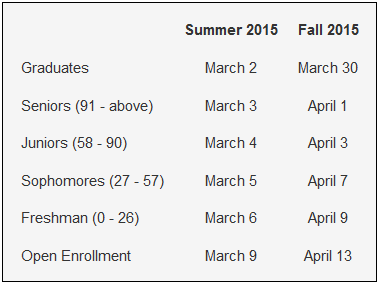 Check your MavLINK for your individual enrollment date and time.
If I'm a current CFAM student, who is my adviser?
Current CFAM students are assigned a faculty adviser in their area of study. This person is their permanent adviser during the rest of their education at UNO. 
Spring 2015 Announcement
Previously, incoming Studio Art majors could not declare a concentration until Studio Core I and Core I Portfolio Review were completed. This policy is no longer in place as of Spring 2015. Please contact your adviser to declare a concentration.
---
Refer to the Faculty & Staff Directory for a list of all Communication faculty and office hours.
---
Melissa Berke
mberke@unomaha.edu
Shellie Harden
sharden@unomaha.edu
---
Sharon Sobel
ssobel@unomaha.edu
---
Who is my adviser if I am an incoming freshman or transfer student?
New and Transfer Students
Incoming freshmen and transfer students are assigned an incoming CFAM adviser. You'll meet with this person two times before you move on to a faculty adviser in your area of study. This person will be your permanent adviser during the rest of your education at UNO. You must make an appointment with these advisers via MavTrack.

If I'm a graduate student in CFAM, who is my adviser?
How do I schedule a visit?
Prospective students may schedule a school/unit visit to go over program information and tour our facilities. Please contact the director or chair of the unit you're interested in to schedule an appointment:
How do I register for classes?
Once you've been admitted and received your 8-digit UNO student ID number (NU I.D.), you can register for classes by logging onto MavLINK.
On MavLINK, you can check for advising holds, or find your registration day and time.
Looking for a certain class? Visit the Class Search page.
About Flags and Holds
You can check for advising holds by logging on to MavLINK.
You may have an advising hold if you are a freshman, recent transfer student or on academic probation. You may have other holds for things like parking tickets or late tuition fees.
It's important to know that you won't be able to register until you clear your holds. Click on the hold for information about how to resolve the issue.
About the Add Permit Deadline 
Students given permits for CFAM classes must formally enroll no later than the first class day of the third week in the semester. Any "unused" permits or authorizations will be removed from the system. Newly issued permits/authorizations for CFAM courses must come from the departmental chair or director before they can be entered in the system.
How do I use a degree audit?
As a student with a primary or secondary degree program in the College of Communication, Fine Arts and Media, you have the option to access your degree audit directly through MavLINK.
The Degree Audit is part of UNO's Student Information System. This automated system will help you monitor your academic progress toward your degree.* It lists your specific program details: what you still need to take, what you have taken, and what doesn't apply to your degree.
*The Degree Audit is not meant to take the place of your adviser. You should meet with your adviser at least once a semester.
Where can I get student forms?
For a complete list of student forms you may need to access during your time as a student in the College of Communication, Fine Arts and Media, visit the Student Forms page.